BWW Review: Jeremy O. Harris' Extremely Daring SLAVE PLAY Explores Sexual Dissatisfaction Caused By Racial Issues
It was over fifty years ago when designer Boris Aronson famously let a large mirror hang from the set of CABARET, forcing audience members to see their own reflections to bring home the point that what was happening in 1930s Germany could very well happen in America. And while that symbolic gesture may have become a bit of a cliché in the ensuing decades as it was used by other artists for other plays and musicals, designer Clint Ramos ads a provocative twist with the fully mirrored upstage wall in his design for Jeremy O. Harris' extremely daring, highly original and undoubtedly thought-provoking satirical drama, SLAVE PLAY.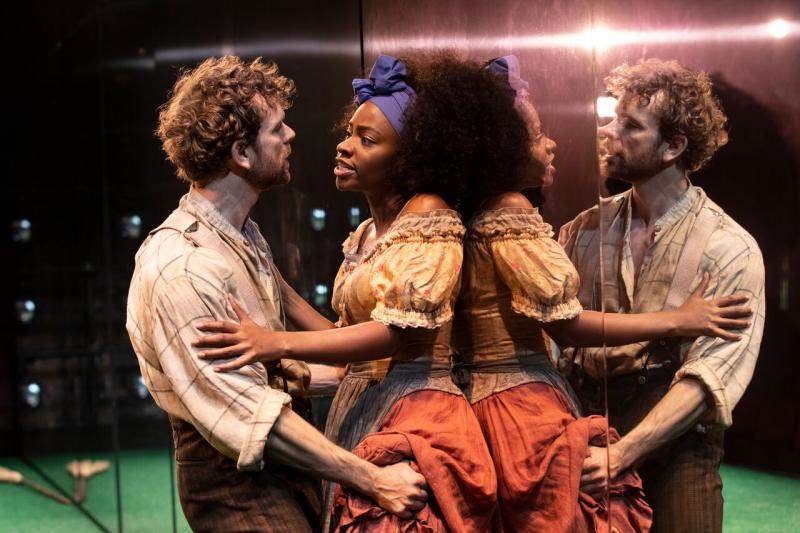 Not only do New York Theatre Workshop audience members see their reflections throughout the entire play, but they also see above them the reflection of an illustration of a plantation mansion, a reminder that we are all still dealing with the residuals of America's practice of slavery. This isn't news, of course, but what makes SLAVE PLAY so intriguing is its focus on how these residual racial issues may affect the intimacy between committed partners in some interracial relationships. The title refers to a role-playing exercise described by one character as "a radical therapy designed to help black partners re-engage intimately with white partners from whom they no longer receive sexual pleasure."
The first of the play's three acts (there is no intermission and the running time is about 2 hours) involves three pairs of characters interacting in different areas of the McGregor Plantation, a few miles south of Richmond, Virginia. Free-spirited slave Kaneisha (Teyonah Parriss) wishes to be sexually degraded by overseer Jim (Paul Alexander Nolan), hinting that she might deserve to be punished with a whipping. But while Jim his willing to give it a go, he recoils at treating her disrespectfully, expressing a desire to give her pleasure, rather than pain.
Mistress of the house, Alana (Annie McNamara) gets aroused by the handsome slave Phillip's (Sullivan Jones) violin playing and anally rapes him with a dildo while he obediently endures. Meanwhile, slave-in-charge Gary (Ato Blankson-Wood) and white indentured servant Dustin (James Cusati-Moyer) engage in a power struggle as the two get nearly naked together. Is the one who achieved orgasm in control, or does the one who gave it to him have the advantage?
Harris calls his play "a comedy of sorts" and under the sharp direction of Robert O'Hara, these first encounters take on an over-the-top tone reminiscent of Charles Ludlam's Ridiculous Theatre style. (Intimacy and fight director Claire Warden makes valuable contributions.) Anachronistic choices in music, props and underwear help separate the acts of sexual violence depicted from reality, but nevertheless there are bound to be those who will find parts of the play disturbing.
Taking place on day four of a week-long workshop, when this phase of the exercise named Antebellum Sexual Performance Therapy is completed, the three couples partake in a group talk session run by Teá (Chalia La Tour) and Patricia (Irene Sofia Lucio), who, aside from being social scientists, are also a committed interracial couple who have based their technique on the way they've worked through their own issues, though the occasional abrasive moments make it apparent that there are still unresolved matters.
This is where the play gets really heated as matters of racial identity and past dealings with racism come into play. Handsome, athletic and light-skinned Phillip discusses his inability to recognize any racial trauma in his life. Dustin is outraged at being regarded as white, despite having the privilege that comes from appearing white, an issue that frustrates Gary, who is fully visible as being of African descent.
But the piece eventually focuses on Jim and Kaneisha. He's verbally hostile towards the whole experiment, sickened that in the role-playing he felt pressured to call his wife a negress when he regards her as his queen. She is too upset to participate during most of the session, but when she does it's a painful expression of an unavoidable truth involving the way she regards her husband. What Jim sees as his own sensitive behavior is what Kaneisha sees as his exercising control over her and when they're left alone Jim must decide how much he's willing to listen to and respond to his wife's needs, though they conflict with his own morals, in order to save their marriage.
This reviewer will leave it to the better qualified to discuss Harris' success in exploring the multi-layered issues at hand, but will certainly praised SLAVE PLAY as completely engaging and emotionally challenging theatre, while recognizing that others may find it triggering discomforting responses.
Yes, there is a bit of repetitiveness here and there that can be trimmed, but the skillfulness with which the playwright, director and excellent ensemble takes the audience from moments of social satire to hard-hitting drama to frighteningly emotional flourishes is rewarding to watch and will certainly fuel serious post-theatre discussion.