Review: Jayne Houdyshell and Pascale Armand Confront Generational and Racial Feminist Divides in RELEVANCE
Historically, it hasn't been unusual for writers like Amantine Lucile Dupin (better known as George Sand) and Nelle Harper Lee (published as Harper Lee) to take on traditionally male or androgynous names to help advance their careers in a patriarchal world by allowing publishers and readers to make their own assumptions regarding the author's gender.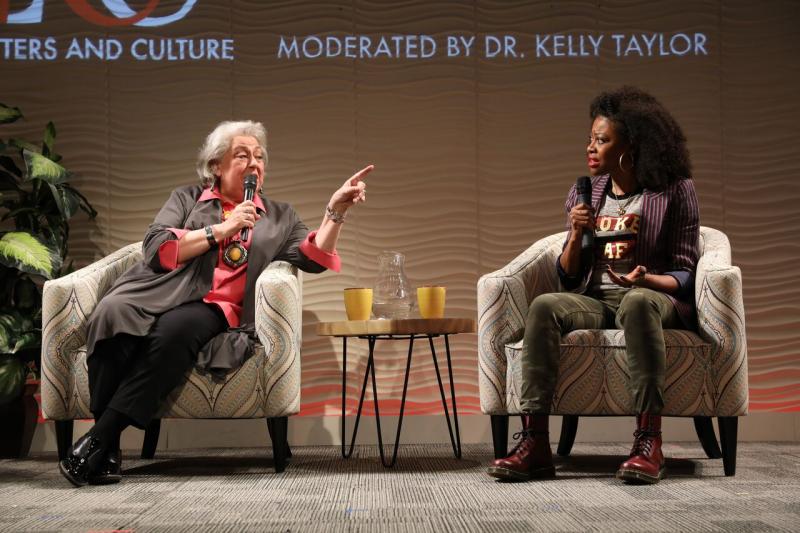 And while this critic is not suggesting that Relevance's author J.C. Lee is intentionally obscuring knowledge of his gender (his play LUCE was produced at Lincoln Center under the same name), in this era when women playwrights are still fighting for opportunities to tell their own stories, there will no doubt be audience members who will want to know that the author of this play concerning public issues that arise between a white Second Wave Feminism leader and a newly emerging African-American feminist voice, is male.
And truthfully, this white male reviewer tends to watch such plays concerned over whether or not he is, in fact, catching everything required to fairly review it, but the presence of the excellent director Liesl Tommy, who is an African-American woman, acts as a trusted seal of approval in regards to the issues and characters involved.
So on to the play...
The opening scene spells out the conflict within minutes. On designer Clint Ramos' slick rendering of a panel discussion set, moderator Dr. Kelly Taylor (determinedly upbeat Molly Camp) tries to keep things civil between her two guests at an event highlighting a conference for authors of feminist literature. The prominently displayed hashtag #LitLadies invites Twitter users to join in.
As we join in progress, the supposed conversation is being dominated by Theresa Hanneck (the always outstanding Jayne Houdyshell is perfectly cast), who appears oblivious as to how much she is whitesplaining when offering her views of how the work of feminist women of color becomes unavoidably defined by a struggle to be included in the conversation.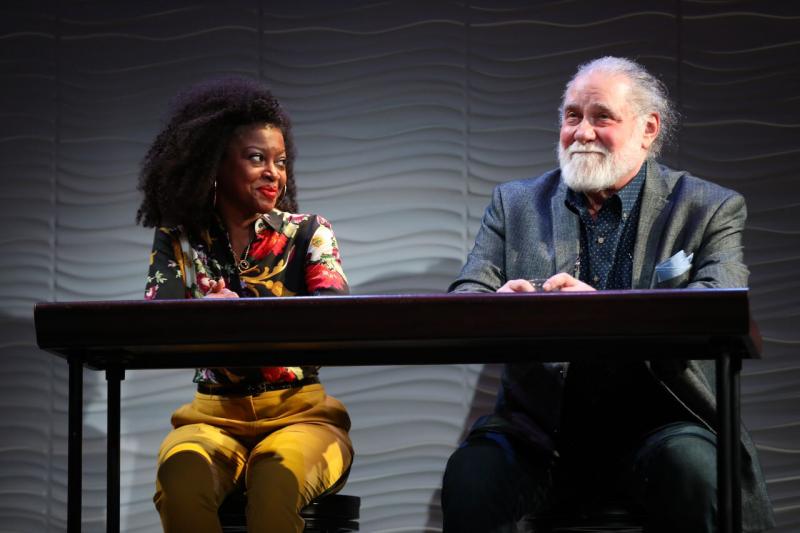 When she does acknowledge the feminist woman of color she's paired with in the discussion, skyrocketing social media star Msemaji Ukweli (wonderfully poised and quietly authoritative Pascale Armand), it's primarily to assume her younger colleague agrees with her.
The issues dividing younger feminist leaders with those who preceded them, as well those that arise between white participants in the movement and those of color, are not specifically brought up by Lee, although the visual suggesting them takes center stage; particularly when the discussion turns to Ukweli's criticism of what she calls "righteous victimhood."
A contemporary of Erica Jong and Susan Faludi, Hanneck is receiving a lifetime achievement award from the conference for her tough-talking books demanding equality. Ukweli, who first caught the public eye with a memoir detailing her underprivileged upbringing and her frat house rape, is present to receive a prestigious grant.
Hanneck's low regard for Ukweli's writing and those who praise it ("People who grew up under Hope-y Change-y kum ba yah bullshit.") is intensified when Twitter responses suggest a public opinion questioning her Relevance in contemporary feminism.
She vents her frustrations to her agent and former lover David (Richard Masur as the steadying force), whose affection for her is challenged by his business sense.
Despite Tommy's sharply-played production, the play's climax is a disappointingly sluggish scene where Hanneck attempts to publicly discredit Ukweli's authenticity, and the playwright asks us to consider the Relevance of the truth when fighting for justice.
Though focused on feminism, there is a universality to Lee's themes, regarding how in progressive movements, many from new generations tend to point out dated details in the work of their groundbreaking predecessors and how those of older generations may be overly critical of the new approaches by those they have inspired. In that sense, Relevance may never be dated.