Review: High School Machiavellian With Cerebral Palsy Claws His Way To Power in Michael Lew's Shakespeare Riff TEENAGE DICK
"Now that the winter formal gives way to glorious spring fling," recites our antihero at the outset of Mike Lew's enormously clever contemporary riff on Shakespeare's RICHARD III, titled Teenage Dick, "we find our rocks for brains hero Eddie - the quarterback - sleeping through his job as junior class president."
"Deformed" and "unfinish'd" are two of the terms Shakespeare used to describe his title character, who bloodily makes his way up England's line of succession to the crown. In Lew's play, Richard Gloucester is a Roseland High School junior who has cerebral palsy. His best pal, Barbara "Buck" Buckingham is scripted as being a wheelchair user.
"Cast disabled actors for Richard and Buck," the playwright instructs in his notes. "They exist and they're out there."
Commissioned by The Apothetae, described on their website as "a company dedicated to the production of works that explore and illuminate the 'Disabled Experience,'" the title role is played with crafty charisma by their artistic director Gregg Mozgala. This premiere production, presented by the Ma-Yi Theater Company in association with The Public Theater, is directed with intriguing comedic intensity and empathy by Moritz von Stuelpnagel, best known for helming the similarly dark and fascinating HAND TO GOD.
"Maybe I can't play football, but I can run a play," Richard confides to the audience, as he reveals his intention to advance from Junior Class Secretary to Senior Class President. "Not by a pity vote. Not by campaigning. But by systematically destroying the competition."
After watching how subtly Richard plays overly sympathetic English teacher Elizabeth York (Marinda Anderson), it's clear that the dunderheaded and condescending football star class president Eddie Ivy (Alex Breaux) and the self-centered goodie-goodie vice president Clarissa Duke (Sasha Diamond) will be no match for this expert on Machiavelli's pathways to power.
Buck (wonderfully cool and canny Shannon DeVido), the play's voice of reason, is the only one who sees right through Richard.
"I'm not like you, yearning to fly beyond nature's boundaries like some kind of disabled nerd Icarus," she explains. "I kinda don't sweat that stuff."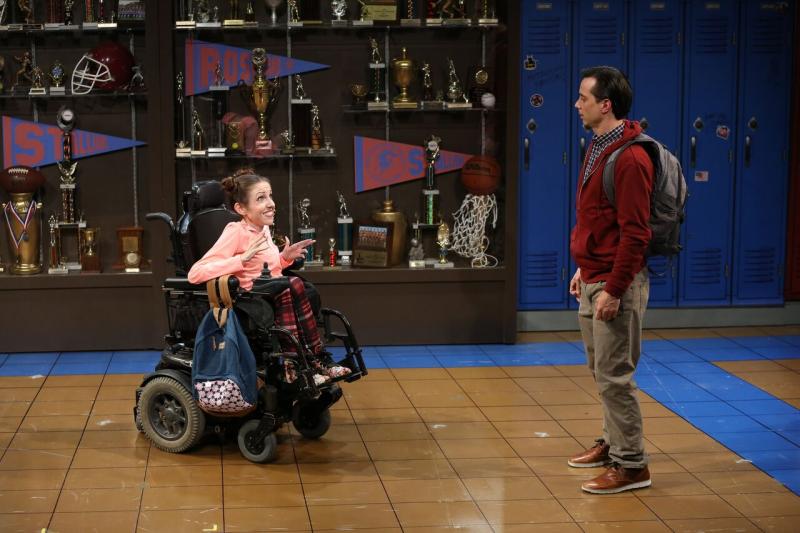 One of the smartest aspects of the play, a real strength in both Lew's writing and Mozgala's fierce performance, is how even though the audience is in on Richard's plotting, he is also manipulating viewers who may not have much contact with disabled people and will automatically side with him. He's a master at using pity to his advantage.
But beyond the sinister comedy, there's also legitimate empathy developed when Richard tries to elevate his status on campus by convincing "quasi-professional dancer" Anne Margaret (Tiffany Villarin), who is also Eddie's ex, to ask him to the Sadie Hawkins Day dance, a situation that that travels an unplanned route into sincerity.
With it's suggestive title and initially farcical tone, Teenage Dick effectively starts off as fun, subversive entertainment, but true to its source, there eventually is a legitimately tragic conclusion as the piece seamlessly glides into the realities of high school bullying and its consequences.