BWW Review: Ethan Lipton's THE OUTER SPACE Seeks Suburbia Orbiting Mercury
Five years ago, playwright/composer/lyricist/performer Ethan Lipton stood on the stage of Joe's Pub as the central character of his solo musical NO PLACE TO GO, explaining the choices he had to make when the company he worked for announced it was relocating to Mars.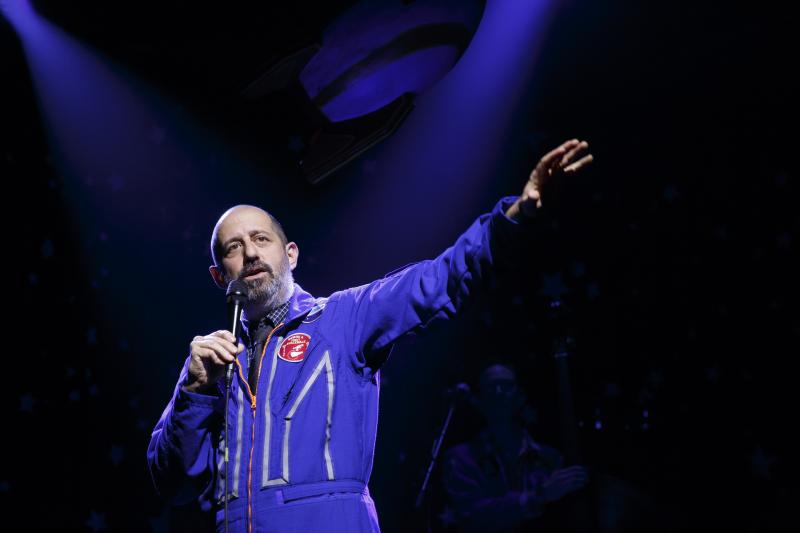 Most would regard Mars in his story as symbolic of the suburbs or any American city that isn't New York. His follow-up musical, The Outer Space, seems headed in the same direction.
Once again directed by Leigh Silverman and joined by an onstage trio of musicians consisting of his co-composers Eben Levy, Ian M. Riggs and Vito Dieterle, The Outer Space looks and sounds pretty much like his previous entry, except this time the fellows are dressed in faux-astro jumpsuits.
Also, this time the soft-spoken Lipton is the storyteller, not the protagonist, as he performs seventy-five minutes worth of songs and narrative explaining how, because the man's wife was sick of noisy, polluted and unaffordable planet Earth, the two of them bought an old spaceship ("A charming Victorian craft," he sings.) to join a colony following the orbit of the planet Mercury, "mostly over the Caloris Basin."
In this story, space isn't filled with strange alien creatures, but with fellow Earthlings looking to get away from the rat race while catching up on their gardening, taking yoga classes and going out for coffee with friendly neighbors.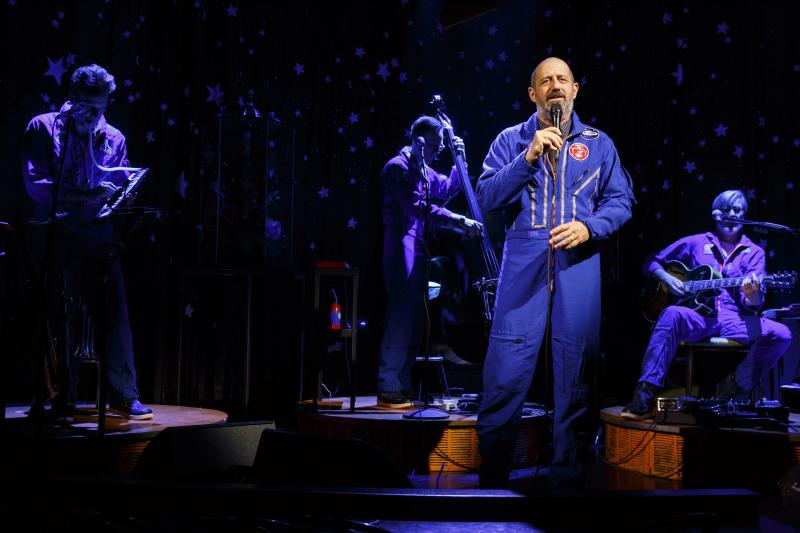 While the woman thrives in the new environment, the fellow just doesn't take to the atmosphere, suffering from a perpetual moodiness he calls "Space Sadness." Choices have to be made. Does he sacrifice his own happiness for his marriage, or does he return to earth a single man?
While NO PLACE TO GO was rooted in reality before introducing its space-age twist, The Outer Space begins a bit off-kilter, and thus doesn't pack the same satirical edge. The evening is decidedly cute.
The collection of melodies is certainly a pleasant one, mixing various degrees of jazz, bluegrass and pop rock, and Lipton's whimsical lyrics and plainspoken vocals have a warm everyman attractiveness that draws a listener in, but The Outer Space merely orbits around its simple theme, with little gravitational pull of its own.