BWW Review: David Yazbek and Itamar Moses' THE BAND'S VISIT Is A Captivating Cultural Blend
While David Yazbek's moxie-driven melodies and clever, character-creating lyrics are best known from his fast and funny Broadway hits THE FULL MONTY and DIRTY ROTTEN SCOUNDRELS, his captivating and charming new Off-Broadway musical of cultural and romantic exchanges, THE BAND'S VISIT, begins with self-effacing modesty.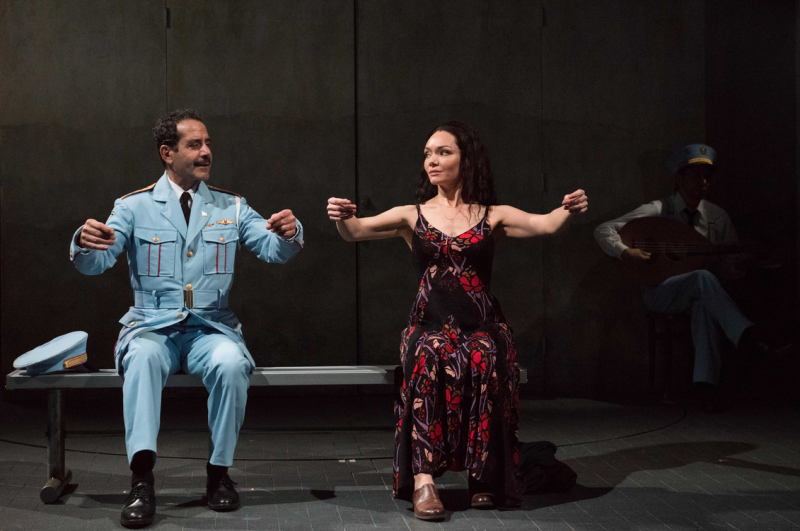 "Once not long ago group of musicians came to Israel from Egypt," begins the introduction projected before the audience at the outset. "You probably didn't hear about it. It wasn't very important."
Yazbek's score, filtering Israeli and Arabic styles into plot-and-character theatre music, and Itamar Moses' graceful, simmering-with-subtext book are based on director/screenwriter Eran Kolirin's 2007 gentle comedy about an Egyptian police orchestra heading to play a concert at an Arab cultural center in Petah Tikva that, through a language miscommunication, ends up taking a bus to the fictional Israeli village of Bet Hatikvah, a desolate desert locale.
Tony Shalhoub, a marvelous stage actor not exactly known for musicals, makes a beautiful impression as Tewfiq, the soft-spoken conductor with a troubled past who now only finds pride and contentment when he leads his fellow musicians.
He's matched with Katrina Lenk, who, with just a handful of New York stage credits, gives a fantastic breakout performance as Dina, a former dancer, now owner of a run-down café that serves as Bet Hatikvah's gathering spot.
Lonely and bored with her lot in life, Dina, dryly replies to Tewfiq's inquiry about the cultural center, "No. Not culture, not Israeli culture, not Arab, not culture at all."
With the next bus to their proper destination not leaving until the next morning, Dina and one of her regular customers, Itzik (John Cariani), offer their homes as overnight lodgings while others stay in the café. As Tewfiq shyly gets acquainted with his attractive hostess while keeping a respectful distance, Dina tries hinting that she would not object to some temporary romance.
A particularly touching scene has the two of them sitting under an evening sky, with Tewfiq opening up a bit and, at Dina's request, singing an old Arabic song. She doesn't understand the words and Yazbek writes her an intertwining musical inner monologue where she reveals her fascination with this strong but gentle soul.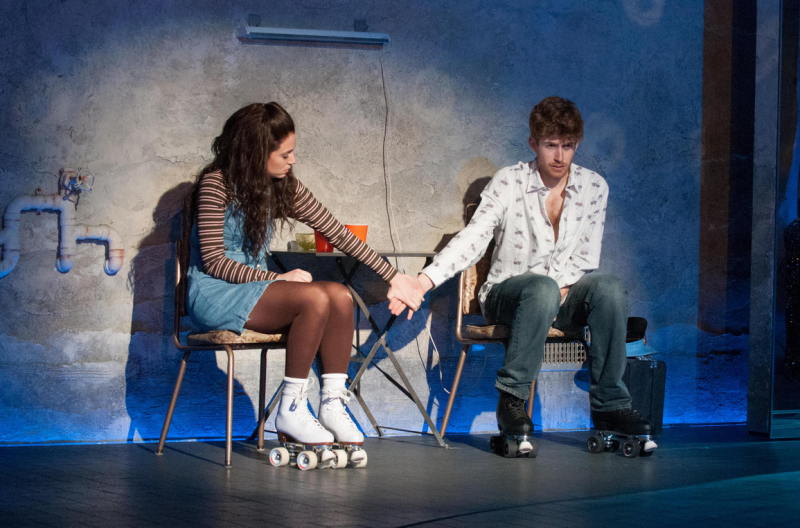 Throughout the show, Lenk sings with a flourishing combination of intelligence, longing and sensuality. It's aching to watch her passion and his dignified politeness come so close to connecting.
Meanwhile, there are other stories at hand. The trumpet-playing self-styled ladies' man Haled (charmingly funny Ari'el Stachel), who asks every attractive woman he meets if she knows Chet Baker and then launches into a few bars of "My Funny Valentine," accompanies awkward Papi (Daniel David Stewart) to a roller disco and gives him advice on how to win over the girl he's crushing on.
Itzik and his wife Iris (Kristen Sieh), have a new baby and the father's inability to keep a job has put a strain on their marriage. Their temporary lodger is Simon (Alok Tewari), a clarinetist who is musically blocked from completing his composition of a concerto.
Adding local color is a fellow (Erik Liberman) who spends every night at a pay phone, waiting for his girlfriend to call.
Under David Cromer's loving direction, each little life fragment is treated with compassionate realism, with designer Scott Pask's faded set, under the intense sunlight from designer Tyler Micoleau, riding a turntable to easily glide from one story to another.
Though richly textured dramatically, the mood of the piece is largely introspective until a lively closing jam session that unites the actor/musicians with their non-acting musical colleagues. While THE BAND'S VISIT never preaches its message of human fellowship beyond hostile borders, this final moment is a joyous expression of unity.
Related Articles
After 20-odd years singing, dancing and acting in dinner theatres, summer stocks and the ever-popular audience participation murder mysteries (try improvising with audiences after they?ve (read more about this author...)