Review: Craig Lucas' Job-Inspired Drama, I WAS MOST ALIVE WITH YOU, Performed in Both Spoken English and ASL
The press script provided to critics reviewing Craig Lucas' somber and overstuffed drama, I Was Most Alive with You, specifies that the play "was created to be performed by Deaf and hearing actors for Deaf and hearing audiences" and that all productions "must provide full access for hearing and Deaf audiences at all performances."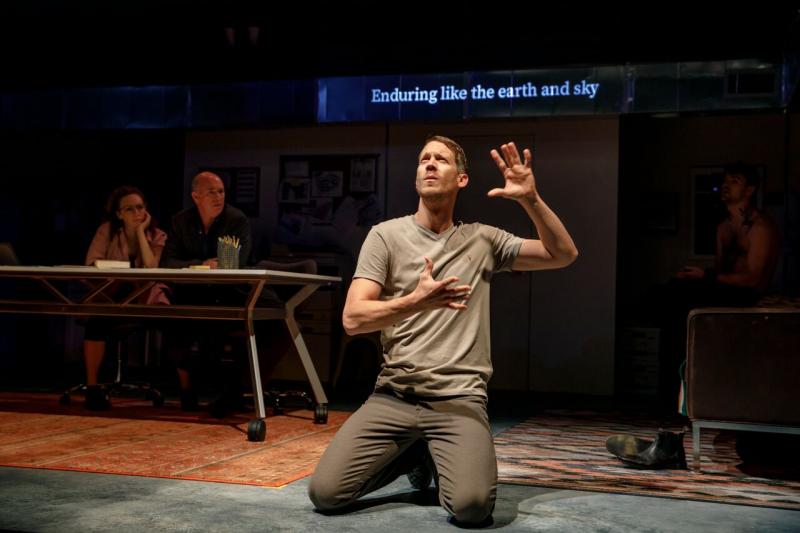 In director Tyne Rafaeli's Playwrights Horizons mounting, that means perched high above the main playing area of designer Arnulfo Maldonado's set stands a company of shadow actors that, guided by artistic sign language director Sabrina Dennison, acts out the drama played mostly in spoken English beneath them using American Sign Language.
As some characters played by the principal cast (the playwright's designation) also use ASL, designer Alex Basco Koch provides projected English translations for moments when only signing is used, and for times when sounds require descriptions for Deaf audience members.
And while any effort to increase diversity in theatre, both onstage and in the audience, should be appreciated, the execution in this instance is a bit shaky. Seated in row H, this reviewer and his ASL fluent guest (who was focused more heavily on the signing) was unable to see the principal cast and the shadow cast simultaneously, thus shining far greater attention on the company performing with a full set and denying those relying on the shadow company the experience of seeing the full staging. Additionally frustrating for my guest was how the shadow actors didn't sign when their corresponding characters in the principal cast were, dividing attention. This reviewer's impression that some shadow cast members were indeed acting while others were doing little more than providing translation was confirmed by my guest.
The play itself is inspired by the Book of Job, which Lucas writes in his program notes helped him through a personal period of drug and alcohol abuse. (In describing the plot, this review will specify the principal actors first, followed by the shadow actors.)
Ash (Michael Gaston/Seth Gore) and Astrid (Marianna Bassham/Beth Applebaum) are writing partners for a long-running series and begin the play by tinkering with the idea of a new show inspired by the Job story. The action flashes back to their memories of a recent Thanksgiving gathering which would surely provide a season's worth of turmoil.
Ash, a recovering alcoholic, is married to a woman named Pleasant (Lisa Emory/Amelia Hensley), who loves to imbibe. Their adopted son Knox (Russell Harvard/Harold Foxx), believes that his deafness, his being gay, and his addictions to drugs and alcohol, from which he's recovering, are all blessings that have given him clarity. While his healthy outlook is admirable, Ash is wary of his son's drug-using new boyfriend Farhad (Tad Cooley/Anthony Natale).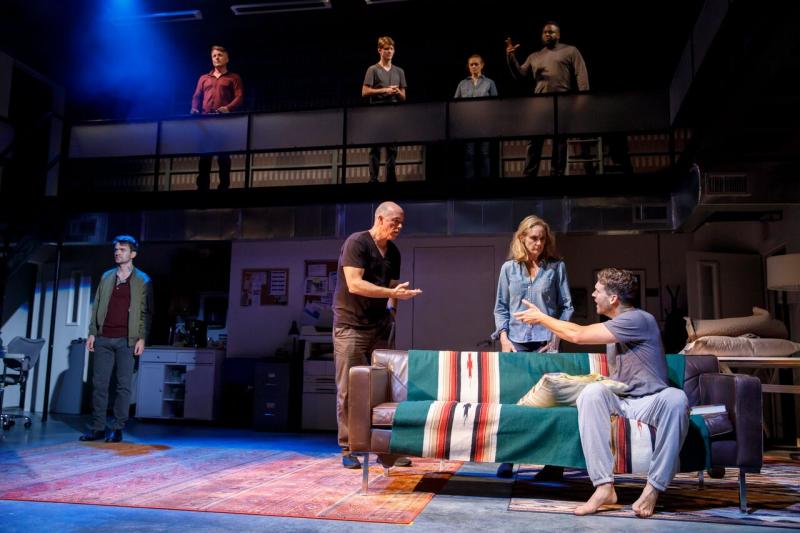 Partially deaf, Farhad reads lips, speaks and doesn't sign. Pleasant doesn't sign either and has invited family friend Mariama (Gameela Wright/Alexandria Wailes), who does, to help with communication. Mariama's son is on death row for killing five people in a drug-related incident. She accepts that everything is in God's hands.
Rounding out the company is theatre treasure Lois Smith, as Ash's sweet mother, Carla, and her shadow, Christina Marie.
Like God testing Job's devotion, the playwright tests the endurance of his characters, as we learn of a cancer diagnosis, an HIV history, a Ponzi scheme bankruptcy and a near-fatal car accident that results in an amputation. We witness self-mutilation, a suicide attempt and strange changes in characters which hints that much of what we're watching may not be fact, but Ash and Astrid's teleplay embellishments.
While there is fine acting throughout, the play appears overwritten and purposeless.
Early on, the two writers talk of exploiting tragedy for entertainment. Perhaps with a bit of streamlining I Was Most Alive with You can explore that theme with greater clarity, if that was Lucas' intention, and turn out to be an interesting social commentary.