Interview: Phyllis Newman Looks Back on the Original SUBWAYS ARE FOR SLEEPING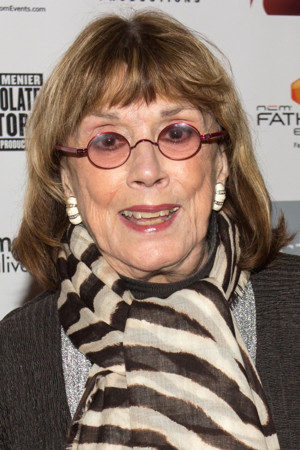 "You know this is the first time I ever heard of NOT sleeping with the author to get the part," cracked a profoundly p.o.-ed Phyllis Newman at the fourth of five auditions she had to endure in order to land a big, star-making role on Broadway.
The role was Martha Vail, a Southern-belle beauty contestant who couldn't parlay all her titles (Miss Watermelon, Miss Southern Comfort, Miss Cotton Blossom) into one Miss America. The show was Subways Are for Sleeping, which her husband, Adolph Green, wrote with Betty Comden and Jule Styne. The obstacle was producer David Merrick, a torturer of great talent known near and far as The Abominable Showman.
(He even found time the same season to make life hell on earth for Barbra Streisand, then Broadway-debuting the hard way--in Merrick's I Can Get It for You Wholesale.)
"David Merrick just didn't like me or want me," Newman told BroadwayWorld last week. "He didn't think I was pretty enough, or whatever--and Adolph was in agony all the time having to hear this, but I kept going back. The last time I had to go back in a towel and blonde wig. It was humiliating--it really was--because I'd worked in the theater since I was a child. It wasn't like they were taking some showgirl who had never worked and pushing her into a show. Finally-just because they couldn't really find anyone else-they put me in, but all through rehearsals it was murder.
On opening night in Philadelphia, Newman stopped the show, prompting Merrick to bark at his creators, "How do we make the show about her? Then, we'd have a hit."
"Betty wanted to kill him," said Newman. "Merrick was a mean man, truly sadistic. He was just what he looked like, almost twirling that black mustache like a villain."
What brought "the miseries of Merrick" back to Newman is the mini-resurrection of Subways Are for Sleeping, playing through March 4 at the York Theater Company.
This is the first time the show had been seen in New York in 56 years, and there's a reason for that: the book, which Newman and director Stuart Ross have worked on.
Subways Are for Sleeping was based on the same-named collection of ten short stories by Edmund G. Love about real fringe people he had encountered during a particularly bleak period of his life in New York. Technically, we're talking homeless here, but these were presented not as bums but as free-spirited eccentrics without a set address, fleeing the nine-to-five regimentation. They reminded composer Styne of Susanswerphone's clientele in Bells Are Ringing (an earlier collaboration with Comden and Green), so he purchased the rights and asked them to adapt it. Initially, they signed up as lyricists, but, when Abe Burrows and Arthur Laurents both turned him down, they took the book on, too, and mated characters from different chapters.
Charlie from Chapter Three was paired with Martha from Chapter Four. The reason Newman auditioned in a towel and a blonde wig was because that's all her character wore until the finale. That way, if the landlord approached, she'd drop the towel, yell "Rape!" and he would be arrested for what passed for sexual harassment in 1961.
Newman's Charlie was Orson Bean, who later sat next to her on To Tell the Truth.
Their characters occupied the musical's subplot berth, but, right out of the chute, they effortlessly outshone the lead couple, Angie and Tom, played by Carol Lawrence and Sydney Chaplin. This fact caused great agro for the show's creators.
Angie was a total Comden-Green invention not in the book and never really meshed into the rest of the musical. In the Philadelphia tryout, she was a runaway bride from big business who strays into the Museum of Natural History and finds Tom catching a little shut-eye in an Egyptian mummy's sarcophagus; a good Joe, he spends his waking hours helping fellow vagrants find odd jobs and lodging. By the time Angie reached Boston, she was a fashion magazine reporter who poses as an undercover dropout in order to get her story on these nicely attired drifters.
"Stuart and I did a fair amount of work on Angie," Newman admitted. "Instead of working for a fashion magazine, she's somebody who's always after interesting stories. She cares about things. We made her more active, more of a character."
Angie's dysfunction had led to visible disharmony between the leads and killed their chemistry. A Journal American gossip suggested the Chaplin-Lawrence love scenes "would play better if they didn't look as if they were on the brink of homicide."
Newman recalled the friction backstage. "Carol was really difficult, I have to say--enough time has gone by-and she didn't have a part that showed off her strengths, but she was unpleasant. She wouldn't let me watch the show from the wings. She did not want me watching her. I never had that happen to me in my life, but with her . . ."
Chaplin, son of Charlie, was an entirely different story. "He was"-unsurprisingly, given that bloodline-"one of the funniest people ever. I loved him. I got to know him when I was Judy Holliday's standby in Bells Are Ringing. Adolph had two best friends-Lenny [Leonard Bernstein] and Sydney. He asked Sydney if he should marry me-he'd already been married twice, and he was 20 years older--and Sydney said, 'She makes you laugh more than anybody else, are you kidding?'"
Newman was in on the ground floor of developing Martha and even had a hand in shaping her show-stopper. "We all sorta wrote 'I Was a Shoo-In' together," she admitted. "I went to Jule's apartment , and Adolph and Betty were there, of course, and, because they knew things about me other people didn't-like I could do coloratura-the role was really tailored to me. And then, to hear the audience roar!"
The York's Angie and Tom are a more amorous pair and, in real life, three-month newlyweds, Alyse Alan Louis and Eric William Morris; Newman's towel has been successfully passed to Gina Milo, who show-stops with "Shoo-In," as does David Josefsberg with his big number, "I Just Can't Wait (till I see you with clothes on)." Drawing from Buster Davis' original vocal arrangements benefited one and all.
Ultimately, the thing that put Subways Are for Sleeping on the map of memory-its everlasting claim to fame-had nothing to do with anything the creators, cast and crew did. When the New York reviews came in mixed (three positive, three negative, one undecided), Merrick went through the telephone book and found people with the same names as these august critics. He wined them and dined them and extracted glowing quotes from them which he ran in an ad trumpeting that "7 OUT OF 7 ARE ECSTATICALLY UNANIMOUS ABOUT SUBWAYS ARE FOR SLEEPING!"
The Times and Post yanked the ad just in time, but it escaped to the populous via the Herald-Tribune's early edition. Of Merrick's many publicity ploys, it's the topper.
The show's most underappreciated asset is its sleeper score. "Jule was just phenomenal," Newman enthused. "He doesn't get enough credit. You hear this one and that one, but you don't hear his name among the great American composers."
On Tony night, Newman found herself nominated for Best Featured Actress in a Musical and sitting next to (oh joy!) David Merrick, who, literally moments before the nominees were announced in that category, leaned over to her, patted her hand and, true to form, said, "Barbra's gonna win. I voted for her." He actually smiled.
And the winner for Best Featured Actress in a Musical for the 1961-1962 season was . . . Phyllis Newman for Subways Are for Sleeping. It makes a how sweet it is! moment in her autobiography, Just in Time. Already resigned to a Streisand win, she wrote that she "let out the special winner's shriek, looked at Mr. Merrick for that split second you dream about in just deserts heaven and ran up to the microphone to get my award before the committee and the gods changed their minds."
God must have been waiting in the wings...
Photo Credit: Jennifer Broski