BWW Interview: Michele Wiles, Director/Dancer/Choreographer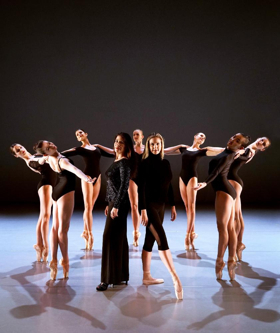 Michele Wiles, former American Ballet Theatre principal dancer, founded BalletNext in 2011, where she serves as director, dancer, and choreographer. She continues to her own unique vision of ballet via her contemporary ballet company.
BalletNext will perform at New York Live Arts February 19-23, 2019.

Q. Where did your first inspirations to dance come from?

A. The music that moved me. When I was about 2 1/2 my Mom took me to her exercise class and whenever I heard a piece of music I loved I would remove my bottle and jump right in the middle of class and start dancing! The teacher recommended to my Mom that I start taking dance lessons.
Q. Tell us about your early training and how it inspired your path.
A. After the days in Mom's exercise class, I started to take tap and jazz. My teacher told me to start taking ballet when I was 8 years old to improve my technique. After my first class with Renee Rasa, I was obsessed. My parents took me to see the Royal Ballet's Swan Lake at the Kennedy Center. That performance inspired my dream of becoming a prima ballerina. And 14 years later I performed Odette/ Odile with ABT at the Kennedy Center!
Q. What was the transition like from your educational days at the Vaganova School in Washington DC to life as a professional dancer with American Ballet Theatre? Describe the transition through the ranks: corps de ballet to soloist to principal dancer.

A. My transition from Vaganova School days to professional life was a process, ahuge learning curve. In the school you are protected and guided by your teachers--when you enter professional life in NYC you are on your own. The pace is much quicker and people have less time to explain things to you. My first year at ABT was about learning company etiquette. I had to learn my place amongst company members who were older and higher ranked. Yes, I learned this but still had a lot of fire. It only took two years of being in the corps to be promoted to soloist. I was a soloist for 5 years- it was a little slow the first two years because there were other amazing soloists. In 2002 I had a huge break when one of the principal dancers got injured and I performed my first lead role as Medora in Le Corsaire. There were also two performances of the Rose Adagio, one of my favorite pieces of choreography in classical ballet. Next stop Principal dancer promotion--the hardest seven years of all the ranks. I started my principal run with a back injury that sidelined me for six months. Through my journey back to the stage I questioned many things and developed my own opinions. With this questioning I developed a greater emotional depth to my performances. This very questioning led me to the next stage of my career.
Q. Another transition came when you left ABT to start your own company, Ballet Next. What were the challenges and obstacles you had to overcome?
A. BalletNext was brought to light through all of my investigations. One of the biggest challenges with BalletNext is balancing everything without the institution (like ABT) behind you. I am responsible for EVERYTHING! Dancers, lighting, program, costumes, ... etc. The list goes on. And I would not want it any other way. I don't think everyone realizes what a complicated puzzle it is to put everything together. Think of this equation as putting together 4-5 puzzles at the same time. It's next to impossible. This company has taught me that life is a kaleidoscope- it is extremely fulfilling to be using multiple talents at the same time.
Q. What is the mission of Ballet Next?

A. Innovation!! We provide a platform for leading dancers, choreographers, and musicians. As a result, new work is produced and performed in an environment that promotes experimentation, creative problem solving, and a focus on process.
Q. What do you look for in your dancers?

A. Dedication, intelligence, and Passion.
Q. Who dances for you?

A. Currently, classically trained dancers from the University of Utah School of Dance, as well principal guest artists Amar Ramasar and Maria Kowroski.
Q. I am aware that you prefer to use live music for your performances. Who creates and plays the music for your choreography?

Q. This year Angela Kim is leading our classical ensemble of two violins, one cello, and one piano. Tom Harrell and Luis Perdomo are our jazz duo. Vedrana Subotic will be our solo pianist. The main thing I look for is an openness to collaboration. When music and dance can connect on that intuitive level, it creates a very dynamic performance for the audience.
Q. What does your company do to foster diversity and inclusion?

A. My company has recently been described as ballet fusion--our open platform is a place where we collaborate or partner with diverse artists such as jazz musicians, flex dancers. This season, working with the University of Utah offers a great opportunity to partner in a highly creative experience.
Q. What is it like to lead a company that collaborates with many artists of varying fields and experience levels?

A. It can be challenging because we all have our unique ways of creating. The results into the unknown can be very interesting. Some people like it and some don't; some works succeed and others fail-- but overall we are thankful for the new experiences.
Q. Please tell us about your partnership with The University of Utah School of Dance. How did that come about?
A. I was originally asked to choreograph a piece for their Spring gala last year. During that process it became very clear that these dancers were at a high level, and I wanted to work with this university again. I had a conversation with Luc Vanier, the Director of Dance at the University of Utah, and explained I wanted to give the dancers an opportunity at our Live Arts season. We naturally partnered and things are in the works for the future projects. Exciting!
Q. Tell us something about the work you do with the students at University verses the work you do with them or other artists in New York City.
A. The process is the same- -the difference is I'm in a University setting. There is a huge support with studio space, dancers, time, and training. In NYC I am responsible for it ALL. I guess the saying is true, "if I can make it there, I can make it anywhere." It's been so inspiring this year to combine both the University of Utah School of Dance community with the independent dance community of NYC. I'm looking forward to more this summer!
Q. What compels and surprises you about the work that university students contribute?
A. The university students are grateful for this opportunity and the work. They say things like, "I want to be like you when I grow up," or, "Michele has completely changed the way I think about technique." They have taught me the importance of BalletNext.
Q. What are the joys and the challenges of performing in NYC?

A. Each year means even more to me. I wouldn't have had this this experience if I'd remained in large company. Every year is different. I'm super proud to be able to work this way in the ballet world.
Q. BalletNext returns to perform again at New York Live Arts this February 19 -23. Please tell us what audiences can expect to see?
A. Audiences can expect great dancing and legendary musicians partnering together to create a unique evening. They can also expect stars from New York City Ballet and 8 handpicked dancers from the prestigious University of Utah School of Dance.
Q. What are the two new ballets your company will be performing at the upcoming performances at NYLA and what inspired them?
A. "Hey, Wait," a New York premiere I've choreographed, featuring all eight of the rigorously-schooled Utah dancers, the ballet is set to Vibrer, by Tom Harrell, who performs it with Luis Pedromo on piano. Embodying the spirit of its ever-changing jazz score, the ballet slyly shifts from duets to octets to trio to solos to quartets. It marks my third collaboration with Harrell.
A. I've also choreographed "Birds of a Feather," which was premiered in Salt
Lake City and receiving its New York debut now, set to a series of Haydn's last piano.
These will be performed on the piano by Vedrana Subotic.
Q. How do audiences generally respond to a BalletNext performance?
A. Most audiences are genuinely surprised at how much they loved to attend a BalletNext performance. I think it's the right balance of the unexpected and the traditional structure. It's definitely a unique audience. You will find Metropolitan Opera goers mixed with a downtown audience, a jazz music audience, and sometimes a Brooklyn street dance audience. It's many diverse worlds coming together to celebrate this fusion.
Q. How can one purchase tickets and become involved in BalletNext?

A. Tickets can be purchased and you can become involved by going to www.balletnext.com.
Photo credit: Eduardo Patino NYC
Related Articles