Click Here for More Articles on THE CHER SHOW
BWW Interview: Michael Campayno Is a Bright Light in a Glittering CHER SHOW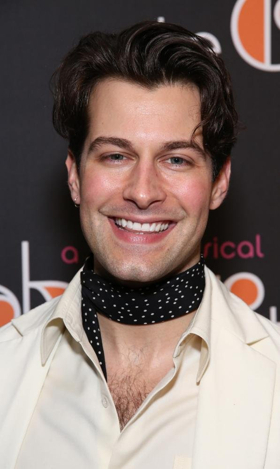 Michael Campayno was too young to have watched The Sonny and Cher Comedy Hour during its early-'70s heyday. But after studying scores of episodes prepping for his role in The Cher Show, he could write a primer on that morsel of Cher's glamourous life.
It was homework for a good reason: Campayno plays Rob Camilletti, the 22-year-old bagel maker from Queens who met the ageless icon at a downtown dance club in 1986 when she was 40 and working on the film MOONSTRUCK.
"I'm 28 and didn't watch the show growing up," said Campayno, a Pittsburgh native. "But seeing those shows really opened up my mind. The writing was so witty, smart and funny. And the rapport and repartee they had was amazing."
Camilletti and Cher forged a deep bond during their three-year relationship, and they remain good friends. Cher has been quoted as saying he was possibly the love of her life.
"In the show, it might seem like we're in a rom-com for about 10 minutes," Campayno laughed over his role, which underwent tweaking during previews. "They've been changing things like crazy," he said, "and Cher's running the show now."
The dazzling musical, directed by Jason Moore, with book by Rick Elice and choreography by Christopher Gattelli, features three ages of the superstar's life, portrayed by powerhouse singers -- Stephanie J. Block, Teal Wicks and Micaela Diamond. Jarrod Spector plays Sonny.
"The whole cast treats her story with great respect," Campayno said. "When I met her it was so beautiful. I told her how much she means to me and she told me Rob was the adult in their relationship."
The age difference didn't bother the couple, but the media circus hounded them, making it difficult to remain private. The press ripped him apart. "Cher told me if they had a fight, he would go out for smokes and then bring her back a cookie. They wouldn't even remember what they were fighting about," Campayno said. "He saw the real Cher, shy and wide eyed. She just wanted to work."
The paparazzi refused to let the couple alone. "Rob once got in a car accident and the media said he had hit someone and he ended up in jail," Campayno said.
Campayno didn't audition for his role at first. "I was on a tour with WICKED after performing on Broadway for a year. I was in Chicago during a huge snowstorm at the time," he said. "When I read the script and saw how honest the scenes were between them, I was drawn to it.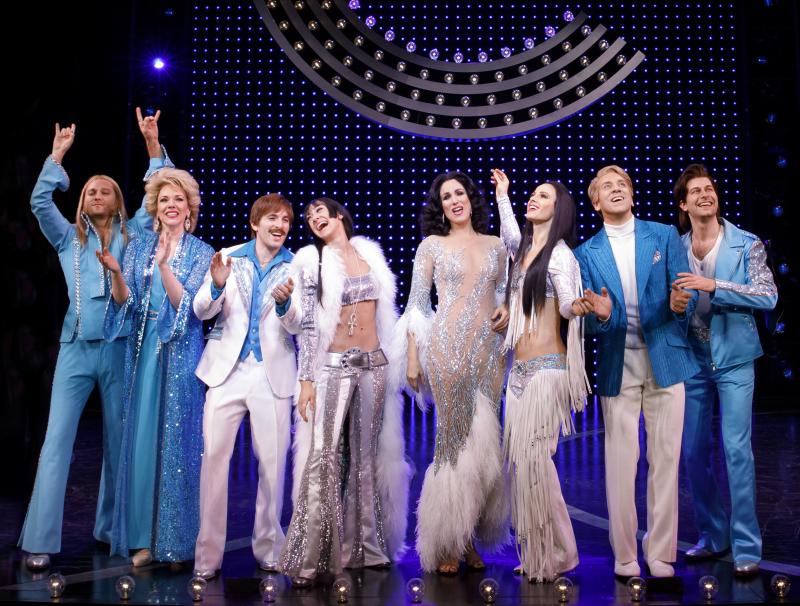 "I love developing characters and doing scenes that have real depth," Campayno said. "Rob was a good-hearted kid and meets this famous star and just wants the best for her."
The musical recalls a splashy Las Vegas show with extra pizzazz-thanks to Bob Mackie's costumes and exuberant song and dance. "The writing is so good and it's so challenging to be a part of," Campayno said. "I feel that Broadway is a lot like Vegas, and this production is a perfect mixture of huge musical numbers and characters and scenes that have depth.
"It shows you what's behind closed doors and the struggles Cher had as a person."
Campayno first met Cher when the show tried out in Chicago. "After one performance, she was wearing big sunglasses and a big hat. She was a little intimidating," he said with a laugh. "We were meeting a star. In rehearsals when she was in the house we'd talk to her one by one. Now she's learned about the family aspect of being in a production and having vulnerable moments on stage."
Cher recently made the gossip pages when she attended a performance and left during intermission. "I think she was so overwhelmed emotionally," Campayno said. "It must have seemed scarily real, reliving the experience and seeing her life played out on stage." The production has since been adjusted to Cher's satisfaction.
"In Chicago we took so much of what critics were saying and implemented changes. Now, it's really a Cher show. She's so accessible as a person, she doesn't come off as a huge star, especially after she ditched the sunglasses and hat," he laughed.

Campayno initially tried to imitate his way into his role. "I looked at Rob's effect on the show and what I focus on now is what a supergrounded person Cherilyn is. That's her real name. Rob truly wants the best for her and I try to depict the essence of him," he said.
Although his scenes with Cher are few, preparation for the show is all-consuming. "It might seem like I only work three hours a day, but my whole day is prepping for the show," he explained. "I focus on my energy level and the gym is where I listen to music and be in a different headspace. I've been totally obsessed with her songs."
Backstage is a whirlwind with the ever-changing costumes, shoes and wigs. "With the backstage craziness, there's never a moment when people are just standing around. Stephanie has 30 costume changes alone. "When I come on I enter with a lot of energy, there's no warming up," he said.
Campayno appreciates the powerful female roles in the show. "The spine of the show has to be to own yourself in order to be happy. To have three strong women in one show on Broadway is such a powerful thing," he said.
One of his favorite scenes is when the megahit "I Got You, Babe," is sung by the famous couple. "It's so authentic, just by the mannerisms of the two actors, you're transported back to that time."
Audiences have been wildly enthusiastic, especially the die-hard Cher fans. "Some of them think it's the real Cher when Stephanie makes her entrance. "We're giving them an authentic experience," Campayno said. "Matinees are some of our best shows, with that generation who loves her. "People want to relive the days they've been through following Cher. They're enraptured."
Campayno grew up in a musical family the youngest of six. "My whole family was involved in theater," he said. "I wasn't that interested because I wanted to pursue swimming, which I did for 12 years." A hurt shoulder sidelined him from the pool.
"After I stopped swimming I got into the musicals in school," Campayno said. "I didn't have a lot of tools to communicate with and theater was a vessel.
"I learned how to express what I was feeling," Campayno said, "And I'm grateful for finding my voice."
THE CHER SHOW is playing at the Neil Simon Theatre, 250 W. 52nd Street. The production is presented by Flody Suarez, Jeffrey Seller and Cher. Hair and wig design is by Charles G. LaPointe; music supervision, orchestrations and arrangements are by Daryl Waters; lighting is by Kevin Adams; sound by Nevin Steinberg; music coordination by Dean Sharenow; music direction by Andrew Resnick; and set design by Christine Jones and Brett J. Banakis.
Photo Credit: Walter McBride/Joan Marcus
Related Articles