BWW Interview: Linda Purl Gets Ready to Make Her Cabaret Debut at Feinstein's/54 Below!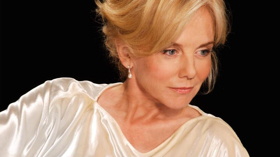 Renowned actress and singer Linda Purl, best known for "Happy Days", "Matlock" and "The Office" will make her solo cabaret debut at Feinstein's 54 Below on September 4th and 5th with her sensational new show "Big Band Romance" featuring the all- female Diva Jazz Orchestra.
Our very own Richard Ridge caught up with her just days before the big event.
---
You are about to make your Feinstein's 54 Below debut. How excited are you?
Richie, thank you so much. It's really nice to talk to you. I'm so looking forward to being in the gorgeous Feinstein's 54 Below. Yeah, this is kind of, sort of, my debut at 54 Below. Over the summer, I got to be a part of a tribute to the great Barbara Cook, so I got my feet wet.
What can you tell us about your new debut solo show?
I'm coming back with the incredible Diva Jazz Orchestra in a show called "Big Band Romance". As you probably know, Diva Jazz Orchestra is a 16-piece, all-women orchestra of just some of the most phenomenal jazz musicians ever, and I've been a fan of theirs for about ten of their twenty-five years. Sherrie Maricle, of course, who's the leader and is their artistic director, and I've been saying to Sherrie, "Gosh, I would so love to work with you." So, anyway, in this year of their twenty-fifth anniversary, and in this very, I suppose, historical moment, in a way, for women, in our continuing journey to be fully expressed, I'm particularly pleased to be a part of this show. It's big band, and most of the songs, well, make that all of the songs that we're going to be doing, are about romance. But really, it's a tribute to some of the great girl singers, which seemed to fit in nicely with working with an all-female orchestra.
And you're working once again with musical director Tedd Firth?
Yes, Tedd Firth is going to be at our helm. So, I met Tedd when Deborah Grace Winer, very kindly, and Rex Reed as well, two incredibly important people in my life, both as friends and as artists, very kindly pulled me into a show that they were doing at the 92nd Street Y where Tedd Firth was our musical director, and oh boy. It was musical love at first note, I would say, when I met Tedd. He is an extraordinary musician. He is our musical director. He has done most of the arrangements for this and there's not a time that I get to work with Tedd that I don't learn something grand. It's always an adventure. I like to say he plays the subtext of a song. Anyway, he's a great guy and a dear friend of Sherrie's and Diva Jazz Orchestra. So, it'll be a very happy coming together, I know, for all of us. Certainly me.
---
What are some of the songs that you will be covering?
We've chosen songs that big band girl singers were known for singing. Anita O'Day for doing 'Pick Yourself Up'. Ella Fitzgerald, the first lady of song, who was known for so many including 'It's Wonderful' and 'It's Too Darn Hot', 'It's Alright With Me', and 'Caravan'. Peggy Lee was known for so many among them 'When The Sun Comes Out' Billie Holiday for 'Them There Eyes', Helen Merrill for 'The Nearness of You'. So, these are some of the songs and some of the ladies that we will be paying tribute to including the great Rosemary Clooney. And for whatever peculiar reason or circumstances, or certainly great good fortune in my life, I got to meet or work with a number of these women including Rosemary Clooney and Peggy Lee. The list goes on and we will be sharing some of these stories.
I understand you have a special guest star?
Yes! We have a very special guest, a dear friend of mine, with an incredible and just amazing voice, Tom Wopat, who will be joining us. I am so grateful to say for some time up onstage for some wonderful singing.
When did you first fall in love with The Great American Songbook?
I first fell in love with The Great American Songbook through my parents who created this love affair. There was music going on most of my childhood. My parents would put a record on, an LP and off I would go to the world of some of the great musicals or one of the great singers certainly Rosemary Clooney, Eartha Kitt, Peggy Lee, you name it and they were on my parents turntable. Also, what Michael Feinstein has done for The Great American Songbook. I think he has put it into our experience the way that Joe Papp put Shakespeare into contemporary America or the way that Placido Domingo has put opera into our contemporary lives. There are certain people that bring these art forms forward and introduce a whole new generation of people into it and certainly Michael has done that with the Great American Songbook on steroids. It has given a lot of us careers with being able to sing these beautiful songs and I think that if Michael had not generated that interest, I would not be having these kinds of opportunities. I am forever grateful to him.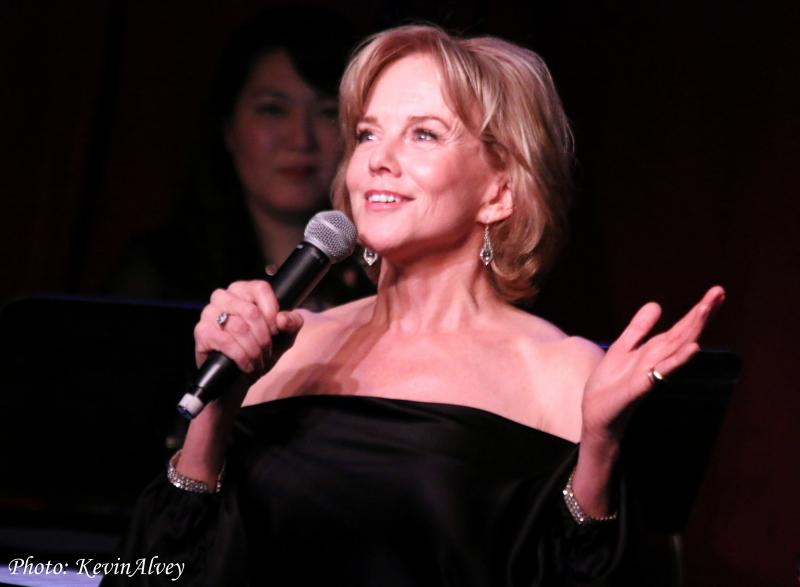 You have four sensational CD's- 'Out of This World -Live', 'Alone Together', 'Up Jumped Spring' and 'Midnight Caravan'. Were these all learning experiences for you?
Along the way I have got to do some cd's and each one is a learning experience. One was a live cd which we did at Desi Arnaz Jr.'s theatre over in Boulder Nevada in it's called 'Out of This World- Live'. Earlier, I did a studio CD called 'Alone Together' and I got to do two with Tedd Firth which of course has been a particular joy, 'Midnight Caravan' and our most recent called 'Up Jumped Spring' and we just started work on another one. We go slowly on these things. I take that back, I go slowly on these things. I'm just a slow worker. (laughs. I think it will be a year before it comes out and I am very grateful to have done these.
You have appeared on Broadway in such shows as " Getting and Spending" and the musical "The Adventures of Tom Sawyer". What are your favorite memories of being on Broadway?
I got to do a Broadway show called "Getting and Spending", a wonderful new American play and I came off stage and I said, 'I got to open on Broadway, and a little voice in the back of head said, 'But it's not a Broadway musical'. So that dream also got to come true a few years later with a gorgeous musical that we got to do at The Minskoff Theatre called 'The Adventures of Tom Sawyer'. Gosh, we had, as you can imagine, the divine John Dossett, and a beautiful young woman named Kristen Bell, and we all thought, 'gosh if the theatre gods are working right, this child will go on to great things'. Which of course she did. I hope selfishly that she will come back to Broadway at some point in a Broadway musical because she has an exquisite voice.
You have also toured the country in Joan Didion's Pulitzer Prize winning 'The Year of Magical Thinking' How rewarding was that for you?
For me, Joan Didion's gorgeous play, 'The Year Of Magical Thinking' is a manifesto on surviving grief. As you know, she wrote this book that remained on the New York Times Best Seller list for such a long time in response to her husband's sudden and incredibly untimely demise and she forensically, with surgical precision, goes back into exactly what she was thinking through the mad process of grief and at the urging of Scott Rudin, she translated her wonderful book into a one woman show that Vanessa Redgrave originated on the West End and than in New York. I had the privilege of doing it myself on and off for the last three years in about thirteen venues. It is always a privilege to do. It's a profound work and I feel strongly that Miss Didion was really in service to something deeply healing when she wrote that so I am always humbled when I get the chance to do her play.
You are known internationally for your TV work on such iconic shows as 'Matlock', 'Desperate Housewives' 'True Blood' and 'The Office' to name a few. Television has been very good to you hasn't it?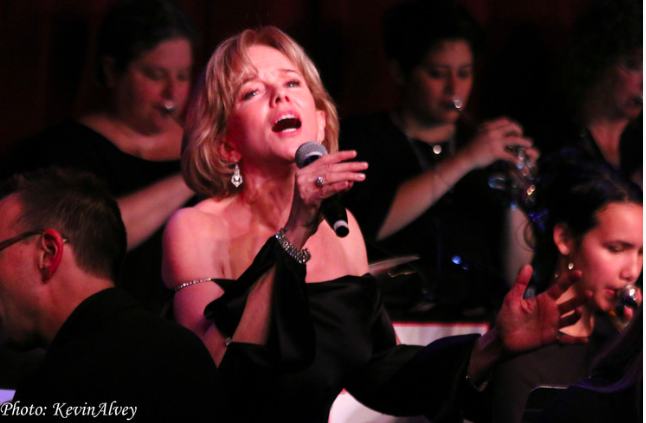 I'm so grateful to television because it has afforded me the chance to really maintain a career in the theatre. Television pays better than theatre, but theatre is the actors medium. So yes, I've had this journeyman's career. I never really had that big fabulous thing that shot me to stardom but I've been hanging around a long time. Matlock's daughter, Fonzie's fiancee on 'Happy Days' and than, eventually Pam's Mom on 'The Office 'and so it goes. The last mommy I got to play I think, is on a series that's airing now called 'The Oath. I got to play the divine Ryan Kwanten's mother. Oh, my goodness. What a glorious actor.
But its 'Happy Days', that many of your fans remember the most. It was created by the late Garry Marshall, whose musical 'Pretty Woman' is now on Broadway. Would you share a favorite memory of working with him?
Garry Marshall was one of a kind. He was a mensch. At his memorial, it was packed. There would have been more people there but they just couldn't fit them all in. The memorial went on for about four hours. And it was still to short. So much fun. We laughed, we cried. The overall sense was, he had changed so many people's lives and certainly so for me. He was grounded and he kept us grounded. He rose to meteoric heights and he took as many of us with him as he could. He was an extraordinary man.
Why do you feel so comfortable in the world of Cabaret?
The world of Cabaret is really interesting to me. I've always loved to sing and always loved music. Cabaret is a wonderful blend of discipline, especially with The Great American Songbook. They are like one act plays. Storytelling set to music. So that, appeases the actress in me. To be able to do the storytelling aspect and particularly, with the inspiration of maestro Tedd Firth. I'm thrilled to keep learning on this great musical component.
Finally, what are you looking forward to the most about your 54 Below engagement?
I'm so looking forward to being carried by and inspired by this Diva Jazz Orchestra. They are an electric set of women and I encourage your audience to come. I hope they will join us. So, Tom Wopat will be there and The Diva Jazz Orchestra will be there and the fabulous Tedd Firth and I know we will be having some celebrity pals in the audience, so I am feeling extremely lucky and really looking forward to this run at 54 Below.