Interview: Good For Her! Lisa Brescia Steps Into Heidi's Scrubs as DEAR EVAN HANSEN's New Matriarch
Does anybody have a map for replacing a Tony-winning actor in running Broadway show? The road isn't easy, but Lisa Brescia has traveled it before.
Earlier this week, the Broadway veteran joined the company of Dear Evan Hansen as 'Heidi Hansen,' marking her return to Broadway after six years since departing the cast of Mamma Mia!. Brescia succeeds Rachel Bay Jones, who played her final performance on August 5, 2018.
On Broadway, Lisa has played an electric array of leading ladies, having starred as Donna Sheridan in Mamma Mia!, Elphaba in Wicked, Cleo in Twyla Tharp's The Times They Are A-Changin', Amneris in Aida, and Marion Halcolmbe in The Woman in White. Lisa is currently on the Acting faculty at Missouri State University's acclaimed Department of Theater and Dance.
Below, Brescia checks in with BroadwayWold to talk all things Heidi Hansen, immediately following her Broadway return!
---
You started just two days ago. How is the week going so far?
My first act of the first show, appropriately and understandably, I felt like I was hovering above my body. [Laughs] Everyone was like, "Oh yeah, I remember that!" Act 2 felt really solid and grounded though. Then yesterday was such a gift- it was two shows to really feel comfortable, especially with the technical side of things. I felt more free.
It's going to be a continual exploration in finding even more freedom and really feeling her in my bones. It takes a minute. I think I'm off to a good start though! I've got tons of support. Michael Greif is there with me and very hands on. He's giving me guidance in a way that allows me to go deeper, which is exactly what I need.
That's great! You don't always get that as a replacement- getting to work in depth with the director...
No, you don't. He's consistently at the theatre. It's spectacular!
I know that replacing a role in a show is really difficult in itself, but you've just stepped into perhaps the most popular show on Broadway. Did you feel extra pressure?
I've replaced a lot and I enjoy it. I don't find it intimidating, but I know that much like stepping into the role as an early replacement in any show that's beloved, it's hard. Rachel set a very high bar. I'm a huge fan of her personally, as well as artistically. I have a saying that someone said to me once and I use all the time: "Don't compare in despair." Just do your work. Do what you need to do. I believe that they hire us for our skillset, but also for the essence of who we are. So bring that essence to the role, while finding the character. When you do the work, all of that hubbub is less impactful in a negative way. Pressure is there because there is so much expectation, but I feel like if I keep focused on doing my work, it buoys me rather than paralyzing me.
---
Did you get to talk Rachel about the role at all?
Yes! I know and love her. And she was so gracious and generous and super helpful- as were the covers who helped so much with the technical questions I had. I spoke to Rachel about her experience, but I could sense that Michael and the team wanted me to find my own interpretation of Heidi. So we didn't speak a lot about the character, but I watched her dozens of times. I really got a sense of her Heidi. There's a lot there that I think will be incredibly useful to me, yet I don't feel tied down to any cookie cutter impersonation of what she discovered for herself. She was also really great in making space for me to have a process and find my own Heidi. I adore her and consider her a friend.
Have you gotten to fully experience the Fansen's yet?
They are so enthusiastic! It's so beautiful. I'm a professor in Missouri, and my students in the theatre and dance department, before I was even at all attached to the show, they would talk about it and listen to that cast album.
It's a show that really resonates with people.
I think it's in the power of the story. It's Evan's overcoming this and finding his way. Even people in their older years struggle with the same issues. What I think is so beautiful about the fans is that they identify with the characters, whether it be the Murphys or Heidi or Alana or Connor. It's great to feel like your show has support, but I think that the more important thing here is that people feel uplifted by the show and feel hopeful because of the writing and performances.
Most of your scenes of course are with Taylor [Trensch]. What's it been like working with him?
It's heaven! He is really gifted and present and generous and surprising. It's easy working with him. He makes it easy. He's heaven, really.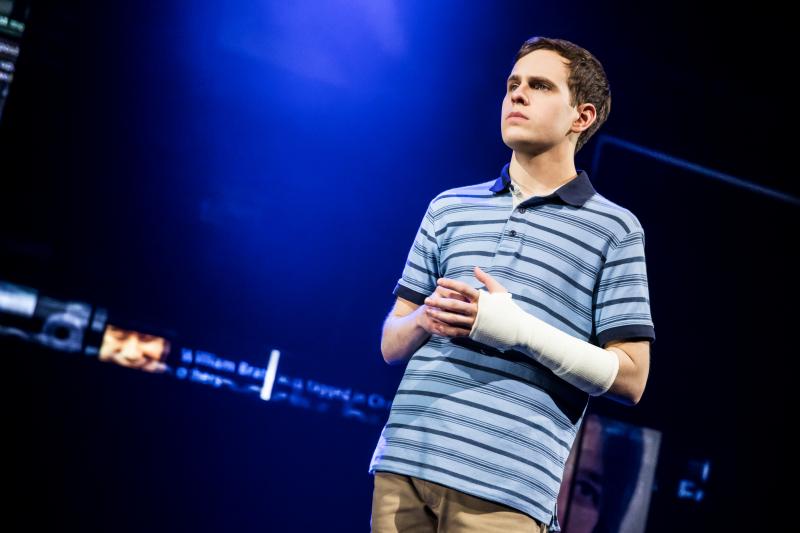 This role has to be emotionally draining. "So Big/So Small" in itself is a gut-wrenching moment. Have you figured out a way to shake that off every night?
You know, I've done emotionally draining roles before. For me, getting to feel that deeply and expansively is uplifting for me as a person. Once in grad school I said to a colleague: "I think if we were all just real with each other, we'd just sit down and hold each other and cry." [Laughs] There's an opportunity to release all of that emotion. And that's a relief to me. I don't feel depleted by it, I feel comfort.
Also, "So Big/So Small" is all about Evan. It's, "Hey, I know you feel like your life is over, but it gets better. This was my experience, when I thought I couldn't get any lower." As long as I make it all about him, and not about me and my pain, it works. Last night was really special with Taylor. I could see that the song comforted him and lifted him up. I was witnessing that.
Do you have a favorite moment in the show yet?
So far it's the moment with Evan at the end of "So Big/So Small," when their relationship is restored and her sense of herself as a mom changes from feelings of failure to "Maybe I can do this and be this for him." I can't imagine a more gratifying moment as a parent, to realize, "I think I just helped him."
What are you most looking forward to in the rest of your run in this show?
I think it's just the opportunity to tell the story and feel the sense of community that's already established in the building. And I want to contribute to that too. I have a friend in Missouri who says that she wants to be sunshine on the paths of others. Jennifer [Laura Thompson] and Michael [Park] have stuck around and they and everyone else are so welcoming and I feel that sense of community in this cast.
I can't believe how this story impacts people. I look out at curtain call and I know that they just got a full meal. They feel like they got their money's worth, and they are now changed or touched in some way. We are among a privileged few who get to do this. Just to have the opportunity to do it over and over again is a gift.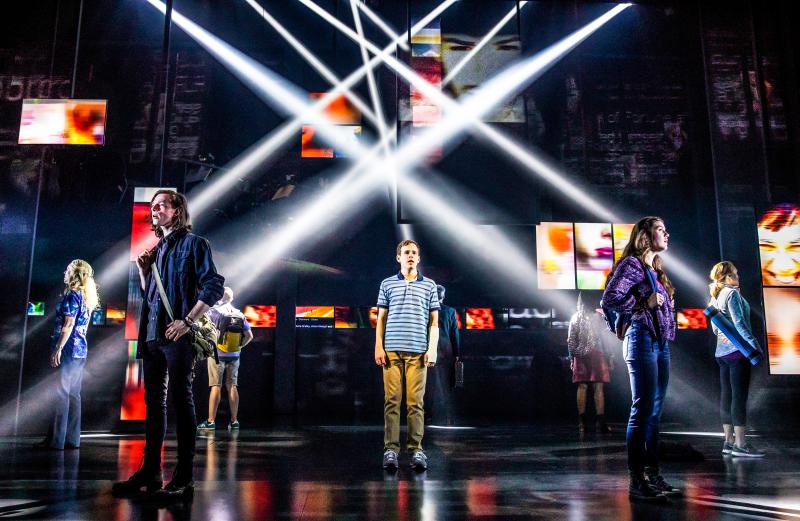 ---
The current cast of Dear Evan Hansen includes Taylor Trensch, Jennifer Laura Thompson, Michael Park, Alex Boniello, Sky Lakota-Lynch, Phoenix Best and Michael LeeBrown, Garrett Long, Olivia Puckett, Ben Ross, Asa Somers, Nicole Van Giesen, Diamond Essence White and Dan Macke.
The winner of six 2017 Tony Awards, including Best Musical, Dear Evan Hansen features a book by Tony Award-winner Steven Levenson, a score by Academy Award and Tony & Grammy Award-winning composers Benj Pasek & Justin Paul, and direction by 4-time Tony® Award nominee Michael Greif. The Grammy Award-winning Original Broadway Cast Recording of Dear Evan Hansen, produced by Atlantic Records, was released in February 2017, making an extraordinary debut on the Billboard 200 and entering the chart at #8 - the highest charting debut position for an original cast album since 1961 -- and went on to win the 2018 Grammy Award for Best Musical Theater Album.