Interview: George Takei Talks Bringing ALLEGIANCE To Los Angeles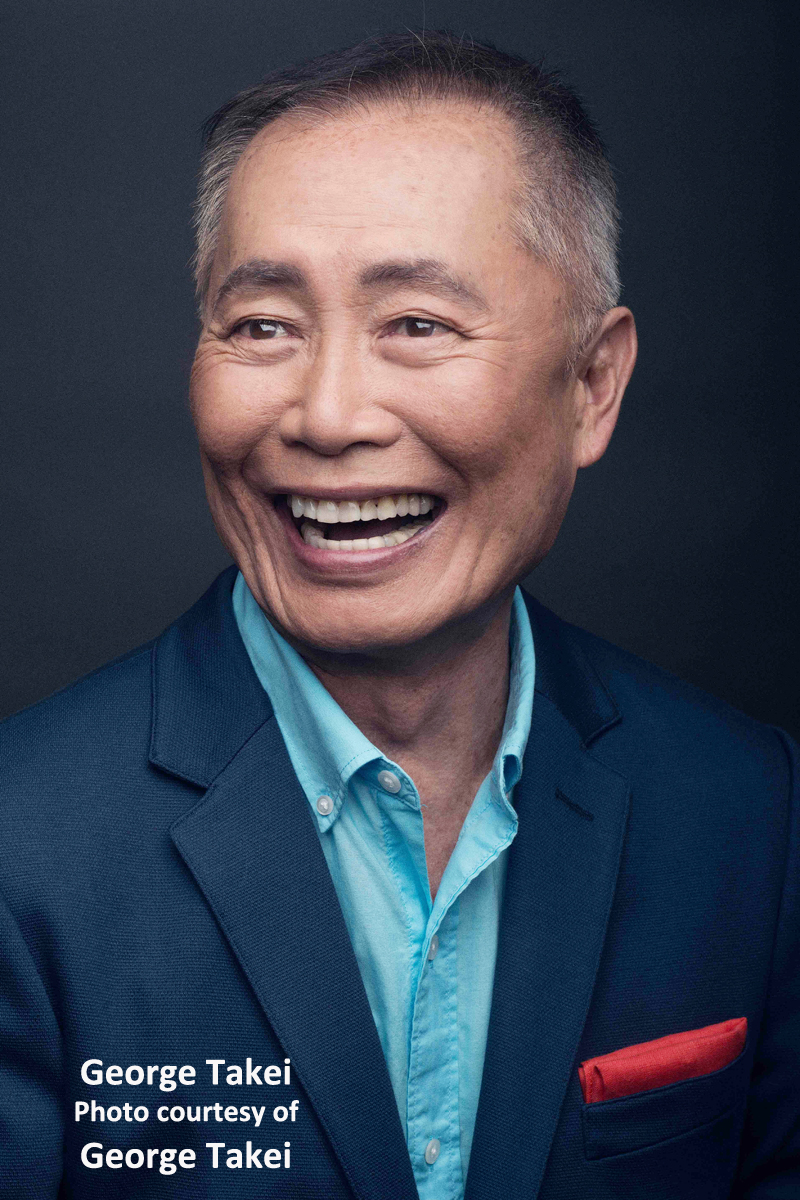 ALLEGIANCE, George Takei's chronicles of his unimaginable family imprisonment in internment camps, makes its Los Angeles premiere February 28, 2018 at the Japanese American Cultural & Community Center's (JACCC) Aratani Theatre. During previews, we managed to grab a chance to talk with George on ALLEGIANCE's too-long, incredible journey from his all-too-vivid childhood memories to its decades-later try-out at San Diego's Old Globe, through its Broadway engagement, to its Los Angeles premiere co-produced by the East West Players and JACCC. A most vocal human rights activist with an humongous social media following, George first emerged into wide public consciousness as Sulu on the TV classic Star Trek. In 2008, when California legalized gay marriage, George and his long-time partner Brad Altman prevailed as the first same-sex couple in line for their marriage license in West Hollywood.
Thank you for taking the time for this interview, George!
The last time I had the chance to really talk with you, you had opened ALLEGIANCE at The Old Globe in San Diego in September of 2012. I've seen you and Brad since at various East West Players opening nights. And here you are, with your own opening night with this EWP/JACCC co-production on February 28. How wonderful is it to be back at your theatrical frontier?
The decade-long ALLEGIANCE trek has at last come home. From its conception in a Broadway theater in New York as a musical on the imprisonment of Japanese Americans, to its initial production at The Old Globe Theater in San Diego, to its dazzling Broadway premiere back in New York, to finally Los Angeles, my hometown, at the Aratani Theater with my beloved East West Players has been an incredible personal journey. L.A. is where ALLEGIANCE belongs. The largest concentration of Japanese Americans lives here so the internment touched more people and families more deeply here than anywhere else in America. This is where ALLEGIANCE resonates personally.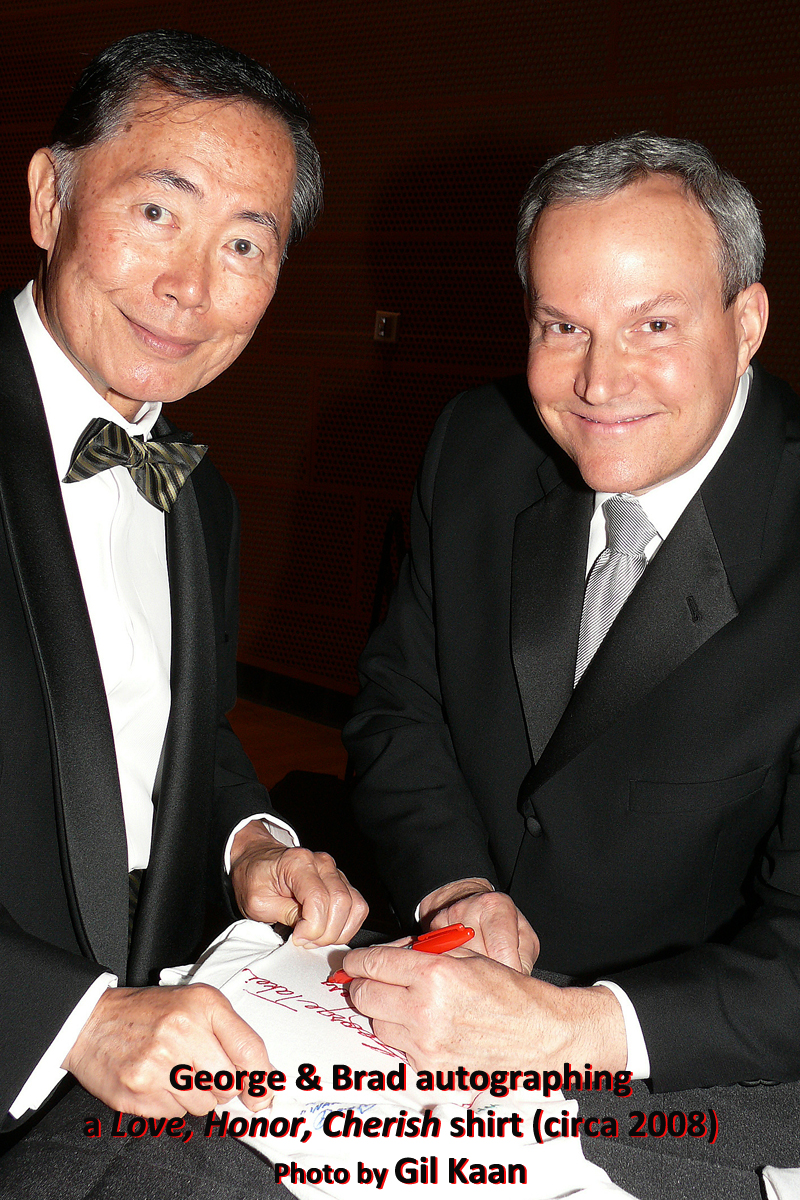 You and Brad are currently Chairs of the East West Players Council of Governors. Can you share your history with EWP? What made you boldly go with EWP?
East West Players was founded by my fellow Asian American actor friends in 1965, the same year that I was cast in Star Trek. I saw their first production RASHOMON with Mako with a host of gifted Asian American actors, including a dear friend, Beulah Quo. I was thrilled and proud to see so many talented people fully challenged with dimensioned roles doing their best work. But they were performing in a church basement with limited audience capacity. The determination of passionate actors eventually moved the EWP to a 99-seat storefront space on Santa Monica Boulevard where they continued to do good work. Tony Award-winning playwright David Henry Hwang got his very first play produced there. The EWP deserved to have a real theater with more audience capacity. So, Beulah Quo and I spearheaded a major fund-raising drive to build that home for the EWP. We found an empty religious building, Union Church, the first Japanese American Christian church in Los Angeles' Little Tokyo, which we adaptively restored as a 240-seat, mid-size house. Since that time Brad and I have served as Chairs of the EWP Council of Governors to financially sustain the work of this longest operating minority theater in the United States.
ALLEGIANCE's story is your family's story. When did the seeds of these memories start finding its way onto paper? Long before a chance seating of you and Brad and Jay Kuo and Lorenzo Thione at a performance of IN THE HEIGHTS in 2008, right?
I have always been surprised by people who seemed well-informed who were astonished when I told them that I grew up imprisoned behind American barbed-wire fences during WWII. I feel that it is a vital chapter of U.S. history that all Americans need to know about. So, I have gone on many speaking tours throughout the country to share stories of the experience of Japanese Americans during WWII. It was in 1992 that I began writing my autobiography, To The Stars, which was published in 1994. The first third of the book is about my childhood imprisonment. I also thought of the story of the internment as a powerful drama for theater. But when I met Jay and Lorenzo in a Broadway theater in 2008 and told them about my idea, Jay insisted that it should be a musical. Music has the power to reach the depth of human emotion, as well as, the height of passion. Of course, being a fan of musical theater myself, I understood and shared that idea. And that was the beginning of ALLEGIANCE: THE MUSICAL - born propitiously in a Broadway theater, music and lyrics by Jay Kuo, who originally imagined the story in music.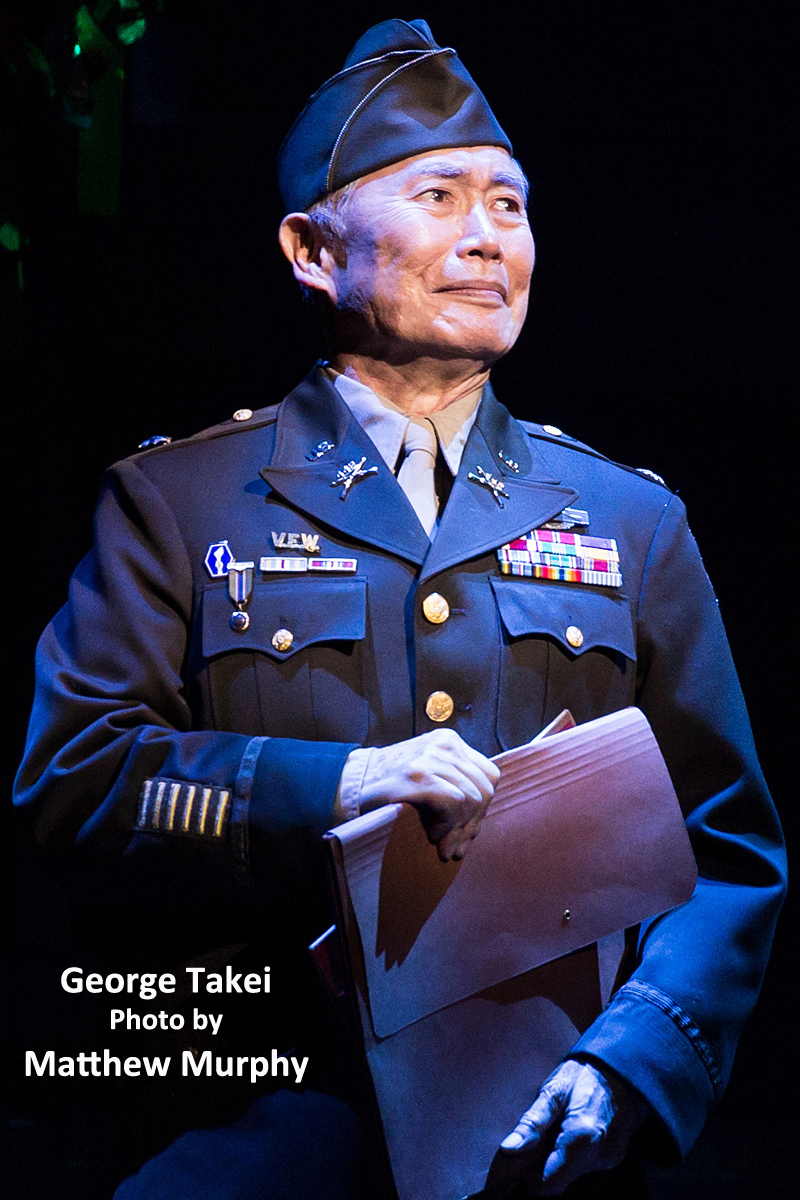 Was ALLEGIANCE's original title ALLEGIANCE- A NEW AMERICAN MUSICAL? Or what's its official, registered title?
You are correct. The title is ALLEGIANCE - A NEW AMERICAN MUSICAL.
Was there much tweaking of your Old Globe production to morph into your Broadway Longacre Theatre's debut?
A critical moment near the end of the musical, when old and embittered Sam gains new insight and a turning point in his estrangement with his family, was more than just "tweaked." In San Diego, it was his discovery of the fact that Mike Masaoka, the apologist for the internment, had been vigorously lobbying to have imprisoned Japanese Americans be drafted into a segregated unit of the U.S. Army to be used as "cannon fodder" that dramatically changed Sam's attitude. For Broadway, his change came from a far deeper personal insight. The Life magazine that featured him on the cover that his father had proudly kept and Keiko had saved for him became the catalyst for his change - from bitterness into long suppressed love of family. There were other minor "tweaks," but the causation of old Sam's emotional transformation at the end was the most significant.
Only a few theatrical productions have been professionally recorded for movie theater distribution. How did the recording of ALLEGIANCE come about?
It was the prescience and vision of our producer, Lorenzo Thione. He was determined to have ALLEGIANCE exposed to the largest possible audience. The Old Globe production broke all attendance records in its history. The 1,100-seat Longacre Theater on Broadway increased that audience count. But Lorenzo felt that the story of ALLEGIANCE and its relevance to our time today was so important that he thought it should be filmed to reach an even larger audience. He was so right. ALLEGIANCE on film broke all attendance records for Fathom Events, the company that screened the filmed version. Movies can be so much more ubiquitous than theater.
When I originally looked up your social media numbers back in December in prep for this interview, I found that you had 9 million Facebook followers and almost 3 million followers on Twitter. Your use of IndieGoGo to raise production funds for your world premiere at The Old Globe exceeded your original goal of $50,000, raising $158,000. What words of wisdom would you give to a budding playwright or film maker on using IndieGoGo successfully?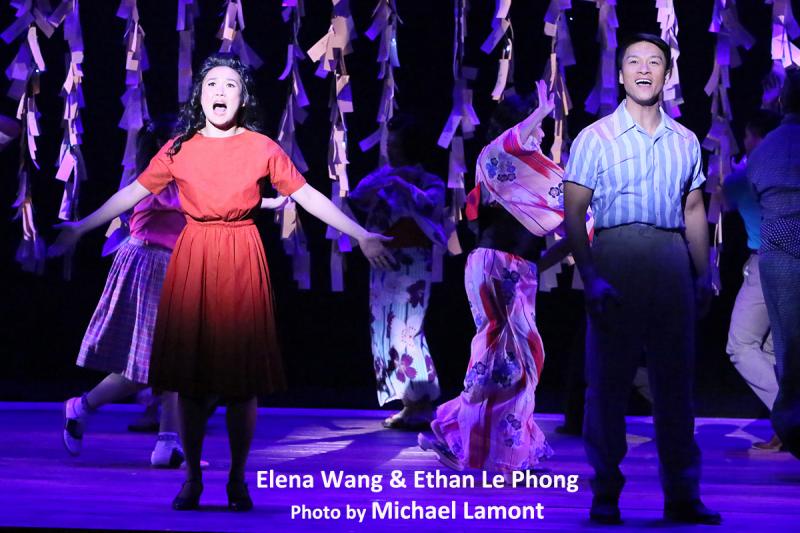 Actually, I have 10.4 million on Facebook and 2.86 million on Twitter to be precise. And indeed, IndieGoGo did help us jump start our trek from The Old Globe on to Broadway. All of them are fantastic ways of engaging people and funding good works. But we are now discovering the underside of the powers of social media. And that is the nefarious and anonymous use of it for division, damage and subversion. Vulnerable people are harmed, lies are broadcast, and even our elections had been sabotaged. It has become a matter for all of us to be deeply concerned about and a vital topic for playwrights and film makers to examine.
You have been a staunch vocal advocate in gay rights and your political views. Would you re-iterate the value of exposure to the arts in the developing minds of our younger generations?
Young people are the future of our society. The lesson ALLEGIANCE has to teach is that America must not repeat the mistakes of the past in order to insure a better future for our country. So, we have a program to fill our matinee audience with students from local schools. The arts develop not only the minds of the young, but enlarges and enriches the spirit. We learn about fairness, equality, justice. We learn that good people help make a better future.
Any treks or projects in the near future for George Takei you can share with us?
Of course, there are the Star Trek conventions I'll be doing - but, on a weekly basis, there is the newest Star Trek television series, Star Trek: Discovery, for your regular Trek fix. And have you heard that Quentin Tarantino is excited over his idea for a new Star Trek feature film? Stay tuned.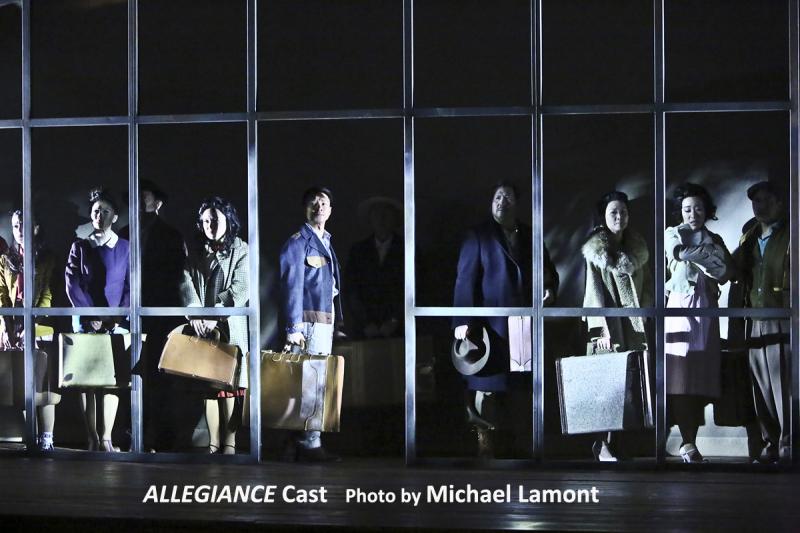 Speaking of Star Trek, did any of the Star Trek plotlines stir up memories of your family in internment camps?
Not with the original series. But one of the Next Generation series did.
Since presenting your Heart Mountain/Tule Lake story to the theatre audiences, have any descendants of your family's fellow internees reached out to you?
A touching gift from the Broadway production was meeting a sweet 92-year-old lady backstage after a performance. She was brought to New York from Stockton, California, by her daughter. She introduced her mother to me as the teenager who was the secretary for my block manager father at the Arkansas camp, Rohwer, where we were incarcerated. I told the spry, smiling lady that I remember her in my Daddy's office as the lady who typed on that amazing machine rat-tat-tatting at a mile a minute. I still remember my amazement. She told me she remembered me as a "rascal," scampering all over the office.
What messages would you like ALLEGIANCE audiences to take from your family's not-as-unique-as-you-think narrative?
In ALLEGIANCE, we tell the story of one Japanese American family. We personalize the extraordinary experience of a people with whom we all can identify. We feel the people's anguish. We experience their struggle. We weep with them and we laugh with them. The story of ALLEGIANCE is a human story of injustice and the struggle to overcome. I hope the audiences are moved to not allow this kind of wrong to ever be repeated in our times.
Thank you again, George. I look forward to experiencing your opening night at JACCC's Aratani Theatre in Little Tokyo!
For ALLEGIANCE ticket availability and schedule through April 1, 2018; log onto AllegianceMusical.com