Click Here for More Articles on BC/EFA
BWW Exclusive: 'Tis the Season for Shopping! The 2017 BC/EFA Holiday Gift Guide Has Arrived!
It's December, y'all! Time for snow storms, egg nog, those giant ornaments that show up on 6th avenue across the street from Radio City Music Hall.
AND... my favorite shopping opportunity of the year: The BCEFA Catalog of Giving, offering holiday-specific and evergreen gift options for everyone in our lives, all benefitting Broadway Cares/ Equity Fights AIDS.
Every year I wait for it - the adult equivalent of Santa coming: the arrival of my BC/EFA snow globe!
This year's is new levels of gorgeous. Created by designer Mimi Lien of Natasha, Pierre and the Great Comet of 1812, it's the first in the annual snow globe series to feature lights - an homage to the 999 light bulbs that illuminated the Great Comet set, as well as a perfect festive flair reminiscent of classic Christmas lights. The silver-painted, geometric base (a nod to the set of Falsettos, perhaps?) displays marquees over 20 Broadway musicals, including Dear Evan Hansen, Kinky Boots, Hello Dolly, Wicked and Bandstand. You'll want to display this masterpiece a place of distinction - perhaps as the centerpiece of your holiday table.
I'm thrilled that for the sixth year in a row, the catalog also includes a set of beautiful Playbill cover ornaments, continuing the tradition of featuring the longest running musicals in Broadway history. This year's set features Aida, Dancin', HAIR, The Wiz, La Cage aux Folles, and Crazy For You. Also available are the previous five sets (Volume I is a must-have: Phantom, Les Miz, A Chorus Line, Chicago, The Lion King, and Cats), totaling thirty ornaments - enough to fill their own small tree!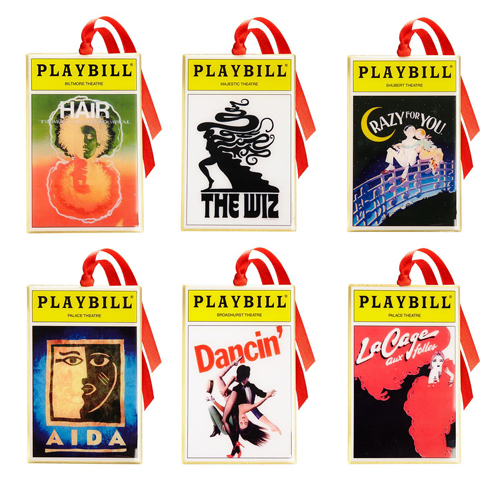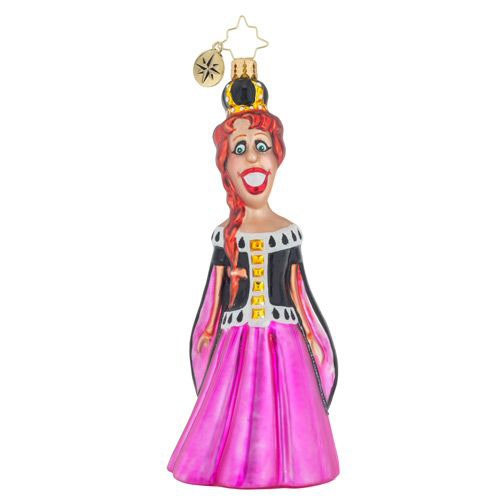 If you have a bigger tree to fill (ie: if you don't live in a Manhattan apartment), additional available ornaments range from a $3 sparkly red ribbon to the $65 limited addition "Broadway Legends" ornament, featuring Carol Burnett in her storied role as Princess Winifred in Once Upon a Mattress.
How about the beautiful Broadway Cares Collection ornament? This annual collection features items that can be given for Christmas, Hannukah, Kwanzaa, Solstice, Winter birthdays or any "just because" occasion.
What is the Broadway Cares Collection, you ask? It's a wide selection of gift items, some classic and some new this year, that feature the logos from at least twenty Broadway shows that played in 2017. From a serving tray to a silk scarf, from a tote bag to a ballcap, and my favorite - a purple t-shirt that has a full 35 shows represented! - you can practically do all of your shopping from this one section of the catalog.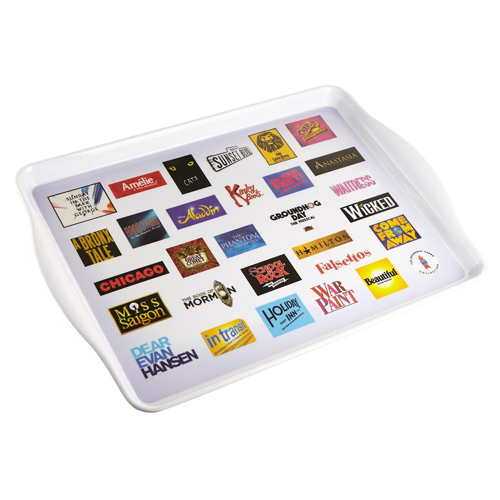 My favorite new item this year is a cookie jar from the Broadway Cares Classic Collection (logos are from Broadway's biggest hits, both current and past). It's big enough to fit at least a dozen of Schmackery's giant treats, and has a beautiful sky-blue background. (Not into sweets? Use it to keep your ticket stubs, jewelry, or Broadway enamel pin collection!)
Got any cooks (or eaters, for that matter) in your family? Decorate the whole kitchen for them: The Classic Collection offers placemats, napkins, aprons, and oven mitts. Deck out the bathroom while you're at it: this shower curtain is the perfect backdrop for belting out show tunes while you bathe! And for every occasion, pick up a few rolls of Classic Collection gift wrap. Nothing sets the wheels of anticipation rolling like box wrapped in a teaser of the Broadway goodies inside.
For autograph collectors, the catalog offers a ton of affordable goodies. Books by Joel Grey, Carol Burnett, and Drew Hodges; and CDs from Betty Buckley, Kristin Chenoweth, Jay Armstrong Johnson, and Tony Yazbeck are the tip of the iceberg.
Want to really go to the next level? How about an Autographed Opening Night Playbill series? Throughout the upcoming year, your gift recipient will receive a signed playbill from every single show that opens, including (if you want it, and let's be frank, you do) a program from the 2018 Tony Awards. (Add this one to my personal wish list, please.)
Order soon to guarantee delivery before the holidays.
To view the full BCEFA Catalog of Giving 2017, click here.