BWW Exclusive: Sutton Foster & Hugh Bonneville Join Mormon Tabernacle Choir for Magnificent Christmas Concert
Two-time Tony Award winner Sutton Foster (THOROUGHLY MODERN MILLIE, LITTLE WOMEN, SHREK THE MUSICAL, ANYTHING GOES) and television and film star Hugh Bonneville (DOWNTON ABBEY, PADDINGTON, IRIS, GALAVANT) were the special guests at this year's magnificent Mormon Tabernacle Choir Christmas concert, also featuring the Orchestra at Temple Square, the Bells on Temple Square, and the Gabriel Trumpet Ensemble. The performances were presented free of charge as a gift to the community Thursday, Dec. 14 through Saturday, Dec. 16 at the impressive 21,000-seat Conference Center. The concert will air nationwide on PBS and BYUtv during the 2018 holiday season, and a DVD and album will also be released.
BroadwayWorld was generously given unprecedented access to the production, including the opportunity to speak with Foster, Bonneville, and conductor Mack Wilberg.
"You kind of grow up with it," Foster said about the choir. "I feel like I've always known about it. I've always associated it with Christmas for some reason. The Mormon Tabernacle Choir and the Christmas season seem to go hand in hand."
The annual Mormon Tabernacle Choir Christmas concert is on a scale many times larger than a Broadway show but with a similar aesthetic. This year, theatrical set pieces adorn the towering organ pipes, enhanced by lighting, video projections, and falling snow. Throngs of dancers and actors in Victorian costuming envelop the choir and orchestra as they contribute to the storytelling, the apex of which is Bonneville's tender, enthralling narration of a true Christmas story.
Foster's incredible trademark belt, clear as a bell, is given a bright spotlight in her favorite number of the evening--a Broadway Christmas medley featuring "Snow!" (WHITE CHRISTMAS), "Have Yourself a Merry Little Christmas" (MEET ME IN ST. LOUIS), "Happy Holiday" (HOLIDAY INN), and "It's the Holiday Season" by Andy Williams. This brassy, festive treat contrasts another very different highlight--the lush, hushed tones of the choir's uplifting "Silent Night." The best of both worlds are brought together in Foster and the choir's wondrous "Pure Imagination" (CHARLIE AND THE CHOCOLATE FACTORY). Also not to be forgotten is the breathtaking "I Saw Three Ships" from world renowned organist Richard Elliott, featuring a pulsating percussion accompaniment.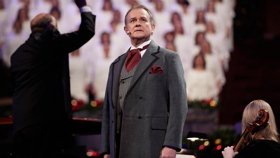 The grand finale begins reverently with Hugh Bonneville's thoughtful, engaging retelling of Luke 2 and builds as Foster and the choir join all the instrumental ensembles for Wilberg's thrilling arrangement of "Angels from the Realms of Glory." The dancers fill the stage and aisles with glowing orbs, and the lights, projections, bells, and powerful vocals reach the climax of everything the soul desires at Christmas.
The seeds that would ultimately grow to become this concert were first planted years ago when Wilberg enjoyed Foster's breakthrough, Tony-winning performance in THOROUGHLY MODERN MILLIE on Broadway. Wilberg also enjoyed Bonneville's narration in a Christmas show he attended at Royal Albert Hall in London and was eager for him to participate.
Due to the filming of Foster's television show, YOUNGER, and Bonneville's PADDINGTON film, they were both unable to participate when first asked, but they were grateful to be offered the opportunity again this year and were able to clear their schedules to do so.
Foster has friends in Utah, whom she met while performing on the tour of LES MISERABLES in 1999. Utahn Alison Fidel played Young Cosette/Eponine, and Foster played Eponine. They have remained close, with Foster traveling to Utah in support of Fidel's wedding in the Salt Lake Temple. The Fidels have urged her to sing with the Mormon Tabernacle Choir for years, and she is grateful that their request has finally come to fruition.
Plans for this concert were first made in January of this year, essentially immediately following last year's performances, with the theme, story, and design choices set early in the year. The emotional centerpiece of the production is the true account of a family in the late nineteenth century torn apart by but also strengthened in their trials, most notably the sinking of the ship on which they were sailing just before Christmas.
Accordingly, the physical centerpiece is a detailed representation of a ship with portholes, sails, and flickering lanterns amidst a sea of gorgeous Christmas trees and poinsettias. The stunning lighting design and immense projections stretch the boundaries of what is possible in such a space, with vibrant color schemes that vary with every mood.
Adding even more meaning, "the costumes and the music itself are meant to be representative of the story," Wilberg said. The dozens of beautifully detailed period costumes designed by Susan Memmott Allred for the dancers and actors add a theatricality and sense of scope that is unparalleled. The matching choreography by Christine Moore is epic in scale, with dancers filling every level of the vast multi-tiered stage and spreading throughout the aisles. However, it is also intimate, with every group and individual specially directed in a way that makes every little scene and movement feel authentic. Like the costumes and choreography, much of the music--from the classical section from Charles Gounod and Charles-Marie Widor to the delightful audience sing-along number "Jingle Bells"--is all from the same time period as the featured story. "It's a challenge and joy to keep things in the tradition but fresh at the same time," Wilberg said. With a new concert to plan and execute each year, "cohesion, but yet contrast is key. Variety keeps things interesting."
After Foster and Bonneville were secured as the guest artists, the intended repertoire was fine-tuned to best reflect what Wilberg called their "unique gifts and talents" as they collaborated with the team to provide input about their portions of the show. Foster requested to sing "Christmas Time is Here" from A CHARLIE BROWN CHRISTMAS and John Denver's "Sunshine on my Shoulder," as they both carry sentimental meaning to her. Bonneville recommended adjustments to the narration to make it as broadly appealing and inclusive as possible.
As Bonneville narrates, the emotional story is staged theatrically by adult and child actors with an accompanying underscore arranged by Wilberg and performed by the choir and orchestra. "There's a poignant, tragic heart in it," Bonneville said. "It is a tale of great sorrow but great fortitude and finding strength in adversity and courage in the darkness. That spirit of drawing on the past as a sort of platform for the future is one of the themes." In the concert, he prefaces his telling by describing his family's Christmas tradition of toasting departed loved ones and telling stories about the things they loved. This resonates profoundly with Foster's explanations of her song choices, which she gives the audience earlier in the performance. "Sunshine on my Shoulder" was a favorite of her mother, who recently passed away, and "Christmas Time is Here" is a memory from her childhood that she hopes to pass on to her newly adopted daughter. The concept of family, tradition, and hope passed on through the generations is a powerful one that echoes throughout the entire concert.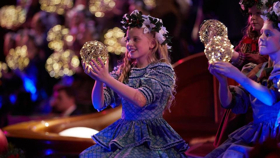 Foster and Bonneville received their final music and script about two weeks beforehand. They worked on their own until arriving in Utah soon before the first performance. They had to quickly find their place within the cogs of what Bonneville calls "a massive machine that's run on a very tight schedule" with choir, orchestra, dancers, and technical elements all in motion.
The enormous production contains every element of both a television event and a Broadway show, but on a much grander scale. Separate control rooms and teams of individuals are utilized for live video editing, remote camera control, sound mixing, lighting, and calling cues. The backstage area is teeming with volunteers (more than 600) and staff: choir and orchestra members, actors, dancers, makeup artists, choir assistants, security, production team members, and crew, among others. Everyone involved, from the ushers to the producers, are exceptionally welcoming and giving as they work together in realizing a common goal.
"To bring together a volunteer choir and orchestra of this size and caliber is unprecedented and unique in the world," Bonneville said. "Obviously, the choir's reputation precedes it. All I can say is that the experience I've had here has been extraordinarily warm and welcoming."
"I had no idea what to expect, and I was really nervous, but when I walked onstage it became less about me and more about all of us," Foster said. "I just was so overwhelmed by the spirit of the season. It was truly moving. This has been sort of a dream come true of mine."
Last year's Christmas concert, featuring tenor Rolando Villazon, airs nationwide on PBS and BYUtv this holiday season, and the DVD and album are currently available for sale. This year's concert, featuring Sutton Foster and Hugh Bonneville, will receive the same treatment in 2018. For more information about these and future Mormon Tabernacle Choir concerts, please visit www.mormontabernaclechoir.org.
Photo Credit: Intellectual Reserve