BWW Exclusive: New Musicals at 54 Series - Jennifer Ashley Tepper Interviews Zack Zadek and Alex Pototsky About THE CRAZY ONES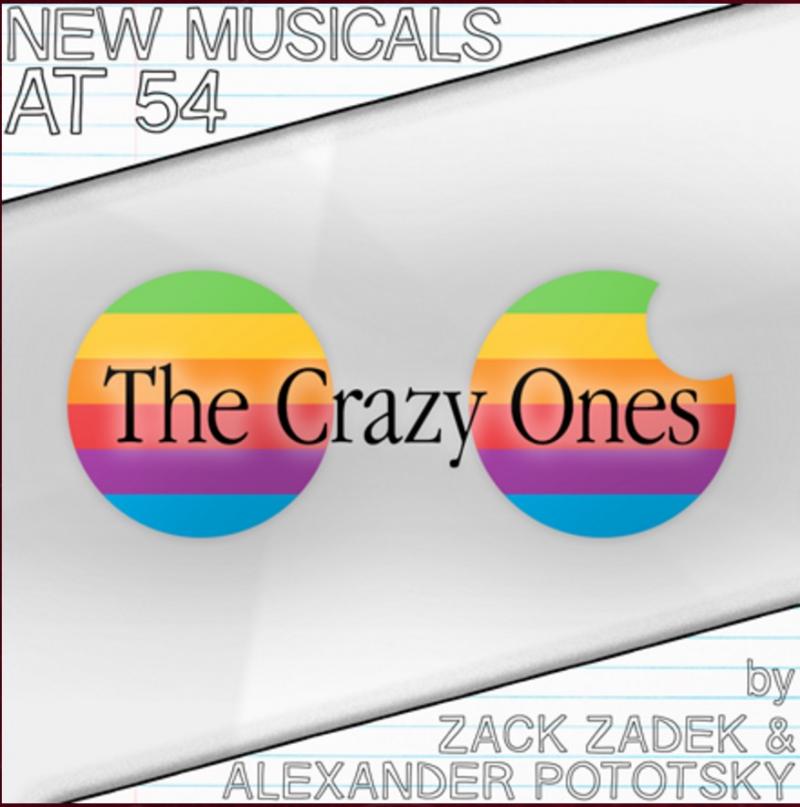 New Musicals at 54 is a series produced by Feinstein's/ 54 Below Programming Director Jennifer Ashley Tepper. Some of the 10 new and diverse musicals by a selection of today's most talented writers have had out-of-town productions, some have had workshops... now's your chance to be first to see them in NYC! Join us at New Musicals at 54 for one-night-only concerts celebrating each new show with songs, behind-the-scenes stories, and all-star casts! Click here (http://54below.com/new-musicals-at-54/) to learn more about the New Musicals at 54 series. Use code NEW20 when purchasing tickets to three or more shows in the series in a single order and receive 20% off tickets in the Main Dining Room or Bar Rail

Tickets and more information: http://54below.com/artist/new-musicals-at-54-the-crazy-ones-by-zack-zadek-alexander-pototsky/
---
JENNIFER ASHLEY TEPPER: Based on the true story of Steve Jobs and Apple Computer, The Crazy Ones is a thrilling original pop-rock musical with music and lyrics by Zack Zadek and book by Alex Pototsky. Zack and Alex, when did you start writing The Crazy Ones and what was the initial inspiration for it? What stirs you about telling this particular story on stage?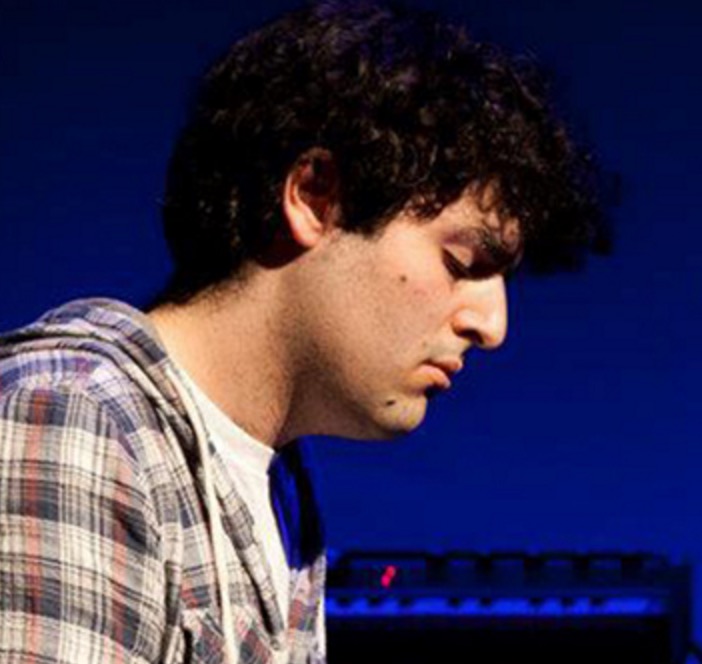 ZACK ZADEK: I had always been oddly obsessed with Apple as a company, pretty much since around the time I got my first iPod. It slowly became something I followed - watching keynotes of each product release, reading blogs and sites discussing the company, etc. At some point, I became interested in the history of it all...when did this company start, what led us to the products we use today. That story obviously led to Steve Jobs, and the moment I read he was (spoiler alert) fired from his own company before coming back to save it...I thought "yup, there's a story for the stage there".
JENNIFER ASHLEY TEPPER: How did you two meet and when did you begin collaborating?
ALEX POTOTSKY: We met at a Cub Scout day-camp when we were in fourth grade and instantly became hated, bitter rivals after our two dueling performances during the bonfire talent show. We spent the next few years bumping into each other at Long Island extracurriculars like karate lessons and such until our first serious collaboration as double-cast Tevye's in Half Hollow Hills' 6th grade production of Fiddler on the Roof, Jr.. We rewrote half the show to take the Jr. out, but I probably shouldn't say that in case MTI is reading this.
ZACK ZADEK: Yeah all roads lead from Fiddler Jr. As far as The Crazy Ones, I had the idea cooking around for a few years but didn't really do anything with it besides writing a song or two. But I would toss a story question Alex's way and he would answer pretty insightfully even though he wasn't sold on it. And then six months before Steve stepped down as CEO (around a year before he passed away), I said to Alex "this is crazy, you're a playwright, I'm a composer/lyricist...we grew up making musical theatre...just write it with me".
JENNIFER ASHLEY TEPPER: What excites you most about writing for the theatre today? And on the flip side, what are the most significant challenges you feel that writers for the theatre face in 2016?
ZACK ZADEK: I think that there is a convergence of popular culture and more advanced storytelling that's happening in theatre today. You can tell complex and interesting narratives that play around with form and structure, and still have them be widely accessible. The challenge comes in convincing people to produce more than a reading. Cause money.
ALEX POTOTSKY: I think theater audiences are much more willing to be actively involved in their own immersion than in any other type of drama. Because you're limited in terms of what you can truly do or show compared to film or TV, an audience is much more generous with their imagination. That frees us up as writers to take more risks. We could write a play about Tom Edison told entirely through gaelic hymns starring an all-female cast, and if you commit, people will go with it. But when they go see Ant-Man 3 they complain that the Man-Ant's cephalothorax is inaccurately rendered. The challenge is that 100 million people see that CGI ant, but you can only reach a few tens to a few hundred people in a theater.
JENNIFER ASHLEY TEPPER: What was your first exposure to theatre? When did you know it was what you wanted to pursue as a career?
ZACK ZADEK: I did community theatre from a really young age and was pretty fully immersed in musicals, and was also a rebellious classical piano student who didn't want to practice. I thought maybe I would want to be a performer when I got older - and the minute that I realized that someone wrote musicals...that Guys and Dolls didn't just come down from the heavens...I knew I wanted to do that.
ALEX POTOTSKY: I had a very similar background as Zack, except he definitely practiced piano more than I did. I was a child actor and had some success in that, until I decided I didn't want to keep going out for commercial auditions looking for fat kids to fall down into things and was disillusioned for a while. I was turned on to the idea of writing after The Dark Knight, and went to school for screenwriting, until Zack convinced me to refocus my attention on theater and I'm very glad he did.
JENNIFER ASHLEY TEPPER: The Crazy Ones involves the story of Apple and how Steve Jobs set out to change the world despite many personal obstacles. Since you're dramatizing a true story, what decisions have you had to make about which parts to fictionalize? What have been the challenges and rewards of working with a non-fiction premise?
ZACK ZADEK: This is something that we talked about and wrestled with a lot through every draft - and at the end of the day it's a combination of keeping the huge life events accurate, and changing or fictionalizing others to tell a more honest story. I think the rule that we've tried to hold ourselves to is - if it serves the story to make an adjustment to a historical event, to stay true to the narrative and these characters, then let's do it, but always being very conscious and deliberate that we're doing it, and for xyz reasons.
ALEX POTOTSKY: And it was very hard for me to come to terms with that. From the beginning I was pretty obsessed with historical accuracy. The biggest difference is that while Steve has passed, every other character in this story is still very much alive, and will hopefully see the piece. So how do you simultaneously do right by them, showing their shades, contextualizing what they did, while still be very much Steve's story? It's tough.
JENNIFER ASHLEY TEPPER: On the same note, what kinds of research have you done on the real characters, events and technology that populate the story? Have there been challenges in making the average audience member understand the technological advances that are so important to the story of The Crazy Ones?
ALEX POTOTSKY: We started out with so many different early technical materials that I always insisted to Zack were essential knowledge for our audience to comprehend the story. The Apple II, the LISA, the IBM PC, a GUI, the mouse, the Mac, end-to-end control, yadda yadda. It's not like The Social Network where you can look at Facebook and say "Facebook." The Macintosh's impact isn't something that's so immediately identifiable to modern users. But thankfully, Zack was always the voice of reason on that issue, really pushing us to trust the audience.
ZACK ZADEK: The thing we realized in development of this piece, is that it's really not about the technology at all. The audience has to understand the impact of the technology, but at the end of the day it's really about our characters and what they go through to make these things - not the things themselves.
JENNIFER ASHLEY TEPPER: How have you tackled being truthful to Steve Jobs' narrative, which includes several "anti-hero" events, while at the same time engaging an audience to root for him?
ALEX POTOTSKY: "Anti-hero" definitely puts it lightly. There are really, really dark moments in Steve's life. He hurt a lot of people. But he's human. And if we can present the truth in a way where the audience can understand him, than I think we can earn their forgiveness as he pushes for redemption.
ZACK ZADEK: Steve Jobs is obviously a divisive character, and if you come see the show (which obviously you will, reader), I'm sure you'll have mixed feelings about some of the choices he makes. At the end of the day, we wanted to let you inside his head a little, and even if you don't agree with him at all times - I think you root for someone who has such a specific goal.
JENNIFER ASHLEY TEPPER: Alex, as a writer who works on both plays and musicals, how is your approach different in each form? Have any methods of developing musical theatre trickled over into the way you tackle writing straight plays? How do you find one form feeds the other (or doesn't)?
ALEX POTOTSKY: I think musical theater is probably the most misrepresented phrase in dramatic parlance right now. I feel like the majority of people still see jazzhands when they hear it, and I think part of that is because even shows with a song sound that's not Cole Porter are written with a book-song-stop, book-song-stop cadence. We fell into that trap with early drafts of this show. The process of breaking that structure down - freeing myself up from being trapped inside compositional boxes or medium responsibilities - had a definitely freeing effect on my writing across styles. And that's an across-the-board thing: seeing how you can tell a story with no Scene 1 dot dot dot Scene 2 while maintaining exciting narrative cogency. Once you throw away blackouts you never want to go back.
JENNIFER ASHLEY TEPPER: Zack, as a composer-lyricist, you have one foot in musical theatre and one foot in forms of popular music that one might hear on the radio today. When approaching a given moment in a musical like The Crazy Ones, how do you determine what musical genres to draw from? How did you shape the musical palette for the show? Did the time frame of actual events in the story and what music styles were popular at the time ever come into play?
ZACK ZADEK: The score of this show has gone through so many incarnations from draft to draft - I started out pretty convinced that it should be the sound of the time...late 70's folk/lite rock. We did a few readings, made some pretty huge structural changes, and I realized I definitely made the wrong call on that one. Whenever I go to write a score, the only musical priority I have is to best tell the story we're trying to tell - what will create an experience to bring an audience fully into the world we're making. The sound of of The Crazy Ones that I ended up running with is very much inspired by Apple design and aesthetic - both in their products and marketing. I would say it's a mix between classical minimalism and modern film score (which naturally includes some rock) - to try feel like the music is always moving and always shifting and trying to build something that will have huge impact. And there's a few moments of 70's folk to remind us that some characters are still in that world completely.
JENNIFER ASHLEY TEPPER: What musicals, plays, music, film, television, or other art do you consider most formative to your writing sensibility-both in your work in general and on The Crazy Ones? What artists do you find inspiring?
ZACK ZADEK: To me I'm always super inspired by writer/filmmakers like Charlie Kaufman, Chris Nolan, Wes Anderson...film/classical composers like Michael Giacchino and Max Richter...TV like LOST and The Leftovers (okay, so Damon Lindelof)...and popular artists like Coldplay and Sufjan Stevens. I think anything I write is sort of naturally passed through all of those influences, cause that's the art that I really respond to. I love the idea of honoring and building on the amazing medium that is musical theatre, while allowing it to be influenced by storytelling from some incredible storytelling innovations from film and other mediums.
ALEX POTOTSKY: In terms of dialogue structure, I take a lot of my affinity for hyper-verbal sparring from a real rash of modern film that's heavy on words and is reflexively pop-referential: The Social Network's script was sort of a revelation for me in that sense, that you could have wordplay that's so intricate that you had to watch it three or four times to catch everything that's said. And I'm also hugely influenced by the music I listen to - I have plays that are way more indebted to Philip Glass, Steve Reich, and Nobuo Uematsu than they are Arthur Miller.
JENNIFER ASHLEY TEPPER: You have developed and/or presented The Crazy Ones with several organizations and institutions, from NYMF to the New York Theatre Barn to the Musical Theatre Factory. What do you feel you've learned along the way that has been most valuable to the show? How has the piece evolved since you began?
ALEX POTOTSKY: It is a completely different show now than it was at NYMF than it was at the Theatre Barn than it was at MTF, only a few months ago. The DNA remains, and we've always known there was a live-wire story floating in the mist, but it was a mist. I think our three big "a-ha!" moments have been realizing that the show should revolve only around the birth of the Macintosh (even at the expense of some incredible moments in his life), figuring out what the show was really supposed to sound like, and realizing how central Steve Wozniak is Steve's story. It's insane to think about now, but three years ago when we did our first reading at NYMF, Woz wasn't even in the show!
JENNIFER ASHLEY TEPPER: What else are you working on right now? What are you most looking forward to working on in 2016?
ZACK ZADEK: I'm writing another musical called Deathless which I'm about to go up to Goodspeed Opera House to develop in a few weeks - that show is super personal to me. I've also been working on a musical comedy called The Role of a Lifetime that we have a number of workshops and things for in the coming months. I'm writing a dance and movement based musical in conjunction with a really innovative group here in the city. Alex and I are in the midst of a screenplay that I think we're both pretty stoked on. And then I still lead a bit of a double life and write pop songs for other artists, which I have a few cuts on some labels coming out in the next few months.
ALEX POTOTSKY: I have two new plays that I'm gearing up to have up downtown this year - an experimental piece called Ghosts, and other watercolors and an even more bizarre little play about a family called Dreamhouse. I'm working on a screenplay about Tonya Harding that I'm super stoked on, as well as that top secret project with Zack that I'm particularly psyched out of my mind about. And I'm planning a pretty cool collaboration with the Joust Theater Company too, a downtown company that's been doing some sweet things this past year. Hopefully it should be a big year.
ZACK ZADEK: Honestly, in 2016 I'm most excited about this concert. The one we're talking about right now. For The Crazy Ones. That you're producing, JT. I'm so excited that everyone should stop reading this right now and get a ticket.
ALEX POTOTSKY: I'm so excited that I'm not even in this room doing an interview with you guys, I'm just looking for tickets.
JENNIFER ASHLEY TEPPER: What is the best advice you've received or lesson you've learned as a writer? What do you wish you could tell younger writers and/or the younger version of yourself?
ZACK ZADEK: The best lesson I've learned so far is - if you want to be an actor, start acting. If you want to be a writer, start writing. Don't wait for anyone to find you or give you permission or greenlight the idea - you can't be a writer if you don't actually put words or notes on the page.
What I could tell younger me - hot sauce always upsets your stomach. Every time. Knock it off.
ALEX POTOTSKY: My advice to young writers is "Please don't write any more scripts about the Mafia."
JENNIFER ASHLEY TEPPER: What are you excited for audiences to see at Feinstein's/54 Below? What can they expect in the The Crazy Ones concert presentation?
ZACK ZADEK: This is really going to be a full out, balls to the walls concert of the score. You'll hear a lot of the music fully realized with an insane band/orchestra and performers - and the chance to get a taste of the full show. This concert won't be some watered down version of the music - you'll get a chance to hear an all star cast singing the real deal.
JENNIFER ASHLEY TEPPER: What is your ideal future for The Crazy Ones?
ZACK ZADEK AND ALEX POTOTSKY: Broadway. Cause Broadway needs a show about Steve Jobs.
ZACK ZADEK: But seriously Broadway.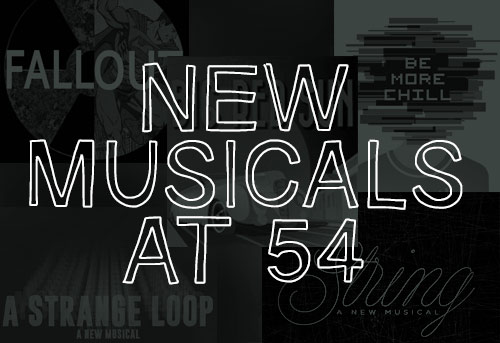 Related Articles
Jennifer Ashley Tepper is the Director of Programming at Feinstein's/ 54 Below, and the author of The Untold Stories of Broadway book series. As the (read more...)