BWW Exclusive: Broadway Stage Managers Sound Off About What They Do and How They Do It!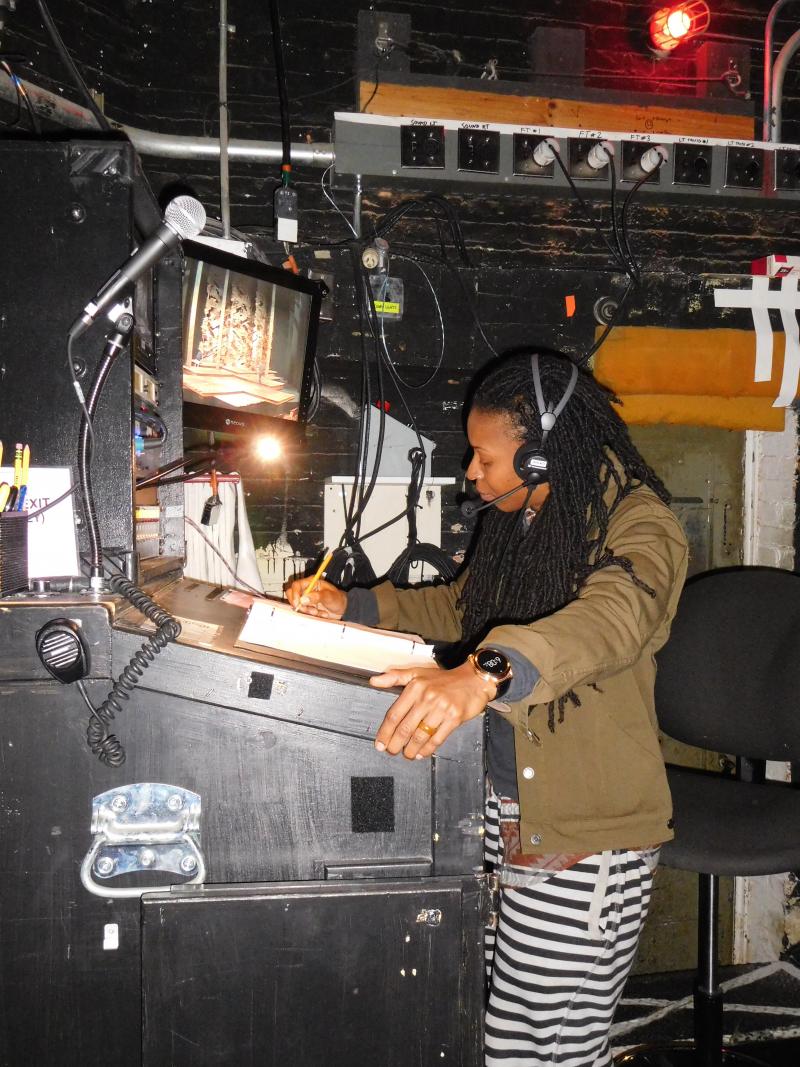 It is 7:04pm on a Thursday. To the average audience member of THE COLOR PURPLE, the most important person waiting backstage is one of the above-the-title stars (Cynthia Erivo, Jennifer Holliday or Danielle Brooks). But those in the industry know that, at this particular moment, the most important person is a woman sitting stage right in front of three monitors. That woman, with a headset on and binder in front of her, is Stage Manager Sharika Niles. She is the one who will soon give the word to start the show. She is the one who tonight is in charge of "calling the show." She is the one who will dictate the show the audience sees by giving the word for a spotlight, sound effect, set movement, etc..
"It's like flying an airplane; there are a lot of switches and lights in front of you and it's your job to get everyone from point A to point B safely," THE PHANTOM OF THE OPERA Production Stage Manager Greg Livoti explained.
"To call a cue you warn the lighting operator and then say the word 'go' when it is time," HAMILTON stage manager Scott Rowen, who joined the show after its off-Broadway run, said. "When people are at a console we have cue lights. They have lights on their desk--red, blue, yellow. I can turn those lights on from my desk to warn them to take the cue and when I turn the light off they'll take the cue. When my mouth is saying 'go' to one set of people, my hands are saying 'go' to another set of people."
HAMILTON's famous turntables, for example, are triggered by cue lights. While a lighting effect might appear to happen simultaneously with a turntable move, the two cannot be called verbally at the same time because anything running via automation has at least a split second delay; therefore cues need to be staggered, a switch flipped as the first bit of sound passes Rowen's lips. (Older shows, using less advanced technology, have even a longer delay on their automation.) The person calling has to pay very close attention. Safety is a key element of the equation, perhaps even more so than performance flair.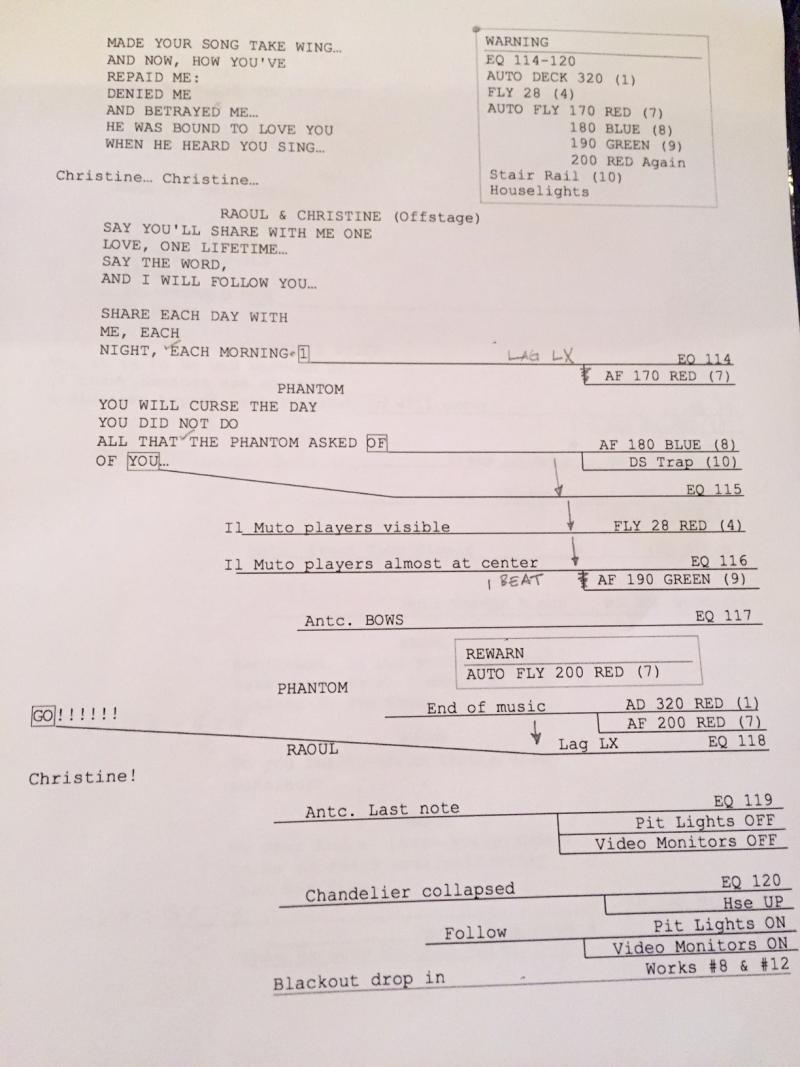 While some stage managers call the show from front-of-house (including at THE LION KING) or are positioned in a place where they can see aspects of the show from backstage, the majority call the show solely off of monitors, both infrared (to see what is happening when the show is dark) and color. Most shows have hundreds of cues, noted on a script or musical score. While a musical conductor may occasionally trigger a cue, almost everything is written in black-and-white to prevent confusion. HAMILTON Production Supervisor J. Philip Bassett, who was then the show's Production Stage Manager, read from that show's call script in an installment of #Ham4Ham, where the cast performed "Ten Duel Commandments" as he read the relevant cues.
Calling a show is a lot of responsibility, but it doesn't even scratch the surface of a stage manager's duties. Each Broadway show has at least two stage managers: a production stage manager and stage manager. Some big Broadway musicals have more on the team, with five at ALADDIN and THE LION KING (which each have a PSM, SM and three assistant stage mangers). Shows with multiple productions frequently have a production supervisor, who serves as almost a grand stage manager to ensure continuity amongst productions. (A house manager is an entirely distinct position; that person usually works for the venue.)
Each team splits up responsibilities, and calling duties, differently, but the production stage manager is in charge. The PSM is the on-site personnel's liaison to the creatives, producers and landlord. So they are generally the ones who tell an original director if staging might need to be changed to accommodate new cast members, but they are also the ones who get the word to the landlord if more toilet paper is needed in the bathrooms.
With some variation if there is a production supervisor, resident director or just a very hands-on original director, it is often the PSM who steps into the director's shoes once a show is open, teaching replacements, conducting understudy rehearsals and maintaining the overall artistic integrity of the show. The PSM talks regularly to the Musical Director and Dance Captain, providing performance notes. If rehearsals are going on, the PSM's day begins at noon or one. Other members of the stage management team may also be there at that time.
On days without rehearsal, the typical team comes in one-and-a-half to two hours before show time. The production stage manager discusses notes with her/his team and reviews messages regarding absences for the show. "We take the information about absences, circulate a list with it, swap out the microphones, the costumes, etc. for who is on that night," THE LION KING PSM Ron Vodicka explained, adding that no one takes for granted that things that have worked hundreds of times before will work at any given performance. "We do a pre-check. We run all the pieces in and out, run all the automation, do a lighting check, check each speaker with the music, go through a mic check. If nothing has gone wrong, we can start to do everything we need to do administratively."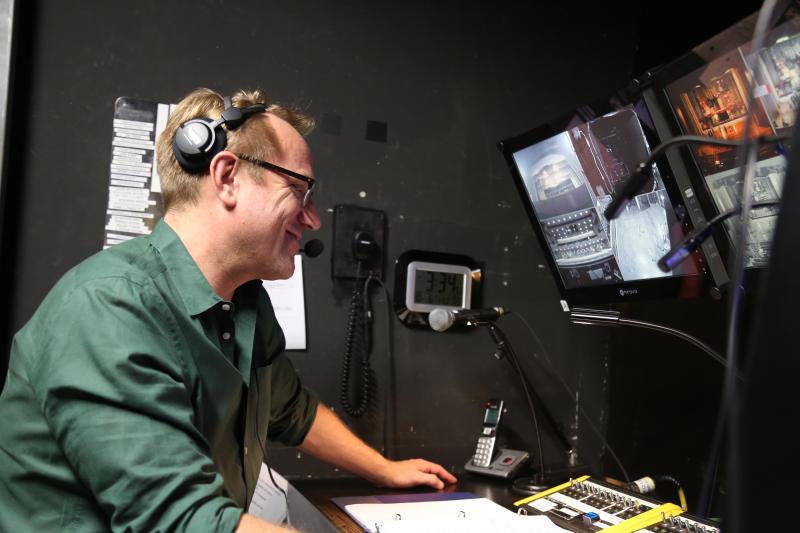 During the show, while someone is calling, there is almost always at least one stage manager "running the deck." That is the industry phrase for a person backstage communicating directly with the actors and crew members as they go on and off stage or execute a manual cue. Like the call book that the person calling the show uses, the person/people running the deck typically have a run script in hand.
"We're stage right or left. You can see us in the basement for some things, up 30 feet on the air for other calls," Livoti said. "It's physical."
With teams where the entire stage management crew is not needed to keep the show going on a minute-by-minute basis, a stage manager (usually the PSM) can be found in an office doing paperwork or in the audience taking notes on onstage happenings. This person is also free to deal with any emergencies, as the person calling the show remains glued to his/her desk. So when the Majestic Theatre floods, which it does, Livoti is often the one coordinating how to keep the costumes dry.
And whether one person is free or not, the stage management team has to deal with mid-show injuries and mishaps. Sometimes these things stop the show, but not customarily. Rowen recalled actress Tracy Jai Edwards dislocating her shoulder before a number in LEGALLY BLONDE, for which he served as an ASM. While that number was going on with one fewer cast member (the dance caption said the relevant lines), people were carefully keeping Edwards' arm over her head as they stripped her of her costume and wig (there weren't spares), putting her in an ambulance (in underwear, tights, bra and a wig cap) and making sure an understudy was dressed--movements all coordinated by stage management. Other stage managers remembered less detailed change-outs, sometimes involving a toss of a wig to an understudy or a cast swap-out behind an onstage set piece near the wings.
So stage managers must be problem solvers. Outside of the showtime chaos, they deal with not only problems that obviously impact the show (a light out, a broken lift, someone consistently missing a cue), but also problems that subtly have an impact. Usually crew members go to the heads of their respective department with issues, but actors come directly to someone on the stage management team with problems, ranging from onstage difficulty to significant personal complications.
"A great deal of my job is in personnel management," Vodicka--who also has a background in lighting design--said. "You're working with artists. There are artists all over the building. They have artists' sensibilities. You have to encourage them in a way that gets the best out of them."
Other items the stage management team must handle: long-term scheduling (including rehearsals, crew work calls and vacations), payroll, wear and tear issues, technical problems and sending out a report at the end of every performance. (The report often includes fun facts like the theater temperature, important as sets may billow in the heat.) One of Niles' job on THE COLOR PURPLE is chair maintenance. She makes sure the actors are putting them on the right set hook during the show and, if they break, she makes sure they are fixed.
And this is only what happens once the show is open. Stage managers are involved at the earliest stages of development, well before there is a real stage. As stage managers are members of Actors' Equity Association, the same union as actors, they are the ones making sure all the Equity guidelines are complied with. Even at nascent stages of development, they are in charge of scheduling and coordinating between different departments.
Work can be as inconsistent for a stage manager as it is for an actor. Directors have their favorites, as do producers, stars and general managers. For example, HEISENBERG is Production Stage Manager James Fitz Simmons's fourth Broadway show with star Mary-Louise Parker. Rowen took a leave from HAMILTON in the spring to serve as Production Stage Manager on HAMILTON director Thomas Kail's off-Broadway production of DRY POWDER.
The production stage manager is the stage management team member hired first. Upon hiring, s/he goes to work, absorbing the script, talking to folks, scheduling.
"During rehearsals, before opening, usually the PSM is tracking the blocking, all of the movements onstage that are going on, and working very closely with the director to understand his vision because he has to sort of take that on," Niles said. "The SM is right in the middle and is dealing with all the technical elements that come in--tracking props, quick changes, setting up the stage. We're also working with the director to see what he needs onstage when. If there is an ASM, he is doing all the paperwork."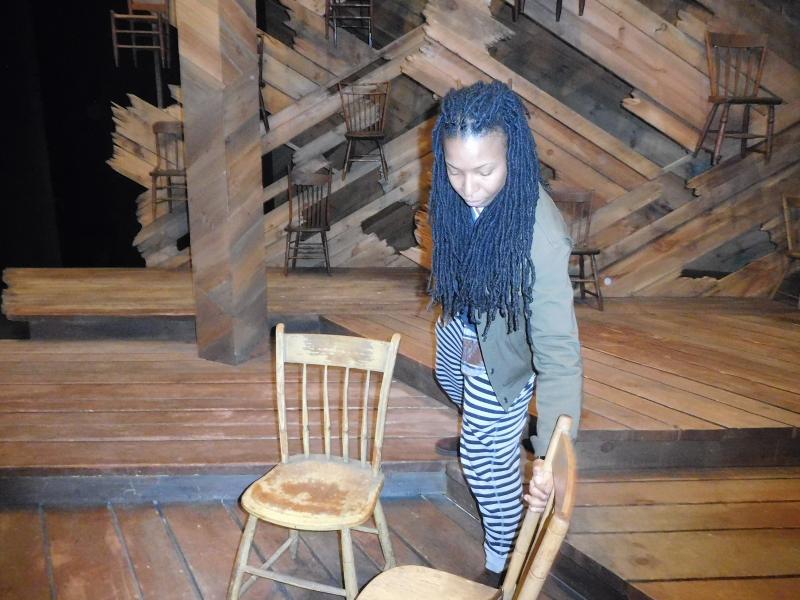 Because of their active role in rehearsals, stage managers are sometimes pivotal to shaping a show. This explains why--while stage managers don't receive royalty points under a workshop agreement--the HAMILTON off-Broadway stage managers are reportedly getting their share of the bounty from that show. Like many others backstage, stage management's contributions are not Tony eligible, though a special Tony is a possibility (such as the one bestowed on veteran stage manager Peter Lawrence in 2013).
While musicals tend to be bigger and more technically complex, the job is essentially the same on them and straight plays. Regional gigs are often more on-the-fly, with less staff and a shorter rehearsal time, but Niles echoed a sentiment heard frequently when she stated "a show is a show is a show."
No matter where they are working, stage managers are the ones piloting the plane on a day-to-day basis, whether they are the ones calling the show that night or not. Most like different elements of their position--Niles was called the "backstage Queen" at The Public Theater, where she has worked, because of her love of that element of the job--but know they need to learn everything, as any person on the team may need to step into another's shoes at a moment's notice.
"I have minor, irrational fears. I'll be walking home and think: 'What happens if X, Y, and Z all happens at the same time," Livoti said. "The chances of X, Y and Z all happening at the same time are slim to none when X and Y could happen, but Z is a plague of locusts descending on the theater. But we talk through it all the next day. It's huge being part of a show that has been running all of these years--the stage managers and the crew make sure the luster does not dull."
This is the second in BroadwayWorld's new behind-the-scenes series, which launched last month with: Four of Broadway's Hottest Musical Directors Sound Off About What They Do, Inspirations and How They Do It! Next up? Hair/wig Designers!