Click Here for More Articles on SPONGEBOB SQUAREPANTS
BWW Album Review: SPONGEBOB SQUAREPANTS Bubbles Over With Relentless Optimism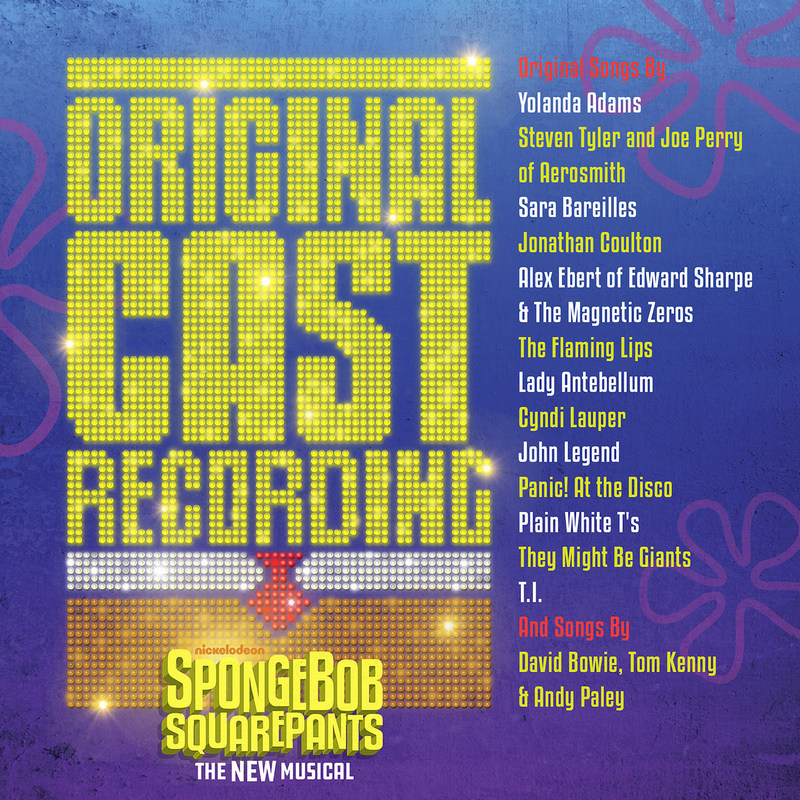 You've seen him on your television screen for years, but now it is time for the sponge to take the stage. That's right, the one and only SpongeBob SquarePants is set to take a Broadway bow this coming November, in the rightfully titled SpongeBob SquarePants The New Musical. Before making it to the great white way, audiences were able to test the waters last summer when the show debuted at Chicago's Oriental Theatre. Now audiences can also dive into the SpongeBob SquarePants The New Musical: Original Cast Recording, thanks to Sony's Masterworks Broadway.
The new stage musical brings one of Nickelodeon's biggest brands and a prominent member of the cartoon community to life. SpongeBob is coming in tow with his expected bubbly crew including Sandy, Patrick and Squidward. In addition to these classic characters, the new recording is intact with a diverse array of popular artists and songwriters who each contributed a track for this new undersea adventure. In fact, the compilation has some of music's biggest names, showcasing the genre they each do best. We get a rock song from Aerosmith's Steven Tyler and Joe Perry, a pop track from Cyndi Lauper, and a gospel tune from Yolanda Adams, just to name a few. The anthology succeeds in making sure each song fits the SpongeBob bill, while also reflecting the sound of the artist who penned it. For instance, we get a plucky, acoustic guitar laden friendship romp by The Plain White T's, justly titled "BFF". Or another example is as close as the musical gets to a love ballad, with John Legend's "(I Guess I) Miss You". Given such an array of genres, there are ample opportunities for listeners to tap into an assortment of emotions that each song, in turn, individually and quite comically evoke. Tom Kitt (Next to Normal, If/Then) masterfully pulls the collection of songs together, so that as a whole, they effervesce with SpongeBob's trademark optimism and the integrity of the cartoon. As the musical common denominator, Kitt keeps the undersea doomsday plot coherent and intact by seamlessly weaving the genres that span from hip-hop, to alternative, to country, and so on.
For those not familiar with the brand, have no fear. The opening number, Jonathan Coulton's "Bikini Bottom Day" does a delightful job of introducing us to the world of Bikini Bottom and it's inhabitants, without explicitly doing so. All the while, it gives multiple nods to its derivative material and hooks listeners right off the bat. Ethan Slater, in the title role, leads the pack in embodying the sprit of the cartoon without observably being one. Slater gives a strong vocal performance, showcased especially in Panic! At the Disco's contributed track, "(Just A) Simple Sponge". He exudes a determination and hometown loyalty that is admirable, if not excessively overt. Slater will have listeners believing that SpongeBob wasn't made just for flipping krabby patties, but that he is also equipped to save Bikini Bottom from the destruction of a massive volcano. He honors the character with such an energy and vigor that audiences can't help but trust that a good attitude can save any day. Slater is supported by the comically boorish Danny Skinner who stars literally and figuratively as Patrick Star, and the innately talented Lilli Cooper as Sandy Cheeks. The timeless, problem-solving trio deliver heaping amounts of dry humor, regardless of their wet environment. The self-aware and whimsical nature of the characters is sure to account for a plentiful amount of laughs for audiences young and old.
A standout track is the 11 o'clock number, "I'm Not A Loser", delivered by Gavin Lee as the ever-glum Squidward. Complete with a sea anemone chorus line, the track penned by They Might Be Giants is sure to keep your fins tapping. The lyrics are rife with double and triple negatives, where Lee excels in portraying Squidward's natural state of dejection in a likeable way. Nick Blaemire gives a notable vocal performance in the role of Plankton, Bikini Bottom's evil mastermind, with T.I.'s hip-hop track, "When the Going Gets Tough". Blaemire originated the part in Chicago, but will be succeeded in the role by Wesley Taylor for the upcoming Broadway production.
Not every song leaves you as absorbed in fanciful giddiness, though. One that might leave listeners a little salty is Lady Antebellum's "Chop to the Top". The pop-country ditty may have seemed to be the implicitly assigned genre for the southern squirrel, Sandy Cheeks. However, it comes across as anticlimactic and the track gets lost in a sea of catchier hooks, which owes no fault to Cooper's performance. Another forgettable song is Sara Bareilles' "Poor Pirates". The act two opener is essentially a pirate pity party, and although it has some inventive lyrics, it is like the hero of our story in that it is rather porous. It leaves you wishing it packed more of a punch, instead of packing in wordy pirate woes like they are sardines in a can.
Of course, no SpongeBob recording would be complete without a rendition of the perennial classic cartoon theme song, which merrily closes the album. That said, if nautical nonsense is something you wish, give the SpongeBob Squarepants: The New Musical Original Cast Recording a whirl. This album is sure to have listeners and loyal fans following their favorite sponge in proclaiming, "I'm ready, I'm ready, I'm ready" to listen over and over. SpongeBob SquarePants the Musical starts previews in New York City's Palace Theatre on November 6, 2017, with an opening date set for December 4, 2017. For more information and tickets, visit www.spongebobbroadway.com. SpongeBob SquarePants The New Musical: Original Cast Recording is now available digitally and physically wherever music is sold from Masterworks Broadway.
Cover art courtesy of Masterworks Broadway