BWW Album Review: Jeff Harnar I KNOW THINGS NOW: MY LIFE IN SONDHEIM'S WORDS Is Storytelling Everyone Should Know
The PS Classics album releases June 17th, and Harnar's show premieres June 15th.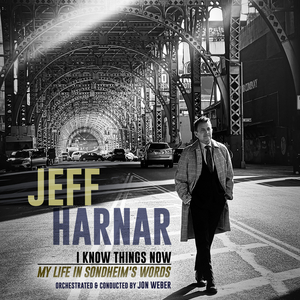 A Sondheim purist should be warned before going into the new Jeff Harnar album that this is not a Sondheim album. This is a Harnar album. This is Jeff Harnar's story, and he is telling it his way, through the immortal words and music of Stephen Sondheim. Sondheim purists might want to buy an album, press play, and sit back to listen to a singer sing the words and the music as Mr. Sondheim wrote them, as they have always heard them, as they think they always want to hear them. So when Jeff Harnar's opening number radically deconstructs three Sondheim songs and reconfigures them with shockingly new arrangements by Harnar and Musical Director Jon Weber, and then layers in lots and lots and lots of acting choices, it will be startling to the Sondheim purist, and the Sondheim purist may furrow their brow and consider switching the album off.
Don't.
I KNOW THINGS NOW: MY LIFE IN SONDHEIM'S WORDS is a work of art. The companion piece to Jeff Harnar's popular tribute show is a deep dive into Jeff Harnar's life through the lyrics of the greatest musical theater composer/lyricist who has ever lived - and although we all know Stephen Sondheim and his songs, we may not all know Jeff Harnar. But we're going to.
Walking in the door with some exposure to Mr. Harnar will be of assistance to a person taking the I Know Things Now journey, to be sure. It would aid the listener to know that Jeff Harnar is a Kabarettist: he is a cabaret storyteller of the highest order, an artist with many years of experience, and a person who has evolved with the artform, and evolved in life. It would help to know that Jeff Harnar, as a cabaret performer, is theatrical. It would serve to know that Jeff Harnar always creates something that can stand on its own as a musical play and that will push past the everyday borders. It would inform to know a little bit about Jeff Harnar's personal life, and his early career choice to be a closeted gay male working in the New York live entertainment industry. All of this would be of some sort of assistance to a listener pressing play on their device. However... Every performer's wish should be that their audience goes beyond their circle of friends. Your friends should not be your customers; you should want strangers to buy your product. So, in the name of encouraging strangers to consume I Know Things Now, please allow this lifelong lover of the art of cabaret storytelling to break it down for the strangers: Jeff Harnar came to New York a bright-eyed young boy with cheek of tan and a desire to sing. He had all the adventures that a young gay man and live entertrainer could have (yes, the good and the bad) and, today, he is celebrating those adventures and that life as a sexagenarian living in the light and telling his truth. There. You are informed. Now you can enjoy I Know Things Now.
Mr. Harnar's album is magnificent musical storytelling. He and Mr. Weber have taken some twenty-six Stephen Sondheim songs and torn them up, then carefully - but ever so carefully - put them back together in ways meticulous and magical, adding in all of Harnar's cabaret-learned, tried-and-true theatricality. Each cut on the album is a new door opening into a room of Harnar's life experience, brilliantly arranged and orchestrated, and then audaciously performed by Harnar, who has flatly refused to compromise even the tiniest shred of his authenticity and honesty in his mission to tell his story (and, frankly, to honor Mr. Sondheim who - the liner notes inform - approved of jazz arrangements Weber applied to his work). It would be difficult to not approve of the changes Weber and Harnar have affected to the famed compositions because they feature intricate and thoughtful choices that organically inform Harnar's storytelling, which, at this point in his career, needs no praise: the quality is constant. But this time, it has grown. Harnar has gone to places not necessarily surprising, and yet one will probably feel surprise. The vocals are impeccable (of course), the theatricality is bold (naturally), and each choice made between him and his team is only proof positive that true artists that remain on a quest to stay artistic and to never stop reaching can only succeed. These performances of the songs from Follies and Forum, Night Music and Merrily, Passion and Sweeney are gorgeous, funny, entertaining, heartbreaking and that most terrifying of all words: relatable. If the listener goes into the experience with their mind open to Harnar and not closed on tradition, there can be no possibility of resistance to what the de and re-construction of the material creates.
If this writer were to offer only one piece of advice regarding the very first experience of I Know Things Now, it would be to not read Stephen Holden's beautiful liner notes until after the album has ended. Allow yourself to take the journey, to enjoy the theatricality, to immerse your mind in the story, to see what nuances you can glean from the amalgamation of Sondheim's words and Harnar's life, and then read the liner notes to see what you got and what you need to listen for the second time around. Going into the path of Harnar's musical journey, your mind a blank slate, will yield great reward, as will (one suspects) each subsequent hearing of the album.
To coincide with the release of I KNOW THINGS NOW: MY LIFE IN SONDHEIM'S WORDS, Jeff Harnar will present the show from which this "cast album" has been created. The show I KNOW THINGS NOW will open at the Laurie Beechman Theatre June 15th and play performances the 22nd and the 29th - each show at 7 pm. For reservations visit the Beechman website HERE.
The album I KNOW THINGS NOW: MY LIFE IN SONDHEIM'S WORDS will be released on June 17th on the PS Classics label. It will be available on all streaming platforms with physical CDS available for pre-order on Amazon HERE.
The Jeff Harner website can be accessed HERE and the PS Classics website is HERE.