BWW Album Review: ERNEST SHACKLETON LOVES ME (Original Cast Recording) is Full of Adventure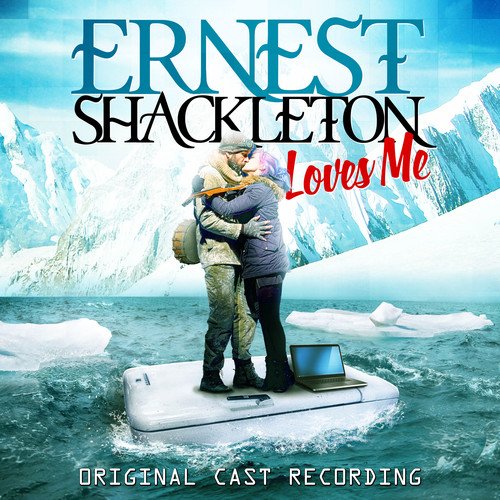 The inventive musical adventure ERNEST SHACKLETON LOVES ME tells the story of a single mom who is struggling to balance her familial obligations and her work as a video game composer. One sleepless night, she posts a dating video and gets a response from famed 20th century polar explorer Ernest Shackleton. What follows is an odyssey of virtuosic electro-violin performance from Val Vigoda and Wade McCollum's charismatic and lush vocals.
Utilizing electronic music that is played live in front of an audience in a theatrical show can cause some audiences to turn up their noses. However, Val Vigoda's lyrics and Joe DiPietro's book for ERNEST SHACKLETON LOVES ME keenly offers audiences an informative overview and fascinating look into how live looping and elements of electronic music can aide in the production with the opening song "Stop/Rewind/Play/Record." With vivacious wit, they quickly get us on their side and let us enjoy these techniques for the duration of the performance and the album.
Moreover, Vigoda's own vocals on the album are warm and enchanting. She effortlessly draws audiences into the story being told across the tracks. Singing her own lyrics, we feel the emotionality she has written into the piece and find every aspect of her character's dynamic journey relatable.
Vigoda's Kat begins the show as a pessimist and is paired against McCullom's Ernest Shackleton's unyielding optimism. Despite the desperation she finds herself in, she is wowed by the resolve of Shackleton and his men. This is allows Vigoda to employ brilliant vocal wails as she recounts his exploits on numbers like "The Morning the Newspaper Advert Appeared," "Alright Men," and especially on "Boat Journey." Yet, Kat's story arch reaches an emotional apex with Vigoda's incredibly bitter and impassioned vocalizations on "Burned Again."
McCollum's Shackleton mostly floods the album with heartwarming cheer and mirth, rarely letting the seemingly impossible odds cast before him color him with worry or fear. He perfectly shifts between his upper and lower registers like a switch being flipped with smile-inducing effervescence on tracks like "We're On Our Way," "And Then Shackleton Spoke," and "Money and Musicians." McCollum's emotional climax occurs with his tender and honeyed vocals on "Eye of the Storm." Sung with precision and tangible heart by McCollum, this track easily stands as one of musical theater's best uplifting anthems. Then, with fearful anger he performs the raucous and undulating "Toward Elephant Island" with indelible and stirring resolve.
Sadly, the album only captures 47 minutes of the production's 90 minute run time, but it does ultimately feel like a complete experience overall. Take an epic trip through the Arctic with ERNEST SHACKLETON LOVES ME (Original Cast Recording), you won't regret it.
ERNEST SHACKLETON LOVES ME (Original Cast Recording) was released by Broadway Records. It can be purchased from their webstore, iTunes, Amazon, and elsewhere music is sold.