BD Wong to Helm Ogunquit Playhouse's NYC Reading of MR. HOLLAND'S OPUS Musical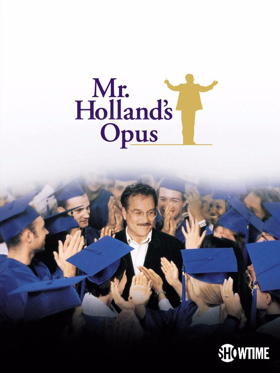 The Ogunquit Playhouse has announced Mr. Holland's Opus - A New Musical as the latest feature in its New Works Program. The Ogunquit Playhouse New Works Program, led by Program Director Matt Schicker, was developed by the Playhouse in 2016 to incubate and develop new musicals for the stage.
On Monday, October 23 and Tuesday, October 24 at 3PM at New 42nd Street Studios in New York, NY, the New Works Program presents, by special arrangement with Metro-Goldwyn-Mayer Studios, an invite-only Actors' Equity Association staged reading of Mr. Holland's Opus - A New Musical, with music by Wayne Barker and book and lyrics by BD Wong, based on the screenplay by Patrick Sheane Duncan.
Mr. Holland's Opus tells the story of an aspiring young composer working as a music teacher in a public high school in the 1960s to make ends meet. As the years go by, he grows further from his dreams and experiences decades of disappointment, regret, and difficulties both in the dwindling of support for arts education, and within his own family, as he raises his hard of hearing son Cole with his wife, Iris.
The reading will be directed by BD Wong, with music direction by Matthew Perri. The staged reading will feature James Edward Alexander, Gilbert Bailey II, Anastasia Barzee, David Beach, Joshua Castille, Cindy Cheung, Bonale Fambrini, Tyler Hanes, Jessica M. Humphrey, Kennedy Kanagawa, Amy Jo Jackson, John McGinty, Manu Narayan, Olivia Oguma, Chris Orbach, Nataysha Rey, and Tonilyn E. Sideco.
Ogunquit Playhouse Executive Artistic Director Bradford Kenney stated, "We are proud to collaborate with BD Wong and Wayne Barker on their wonderful vision of Mr. Holland's Opus the Musical. We are looking forward to introducing this beloved story in a unique and diverse way."
Wayne Barker (Composer) received a Tony nomination and won the Drama Desk Award for composing the score of Peter and the Starcatcher, composed music for the HBO series A Little Curious as well as for four different Dame Edna stage shows written by and starring Barry Humphries (two of those on Broadway).
BD Wong (Librettist/Lyricist) co-authored (with Robert Lee) the 2016 La Jolla Playhouse Pop Tour production of Alice Chan, which he also directed. He directed Speak Up Connie at the All For One Festival, The Yellow Wood at the NYMF festival, and authored the critically acclaimed memoir Following Foo (Harper). As an actor he received a Tony Award for his performance in M. Butterfly and an Emmy nomination for his portrayal of Whiterose in the USA series, "Mr. Robot".
The Ogunquit Playhouse, a 501c3 not-for-profit organization listed on the National Historic Register, is located on Route One in Ogunquit, Maine and produces the finest Broadway musicals each season with performances Tuesday through Sunday, from May to November. Follow the Ogunquit Playhouse on Twitter (@OgunquitPH) and on Facebook (facebook.com/OgunquitPlayhouse) for behind-the-scenes info, photos and fun throughout the season. For a complete list of show times, pricing and more information about the season, visit www.ogunquitplayhouse.org.