HYPE MAN Comes to Duke City Repertory Theatre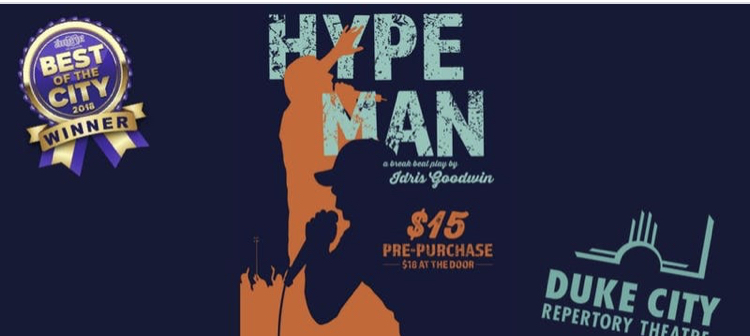 Frontman Pinnacle and his hype man Verb have been making Hip-Hop together since they were kids. With unrivaled beatmaker Peep One in the mix, the group is finally on the verge of making it big-until the police shooting of an unarmed black teenager shakes the trio to its core, forcing them to navigate issues of friendship, race, and privilege.
The latest from break beat poet and playwright Idris Goodwin (HOW WE GOT ON), HYPE MAN asks us: whose responsibility is it to speak up in the face of social injustice?
Idris Goodwinis an award-winning playwright, director, orator and educator. He is the Producing Artistic Director of Stage One Family Theater in Louisville, KY, for which he penned the widely produced And In This Corner: Cassius Clay.
Developed at The Lark Playwriting Center, Kennedy Center College Theater Festival, La Jolla Playhouse and American Blues Theater, HYPE MAN received a world premiere production at Company One Theater in Boston, MA in Jan. 2018. HYPE MAN was awarded the 2017 Blue Ink Playwriting Award from American Blues Theatre and the 2018 Elliot Norton Award for Outstanding New Script.
Duke City Repertory Theatre (DCRT) founding company member Frank Taylor Green directs, in his fifth collaboration with Goodwin. An actor as well, Green first worked with Goodwin during a workshop of the latter's play, Bars and Measures,at the Revolutions International Theatre Festival.
Since its founding in 2009, DCRT has developed a reputation as one of Albuquerque's premiere professional theatres. Known for bold, engaging productions that expand and enhance perceptions of live theatre, Duke City Rep is committed to paying theatre artists for their work while always - above all else - serving their audience. For seven years running, DCRT has been named "Best Theatre Company" in Albuquerque by the readers of Albuquerque the Magazine. Don't miss these top-notch, hard working professionals at their creative best!
What: HYPE MAN, a break beat play by Idris Goodwin
When: Feb. 28 - Mar. 10 Thursdays - Saturdays at 8 p.m., Sundays at 2 p.m.
Where:2420 Midtown Pl. NE, Unit D
Albuquerque, NM 87107
Tickets: $15 pre-purchase, $18 at the door
Box Office: 505.797.7081