Tom Dale Company Presents a Double Bill at The Place and On Tour
The tour kicks off March 17th in Nottingham at Lakeside Arts Centre.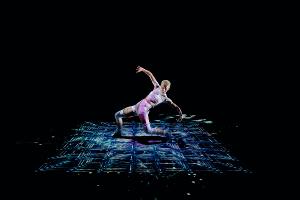 Tom Dale Company is an award-winning contemporary performance company that combines movement, light, sound and energy to put the body at the centre of digital interaction. Choreographer and Artistic Director Tom Dale works with a team of creative experts to combine his own choreography with a passion for digital technology, sound and vision to create inventive dance productions such as 'I Infinite', 'Digitopia', 'Refugees of the Septic Heart', 'Step Sonic'.

The company's UK tour of the double bill 'SURGE' and 'SUB:VERSION' kicks off at Nottingham Lakeside Arts Centre on March 17th and 18th before its London premiere on March 21st at The Place.
'SURGE', choreographed by Tom Dale, features live performance and vocals by the "superlative dancer" (Guardian) Jemima Brown, mesmerising digital projection by Barret Hodgson and an immersive score from British music producer ITAL TEK.
'SURGE' was adapted into a short film for the BBC TV series 'Dance Passion' BBC film here
'SUB:VERSION' is Tom's new piece for four dancers melding dance and electronic music from producer/composer WEN's album 'Ephem:era'. In an exploration of movement and melody, space and form, 10 elegant dance sketches weave a hypnotic journey through an array of electronic music sub-genres.
Artistic Director Tom Dale says: "Humanity is pushing at the boundaries of evolution; the digital world is on a quest to re-create life and does this by making ever more real copies of our world which means we're increasingly sharing the planet with a new life force: technology. In 'Surge' we give life to a character that exists on the bridge between our organic and digital worlds. A character pushed to their limits to 'feel' - 'to sense' - to 'exist'.
"There has been no greater contributing factor to the evolution of dance over the last 25 years as the emergence and democratisation of electronic dance music. Endlessly used by choreographers in the rehearsal studio but not often reaching the stage. For 'Sub:Version' we're using tracks from Wen's 'Ephem:era' album in which he creates the outlines and forms of instrumental grime nuggets - brief samples of mood rather than full explorations he creates an impression without filling them thereby providing space for dance to collaborate with these structures. The music presents an opportunity to bring the world and sub-genres of electronic music and the more pure response to that to the theatre."
Tour Dates
March 17th, 18th Nottingham, Lakeside Arts Centre www.lakeside.org.uk
March 21st London, The Place www.theplace.org.uk
March 24th Spalding, South Holland Arts Centre www.southhollandcentre.co.uk
March 28th Louth, Riverhead Theatre www.louthriverheadtheatre.com
April 18th Kingston Upon Hull, Hull Truck Theatre www.hulltruck.co.uk
April 27th Swansea, Taliesin Arts Centre www.taliesinartscentre.co.uk
May 2nd Guildford, Yvonne Arnaud Theatre www.yvonne-arnaud.co.uk