Review: TWO UKRAINIAN PLAYS, Finborough Theatre
Dramas that illustrate how we've got to where we are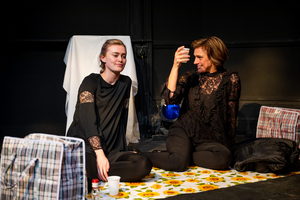 In the playtext, translator, John Farndon, asks "What can theatremakers do?" One thing, the option taken by this theatre (and it's no surprise with its history and its ethos) is to put on plays that give voice to Ukrainian playwrights and, through them, Ukrainians.
The future of that benighted country may be determined in the short term by military and diplomatic efforts, but, if any permanent peace is to last, culture will have to do its slow work at home and abroad, knitting people together. This is a start.
In Take The Rubbish Out, Sasha, two women are reeling from the sudden death, by cardiac arrest, of a husband and stepfather. He was an officer in the Ukrainian army and had lived through Soviet times and its aftermath observing its unsteady independence. Though dead, he, like their country's history, comes back to haunt the two women who construct a happier and happier narrative of his relationships with them as time passes, but it's never straightforward. It's a dark comedy and an allegory for Russia's dysfunctional relations with its brothers at its borders.
Natal'ya Vorozhbit's script can get a little soapy at times - inter-generational conflict and all that - but Amanda Ryan anchors Sasha Dugdale's translation as the coping matriarch, at first angry, later wistful. Issy Knowles, pregnant in both time frames, represents a more confident future, one she is determined to make without the good for nothing men who have driven the violence around them. Alan Cox does what he can with the ghostly Sasha, but his pleading to be allowed to be resurrected from the dead to heed the call of his commanding officer brings too much of a surreal jarring to the play's tone.
In Pussycat In Memory Of Darkness, Neda Nezhdana dispenses with her fellow writer's dabbling in magical realism and angrily declaims her countrymen's and countrywomen's condition, war tearing apart regions, families, even neighbours.
Kristen Milward delivers this cri-de-coeur in a powerhouse performance tracking one woman's history from independence, through the 2014 Maidan Revolution and on to the present day, illustrating, in horrible detail, how Russian troops and their local allied militias, have used arms and information to destroy a state as comprehensively as they destroyed a Malaysian airline over Donbass. It is, in every sense, impressive writing and acting, but, a monologue coming in at over an hour on a hot summer night as the second half of the double bill? Well, it's gruelling too.
Neither play offers much of a vision for the future, but maybe the time isn't right for that yet and those plays will come. If all empires inevitably collapse under their in-built contradictions, the freedoms that emerge are both compromised and unique. Quite what a free Ukraine will look like is not easy to discern at the time of writing, but it won't look much like the past iterations we see on stage. And, in consequence, these plays do an important job in that reconstruction - they throw light into the past's shadows and tell us that they must not be allowed to be cast again by the hulking bear, marauding again across the border.
Two Ukrainian Plays is at the Finborough Theatre until 3 September
Photo Credit: Charles Flint