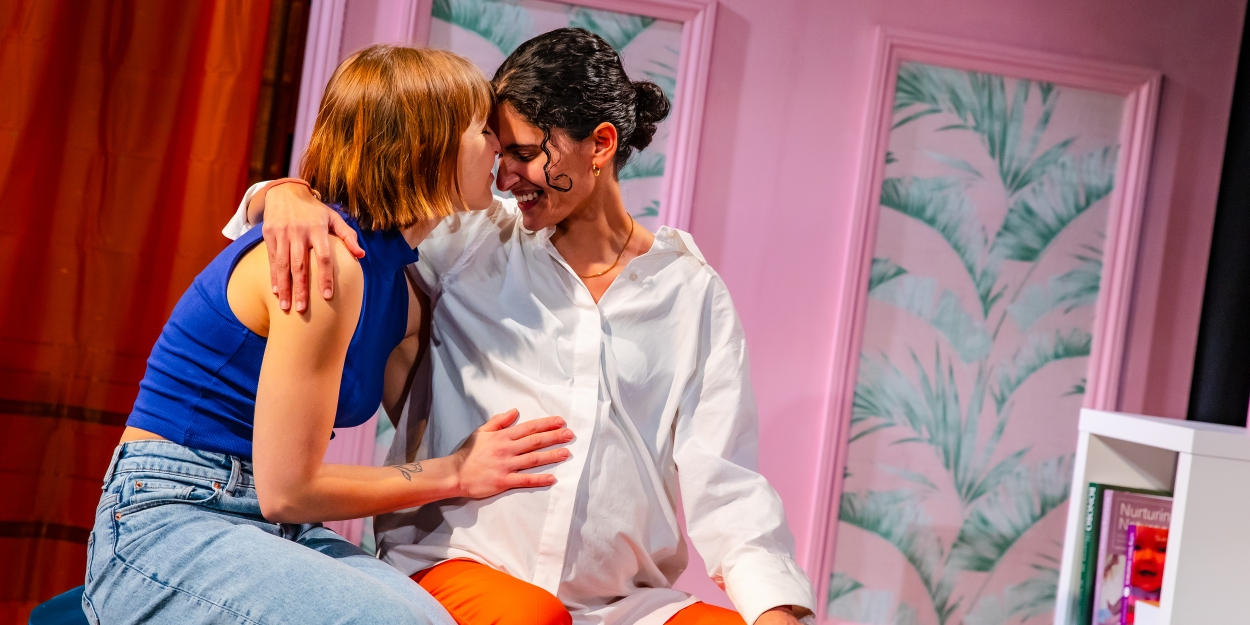 Review: THE BOYS ARE KISSING, Theatre503
Camp and fun new writing at Theatre503

What if Yasmina Reza's God of Carnage featured a lesbian couple, and also there were queer guardian angels in eyeliner? This is the unlikely question posed by Zak Zarafshan's debut play The Boys Are Kissing, currently premiering at Theatre503. Camp and fun, if convoluted at times, it dives into playground politics and marital disputes, but with a touch of divine intervention, and some Britney Spears thrown in for good measure.
The premise seems simple: two nine-year old boys have kissed in the playground, and their parents are holding a meeting about it. Sarah (Amy McAllister) and Matt (Philip Correia) are the typical countryside mum and dad, rushing from the school run to book club meetings, while lesbian couple Amira (Seyan Sarvan) and Chloe (Eleanor Wyld) have moved from London and are still adjusting to a more white-picket-fence lifestyle. Their sons' school has suggested that the four resolve the 'incident' amongst themselves, and it seems as though we are in for a typical family drama.
All of that goes out of the window, however, when two otherworldly beings burst onto the scene. Known as the Cherubs, they strut onstage in leather and glittery eyeliner, explaining that their mission is to protect young queer people. From this point on, they meddle in the course of events, appearing to the adults as other characters such as a busybody mum and Matt's dad in an attempt to sway their actions and help their children.
The play's concept is undoubtedly a strong one, presenting us with topical questions in an engaging and at times joyfully silly way. Zarafshan has a talent for painting interesting, realistic characters, and writing conflict and chaos in a fun way.
Where the show trips itself up, however, is in its attempt to address almost every possible nuance of the topic at hand. For one, a brief moment about abortion feels too throwaway, and inappropriately played for laughs. More importantly, a lot of Act 2 takes the form of the Cherubs playing the older versions of the two young boys, speaking to their parents about the trauma they caused them. While it provides some touching conversations, in the overall structure of the show this feels like a misstep - or at least that it stretches on for too long. The play is effective when it focuses on the parents over the children and revels in the irony of this, and so introducing the sons spoils the effect.
In addition to this, it feels as though The Boys Are Kissing could have done with a little more subtlety, a little more ambiguity: as every single angle is explored, Zarafshan at times tells us how to think and feel about these characters, rather than letting their complexity come through on its own. Perhaps a shorter version of the play, allowing for more showing rather than telling, would have been more impactful.
Nonetheless, strong performances are given all round, with McAllister as Sarah standing out as a very believable village mum who just wants to do the right thing. Wyld as Chloe also has some great moments, such as in a rage-fueled yoga session, and is perhaps the most multi-faceted character presented. Sarvan and Correia have less to work with, and play less likeable people, but both have some very sweet character development over the course of the play. The cast of parents are fun to watch as an ensemble, with an enjoyable group dynamic, although it sometimes feels like there's a lack of chemistry between the married couples.
As the Cherubs, Shane Convery and Kishore Walker are clearly having the most fun, delivering outrageous lines with a relish and fiercely commanding the mortal characters around the stage with a snap of the fingers and pop of the hip. They have fantastic chemistry as a double act too, even if the parts where they play other characters become a bit confusing.
Director Lisa Spirling does well at tackling the domestic chaos at play, especially in the first half of Act 2 when the tension between the two families reaches a peak. Some of the movement in the more naturally static scenes feels arbitrary, but the consistently creative blocking for the Cherubs' appearances makes up for this. The set and lighting create both an upper middle class living room and a pink-spangled heaven. Designed by Aldo Vazquez and Jo Underwood respectively, the play's world is lush and excitingly high-concept for a small pub theatre space. It would be interesting to see how the play's two contrasting worlds could be pushed further in a larger venue.
While it may be a little too wordy, The Boys Are Kissing is a show with real heart and a real sense of fun, marking Zarafshan as an exciting new voice in queer theatre - I look forward to seeing what he produces next. And any show that features Lady Gaga, RuPaul, and Paris Hilton's "Stars Are Blind" on its pre-show playlist is a yes from me.
The Boys Are Kissing runs at Theatre503 until 4 February
Photo Credit: Danny Kaan