EDINBURGH 2019: Mr Thing Q&A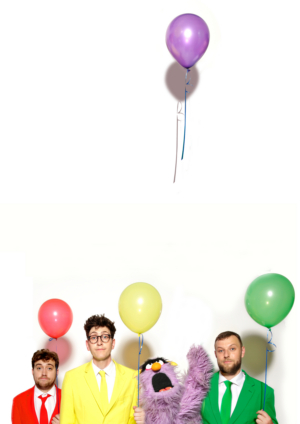 BWW catches up with Mr Thing to chat about bringing their show to the 2019 Edinburgh Festival Fringe.
Tell us a bit about Mr Thing.
Mr. Thing is a comedy TV chat show show with live music, special guests, interactive games, live house band, comedy sketches and a lot of tech and multimedia stuff that definitely always works...most of the time.
It's been described to us having the warmth of an old school variety show and the anarchy of a drunken Christmas boardgame fight. And we like that. It that sums it up pretty well!
Having launched the show last year, are you feeling any pressure this year?
Our show is different every night so that pressure never really goes away for us...which is terrifying but I think what makes the show fun...with so much going on anything can (and does) happen!
But we're also very lucky to be part of a great community of performers who join us on stage...Edinburgh Fringe is full of incredible things and we've already got some great ones lined up to bring on the show. Knowing they're with us makes things feel a little calmer. Just a little.
How did you meet and how long have you been performing together?
Owen and I met under the stairs at a New Year's Eve Party in 1993 to hide from a boy who smelled like celery. We've been best friends, writing and performing together ever since putting on shows and events and making films in Owen's mum's house.
Our Fringe debut was back in 2006 with our Blues Brothers tribute show.
Mr. Thing formed in part from a passion to do something new together. We started it in a 50 seater pub theatre in London in 2016 and it has been growing from there ever since. Eventually roping in my brother and 2 time Olivier Award-nominated writer of the international smash hit *Potted Potter*...to play a puppet. And also our West End musical directing cousin Andy...to write comedy jingles with the house band.
Together we've all expanded the show into the chaotic thing it's now become.
What sets this show apart from the others at the festival?
We're the only show at the festival with a puppet barman, remote controlled Kevin Bacon and an audience controlled ping-pong-ball-firing bum.
Who would you recommend comes to see it?
Dame Judi Dench. Also anyone who likes a chaotic mess of comedy jingles, overambitious tech, terrible puns, offensive puppets and special guests regretting picking up the phone when we called. But mostly Dame Judi Dench.
https://tickets.edfringe.com/whats-on/mr-thing
Photo credit: Jan Vrhovnik
Sponsored content
Related Articles
Natalie has been an avid theatre goer since her first London production of Blood Brothers when she was 12. Based in Glasgow, she also reviews (read more about this author...)