Cumberbatch-Produced LETTERS LIVE Will Headline Royal Albert Hall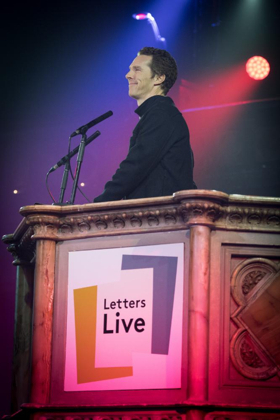 On the back of another sold out London run, Letters Live is bringing its star-studded show to the Royal Albert Hall on 3 October 2019, in what will be its most ambitious night to date. The date will also see the launch of a new series of themed Letters of Note books, compiled by co-producer Shaun Usher.
A celebration of the enduring power of the letter, Letters Live is an unforgettable live experience that pairs great performers with remarkable literary correspondence, and from the most unexpected and varied of sources.
Hailed in The Observer as "the best letters in the world read by the best voices", Letters Live had its premiere at The Tabernacle in west London in December 2013. Since then it has been staged over sixty times, including performances in New York, Brixton Prison, Los Angeles, and the Calais Jungle.
As is always the case with Letters Live, the line-up for the Royal Albert Hall show will remain under wraps until the night. Past performers have included Oscar-winner Olivia Colman and co-producer Benedict Cumberbatch, as well as Gillian Anderson, Sir Ian McKellen, Sanjeev Bhaskar, Thom Yorke, Jude Law, Stephen Fry, Brie Larson, Chimamanda Ngozi Adichie, Nick Cave, Stephen Fry and Sir Ben Kingsley, plus live music from Reggie Watts to Benjamin Booker.
Letters read at previous shows have included ones written by David Bowie, Marge Simpson, Mohandas Gandhi, Elvis Presley, Janis Joplin, Kurt Vonnegut, Charlotte Bronte, John Steinbeck, and Che Guevara as well as by many remarkable, lesser-known people.
Letters Live was inspired by Shaun Usher's bestselling Letters of Note and Simon Garfield's To the Letter. A worldwide phenomenon, Usher's Letters of Note titles have been translated into eighteen languages and sold over 500,000 copies worldwide, with the Letters of Note website visited by tens of millions of people.
A new series of small-format Letters of Note paperbacks will be launched on 3 October, each featuring letters on a specific theme. Also curated by Shaun Usher and published by Canongate, the first four books to appear will be on Music, War, Love, and Cats. They will be simultaneously published in a dozen countries around the world.
Benedict Cumberbatch, co-producer of Letters Live, said: "Letters Live makes us pause and imagine the lives behind the letters read and the circumstances of their origin. It's a privilege and truly inspiring to read this unique form of the written word to a live audience. And we are enormously excited to be bringing Letters Live to the Royal Albert Hall, one of the world's most iconic performance spaces."
Shaun Usher, editor of Letters of Note and co-producer of Letters Live, said: "That the humble letter is soon to be celebrated in a venue as magnificent and beloved as the Royal Albert Hall is a testament to the enduring power of this most precious form of communication. To say that we at Letters Live are excited and proud to be gracing such a stage, and raising money for a charity as important as the National Literacy Trust, would be a huge understatement. For it to coincide with the launch of the new Letters of Note series of books, of which I am immensely proud, is the icing on the cake."
Lucy Noble, Artistic Director at the Royal Albert Hall, said: "Letters Live is a totally unique evening of depth, joy, pain, humour and music. It manages to draw on so much performance talent, and on such a range of literary correspondence - across centuries and across time - to create a show unlike any other. We can't wait to see it, and to laugh and cry at these small glimpses into history's real lives."
Letters Live has, from the outset, been committed to supporting worthwhile causes and charities including First Story, The Reading Agency, Mothers to Mothers, Help Refugees, 826LA, 826NY, Ministry of Stories, Women for Women and Youth Strike for Climate Change. The Royal Albert Hall performance will support the National Literacy Trust, one of the UK's most important and respected literacy charities.
Tickets for Letters Live at the Royal Albert Hall are on sale from 9am on Friday the 15th March, priced £29 to £86.
Letters of Note: Music, Letters of Note: War, Letters of Note: Love, and Letters of Note: Cats, curated by Shaun Usher, will be published by Canongate on October 3rd, each priced £6.99.
Tickets £29-£86
www.royalalberthall.com / 020 7589 8212
LETTERS LIVE first took place in December 2013 at the Tabernacle in London and quickly established itself as a very powerful and dynamic event format that attracted outstanding talents to performing remarkable letters in front of a live audience.
Inspired by Shaun Usher's international best-selling Letters of Note series and Simon Garfield's To the Letter, LETTERS LIVE is a live celebration of the enduring power of literary correspondence. Each show always features a completely different array of great performers, reading remarkable letters written over the centuries and from around the world. One of the joys of Letters Live is that one never knows who is going to take to the stage or what letter they are going to bring alive.
The independent publishing house Canongate, who created and developed LETTERS LIVE, subsequently partnered with the film and television production company SunnyMarch to build Letters Live into an even more far-reaching and ambitious project. Their shared vision is to harness the power of letters through curated events of exceptional quality and to develop a multi-media platform that delivers the most memorable letters to people all around the world.
As well as celebrating the pain, joy, wisdom and humour expressed in letters, LETTERS LIVE has from the outset been committed to promoting literacy and to fund-raising for literacy charities. This remains an important part of its activities both in the UK and abroad.

Related Articles View More UK / West End

Stories

Shows
More Hot Stories For You