CRIPtic Arts 2023 Programme Announced
Four programmes are now open for applications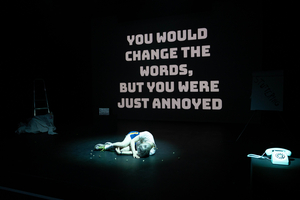 The 2023 programme of CRIPtic Arts has been announced.
A press release from Jamie Hale, Founder and Artistic Director of CRIPtic Arts, stated: This will be a year of unparalleled creativity and community connection at CRIPtic Arts. Funded by Arts Council England, CAFBank, and Scope, we are launching a wide range of community programmes and artist development opportunities over the next year. With these programmes, we aim to reach deaf and disabled people at all levels - whether brand new to the arts, or trying to make it in the mainstream.
We're also delighted to announce that we'll be joined by three new team members. I'm thrilled to welcome Alice Christina-Corrigan, our Community Programmes Officer, Sarah Thewlis, our Marketing Officer, and Jacqui Adeniji-Williams our Assistant Producer to the CRIPtic team. At a time when funding for the arts has been so steeply cut, and when disabled people are facing the sharp edge of the cost of living crisis, we are overjoyed to be able to recruit an increasing number of deaf and disabled people to join our team.
At the heart of our ethos is centering access for people participating in, performing with, and working on our programmes, with a constructive and radical approach to the future. We focus on creating opportunities for people whose access needs won't be met elsewhere, and are constantly changing, growing, and revolutionising.
If you're interested in attending our programmes, I will be hosting a drop-in (with auto-captions and BSL interpreters), where I will talk about what we're looking for in applications, and answer your questions. A video will be available online afterwards. To attend this, please register here.
Artist Development Programmes
Our artist development programmes are open for application on our website. With them, we hope to find, support, and develop groundbreaking work by deaf and disabled people, offering community, opportunity, and excellence.
Reach - Open for Applications
In Reach, we're looking to support five artists to develop intrepid new solo shows through a 6 month programme of online workshops, masterclasses, and facilitated critical feedback groups. The programme culminates in a two day in person residential where you will work with each other and a director to shape the final pieces. Across the programme, artists will receive funding to attend the sessions and develop their work (£750 total).
Launchpad - Open for Applications
Launchpad supports four creatives/companies (of any discipline) to develop bold, new and adventurous work for the stage. Artists will access a funded 6 month development & mentoring programme, giving them the skills and connections to develop their show. Launchpad will culminate in a showcase in Winter 2023/24, where each artist who has completed the programme will be given a 30 minute performance slot.
Breakthrough - Open for Applications
Breakthrough supports two artists who are at the peak of their careers, and facing barriers preventing them breaking into the mainstream, with the goal of creating something small - and high quality. Artists will receive a £6000 commission to produce a sample of professional quality work. This could be anything from a 5 minute scene from a play, a song, a showreel, a lighting portfolio or a short video - we want to nurture creativity, and encourage excellence. Artists will also receive mentoring, support, and development sessions. At the end of Breakthrough, they will have a calling card to showcase their potential.
CRIPtic Incubate - Open for Applications
Incubate is a 12-month accelerator programme that supports four people building deaf and disabled led organisations working within the arts, or creating organisations from what has previously been their solo practice. Incubate will take members through 12 funded peer discussions on everything from financial management to social media. It is a peer-facilitated programme: while CRIPtic manages the sessions, there are no 'experts' - we're all learning from each other. This is our second year running the programme, and we're delighted to build on last year's successes.
Connect Through Creativity: Launching Soon
Our 2023 Events Programme, Connect through Creativity, is a year-long programme of practical arts workshops, writers' salons, 1:1 advice and networking sessions. These are all online, BSL Interpreted, have auto-captions, and are open to deaf and disabled people, whether new to the arts, or seasoned professionals.
Jamie Hale, Founder and Artistic Director of CRIPtic Arts said: " I am delighted to be launching the CRIPtic Arts 2023 programme, our biggest yet. CRIPtic began as a showcase curated by myself at the Barbican Centre in 2019, highlighting excellent art by deaf and disabled performers. In 2021 we became an organisation, running a year-round development programme for deaf and disabled creatives, and in 2022 we were listed one of the 25 most influential UK disability organisations for our multi-disciplinary arts work.
The five strands of opportunity we're offering this year run from entry-level workshops for deaf and disabled people who haven't engaged with the arts before, to commissions designed to support two artists on the brink of mainstream success to create and present something truly exceptional.
As a disabled creative, I wouldn't be where I am now without a lot of support, especially from the Barbican Centre and Arts Council England, and I want to pay it forward to the wider deaf and disabled community. We have so many world-class creatives, and so much potential - and so few opportunities. The projects we run concentrate on ensuring people's access requirements are met, freeing them up to focus on creating their best work.
Everything we offer responds to a high level of community need and demand, and I am so excited that we can be part of building the future for deaf and disabled artists, as well as working to change the industry."
For more information on CRIPtic Arts, click here or email : alice@cripticarts.org
Photo Credit: Shona Louise