Budget 2023 Brings Relief to UK Theatre Sector
The budget includes an extension of tax relief rates and £8.6 million of funding for Edinburgh festivals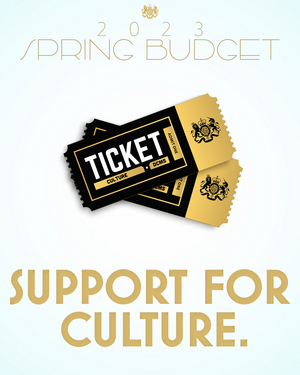 Theatres have been given an extension of tax relief rates and £8.6 million of funding for Edinburgh festivals in the government's Spring Budget 2023.
The Chancellor, Jeremy Hunt, announced the budget on March 15.
He announced that Theatre Tax Relief (TTR) will be extended at its current rates of 45% for non-touring productions and 50% for touring productions.
The tax relief level was raised in 2021 to 45 per cent for non-touring productions (50 per cent for touring shows). From April 2023, it was proposed that this level would be tapered down to 30 per cent (35 per cent for touring) and 20 per cent (25 per cent for touring) from 2024.
This decision has been reversed. Support for cultural sector, tax relief for theatres, orchestras, and museums and galleries will now stay at rates of 45 per cent (50 per cent for touring) for a further two years until 2025.
The budget also includes £8.6 million of targeted funding for the Edinburgh festivals, which the government said "could help build a permanent headquarters for the Edinburgh Fringe Festival and create year-round opportunities for local artists and talent across Edinburgh festivals".
According to the budget document online, this will "boost Scotland's festival economy, which contributes over £300 million a year to Scotland".
The Department for Culture, Media and Sport stated:
"In 2021 the Arts sector contributed £7.1 billion to the UK economy. Our culture sectors are the jewel in the crown of our country, enriching millions of lives. We're continuing to support them by extending tax reliefs for Theatres, Orchestras and Museums & Galleries."
"Scotland's festival economy contributes over £300m a year to the UK. £8.6 million of funding from the spring budget will support Edinburgh's world famous festivals, create jobs and provide a platform for creative talent."
The budget document shows that the Department for Culture Media and Sport's expenditure limit will reduce from £2 billion to £1.5 billion from 2023-24 and £1.4 billion from 2024-25.
Image Credit: UK Government