BWW Review: TOUCHING THE VOID, Bristol Old Vic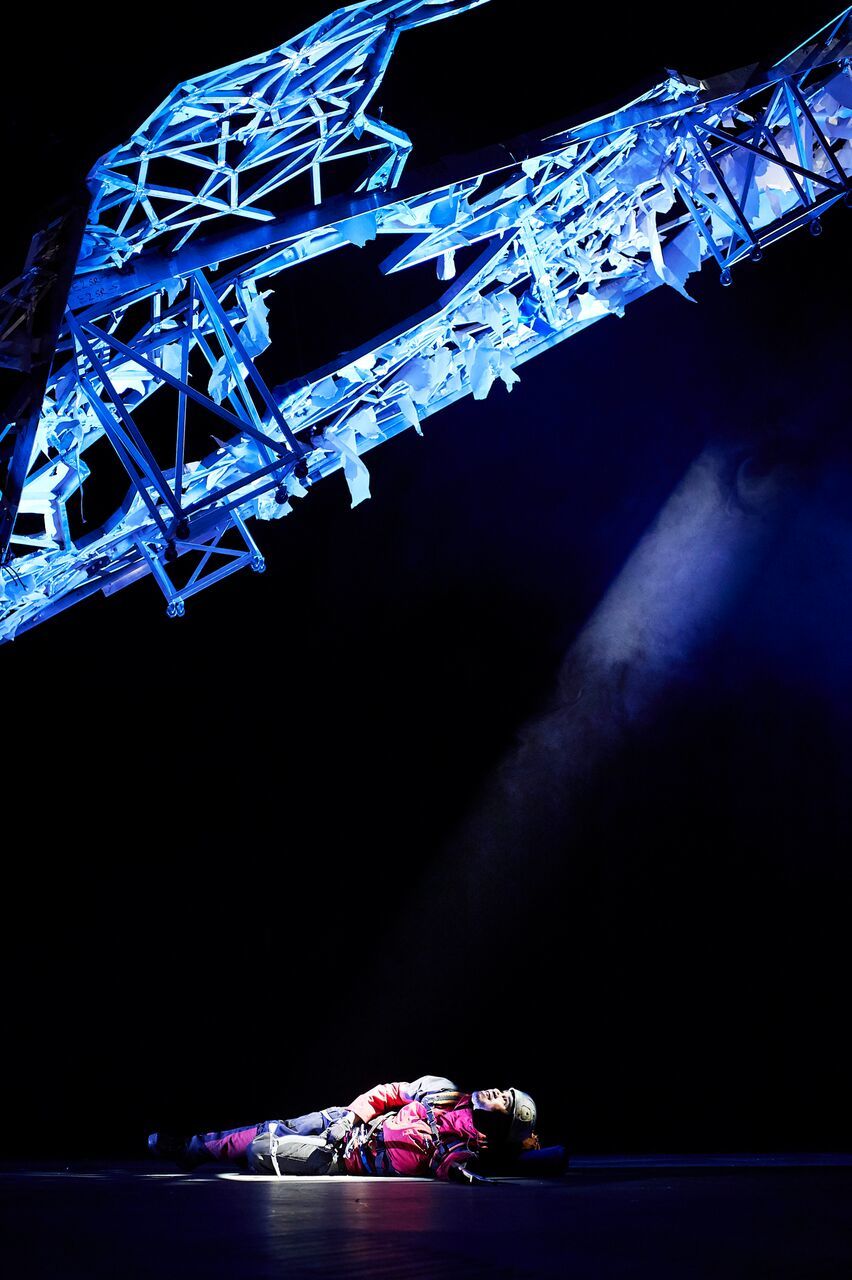 Continuing their thrilling Year Of Change, Bristol Old Vic brings an epic tale of survival to the stage for the first time as Tom Morris directs a breathtakingly inventive adaptation of Touching the Void.
Based on the 1998 internationally bestselling memoir and the BAFTA-winning film of the same name, we follow climbers Joe Simpson and Simon Yates on their perilous expedition to scale the Siula Grande.
At the heart of the story is the question: what would you do when staring death in the face? Joe, injured and stranded in a unclimbable crevasse, must find the strength to survive, and Simon is faced with an unthinkable dilemma that will change their lives forever.
At first glance, adapting Touching the Void for the stage seems an unfathomable task, as you can't tell the story in the same way as the book and film does. Instead of using difficult set design, the depth of the storytelling relies on how the actors are able to move in and use the space and few props,leaving them to convey and evoke atmosphere - and shifting the crux of the piece to relationships and the tenacity of human spirit.
The challenge, then, becomes how best to complement this imaginative route, and David Greig's adaptation runs headlong to face it. Deftly split into two acts, with Simon and Richard narrating the events of the climb and those leading up to it, to Joe's sister Sarah in Act One and the consequences in Act Two, tension is steadily simmering and palpable throughout.
Ti Green's cleverly condensed design further highlights this dynamic: the action unfolds simultaneously as we move from a Scottish pub to the perilous mountains, and we see events happen as Sarah would, in her mind's eye. Our Siula Grande is a covered frame that, when lit blue by Chris Davey's atmospheric lighting, is truly a sight to behold.
Add to this Jon Nicholl's haunting soundscape: a blend of echoes and howling winds with a score that blends folk music with more modern additions, notably "Love Will Tear Us Apart" by Joy Division, and the production as a whole is incredibly evocative. It invites the audience to use their imagination, and is the more powerful for doing so.
There are moments when the dry, more morbid humour feels a little uncomfortable and perhaps overused, but as a whole the piece blends in warmth and laughs to ease the drama very well.
A cast of four very talented actors more than rise to this high standard. Josh Williams is immediately and infinitely charming as Joe; you believe in him and want him to succeed. Conversely, Edward Hayter's Simon seems more aloof and pragmatic. Given such different personalities, the joy in watching their relationship develop and investing in their journey comes from their mutual respect for each other: their friendship feels palpable and believable.
Fiona Hampton shines as Joe's sister Sarah, darkly witty as she struggles to understand Simon and Joe's motivations and love of climbing, and there's loveable, scene-stealing work from Patrick McNamee as Richard.
Both nail-biting tale of survival and a poignant exploration of human nature, an epic tale is brought newly and vividly to life once again.
Touching the Void runs at Bristol Old Vic until 6 October
Photo Credit: Geraint Lewis