BWW Review: SIX, Nuffield Southampton Theatres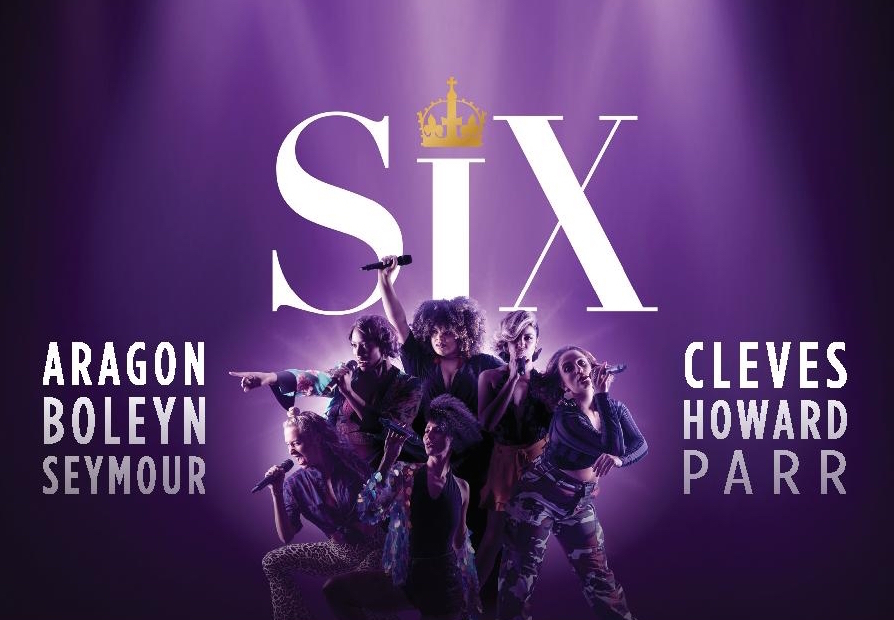 We are all familiar with the tale of the six wives of Henry VIII. Or at least, their endings - divorced, beheaded, died; divorced, beheaded, survived. But what about the women behind the rhyme?
Six is the new musical taking the UK by storm; a rewriting and updating of history in a feisty all-female, pop-tastic production.
Writers Toby Marlowe and Lucy Moss have invited Catherine of Aragon, Anne Boleyn, Jane Seymour, Anna of Cleves, Katherine Howard and Catherine Parr to tell their side of the story in a fierce and glittering musical that will put a whole new spin on history we think we know.
In a production more akin to a girl-band concert - think Little Mix - each queen is bedecked in bright and dazzling costumes (by Gabriella Slade) in a fusion of Tudor and modern fashion.
Between them, they decide there can only be one lead queen to head the group, and resolve to compete for the role by singing about their own trials and tribulations. The queen who can prove that they faced the most hardship in her life, and during her marriage to Henry VIII, will be crowned the winner; a happy ending they didn't get in real life.
Backed by a live band of ladies-in-waiting, they sing for their lives and their reputation. What follows is hit song after hit song. The performers have their own, well-defined styles and strong identities; there are clear influences, and you can easily compare each queen's personality and singing style with popular women in music.
You can hear Beyonce's influence in the voice of Catherine of Aragon (Jarneia Richard-Noel), while Catherine Parr (Maiya Quansah-Breed) emulates Alicia Keys. Anne Boleyn, with her witchy ways (played by Millie O'Connell), chooses Lily Allen as her muse. There is a performance for every taste, and each singer is able to show off their skills in a way that suits them best.
The cast possesses incredible talent, and you would be forgiven for thinking they are a real, chart-topping girl band. They have true group chemistry while maintaining their own identities; the perfect vehicle for the story they are telling. The six queens are all unique, but united by the husband they have in common.
It's hard to commend an individual on their performance; they all have their moment in the spotlight, stealing their own bit of the show before uniting for powerful and dazzling choruses. They fight, disagree, and come together in harmony. Their tales are truly heartfelt and they bring history to life through lyrics and wit.
In particular, Natalie Paris's powerful vocals wow the audience in an emotional ballad as Jane Seymour, and Alexia McIntosh's Anna of Cleves oozes confidence and fearlessness in a performance that should have many queens of pop shaking in their boots. Aimie Atkinson as Catherine Parr tells a story through song with a dark twist, which sticks in your mind for more reasons than just its catchy chorus.
Musically directed by Arlene McNaught, Alice Angliss (drums), Amy Shaw (guitar) and Terri de Marco (bass) are the backing band every group dreams of. It is the mark of a good musical when the score is one you could listen to over and over again. Standout songs include "All You Wanna Do" (Aimie Atkinson), "Get Down" (Alexia McIntosh) and "I Don't Need Your Love" (Maiya Quansah-Breed).
Directed by Lucy Moss and Jamie Armitage and choreographed by Carrie-Anne Ingrouille, this is not just a pop concert with a twist. As with all good shows, there are messages to be shared and lessons to be learned. This is a reclamation not just of the identity of women in history, but of a field dominated by voices of men.
Though they sing about their relationship with one of the world's most famous kings, the queens share snippets of their identity away from the royal court. They are more than wives and queens, and they are here to settle the score.
You may not think you have much in common with women who have been dead for half a millennium, but this production is incredibly relatable. The format of this Tudor tale is thoroughly modern; it speaks our language, and uses a platform we are all familiar with.
The stories shared by the six queens are problems and troubles women face in 2018 as well: rejection, catfishing, sexual exploitation, misogyny and more. These are problems faced by women across the globe; while, sadly, they are timeless, so is the support of the sisterhood.
Six proves that there are still stories to be told and retold from periods in history that we think we have sussed - and that each and every one has a place in today's society.
Gone are the days of dusty history books; it's time to speak a new language. History no longer takes itself too seriously - Six is peppered with genuine historical nuggets and facts twinned with jokes and glow-in-the-dark ruffs.
The opening night of Six at Nuffield Southampton Theatres closed with a standing ovation that never seemed to end. After its phenomenal success at the Edinburgh Fringe Festival, and a bright future on the West End, this show is storming stages across the UK on its tour.
You can keep your Spice Girls reunion; this is the original female supergroup. Six is girl power in ruffs and bustles; these queens are reclaiming their names and embellishing them in glitter. Prepare to be royally entertained.