Review: PINOCCHIO, National Theatre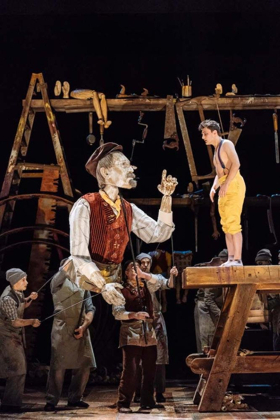 The puppet who wants to be a real boy is all grown up in this new musical version - very much the darker side of Disney. Book writer Dennis Kelly went back to the original 19th-century Italian tale, by Collodi, and tonally, John Tiffany's production leans more towards that incarnation: a Pinocchio recognisably in the tradition of grim Grimms' Fairy Tales.
Of course, the story that made it into the 1940 Disney animation still had alarming elements: the guileless Pinocchio being imprisoned in a sinister marionette circus, our heroes eaten by a whale, and - did we all repress this? - rebellious children turned into donkeys and sold into slave labour.
But in this new stage version, there's less of a cheery sheen applied to such Gothic nightmare fuel. Though it may well challenge the family-friendly brief, it's all the better for it, particularly in a leaner, meaner and dramatically stronger second half.
Tiffany's wizard creative team, with Cursed Child collaborators Jamie Harrison (illusions) and Steven Hoggett (movement) - whose moving staircases here become dancing ladders - alongside Bob Crowley (set/costumes), Paule Constable (lighting), Simon Baker (sound) and puppetry whiz Toby Olié, together create a distinctive storytelling vocabulary.
There are no screens or CGI; instead, there's an emphasis on tangible stage magic, an almost analogue pleasure. Jiminy Cricket first emerges with puffs of dust; Pinocchio's nose grows with the audible creak of wood; Blue Fairy is a hovering flame; the wire work is genuinely spine-tingling; and when a tail sprouts or a finger gets burned, there's a visceral quality to the well-disguised trick.
Somewhat counterintuitively, there are monumental puppets in the show, but Pinocchio isn't one of them. Instead, he wakes to the sight of a giant Geppetto, operated by a team of actors, and his relative puppet smallness is emphasised by his new father's giant workshop.
Stromboli is the impresario writ extremely large, as is the kidnapping Coachman - both terrifying as they float and swoop above our heads like villainous hot air balloons. It makes adults a different species: vast and unknowable.
Back at ground level, Jiminy Cricket is a smaller sidekick puppet, while The Fox is more able to disguise his murderous intent by coming across like a particularly dapper pal. The schoolchildren who judge Pinocchio an outsider are themselves made strange via creepy masks.
It puts us inside Pinocchio's experience, trying to navigate this bizarre world, though it also makes his blithe, trusting nature infuriating when danger is so apparent. But that's the problem with a tabula rasa protagonist - there's none of the quick cunning or targeted rebelliousness of a knowledgeable Matilda. Nor is he all that endearing, driven by primal, selfish impulses, and slow to learn the lessons of this morality tale.
Joe Idris-Roberts works hard to make Pinocchio engaging, selling his unguarded responses and boyish eagerness, although the casting of an adult in the role only compounds some of the above frustrations.
Jiminy, Pinocchio's conscience, is wittily reimagined as a fussing helicopter mum, ever alert to open windows, germs and (gasp!) gluten. It's welcome gender-balancing, and Audrey Brisson is a bright presence, but it does stick the most visible female character in the role of buzzkill.
Mark Hadfield's Geppetto has some delightful deadpan moments ("I see you brought your own wood," he levels at a mysterious customer), and his absence is felt; Geppetto's tragic backstory, longing for a child and relationship with said mysterious stranger are squeezed into a first half overloaded with set-up.
Annette McLaughlin has the tricky task of combining supernatural being, surrogate wife/mother and annoyingly cryptic mentor - some elements are more convincing than others. David Langham has more fun as the dandyish Fox, strutting in top hat and platform heels, and luxuriating in his bushy tail while firing off one-liners about fame-thirsty actors or humans' pursuit of pleasure.
Gershwyn Eustache Jnr as Stomboli and David Kirkbride as the Coachman lend strong support, and particularly impressive is Dawn Sievewright as a humorous, pugilistic runaway - who escapes the fairy tale to feel like an actual person, and thus whose fate we really invest in.
Martin Lowe's folk score is pleasant but unlikely to stick; the numbers you'll come out humming are the movie classics like "I've Got No Strings", "Give a Little Whistle" and "When You Wish Upon a Star" - the two former recurring excessively, the latter teased and then finally appearing in a subdued climatic rendition.
The messaging is also a tad hazy - accepting different types of family, yet Pinocchio's reward is becoming less different; or the rather adult accepting pain as the human price of love. It may well elude littler ones, but conversely mature audiences will chafe at the hand-holding (Jiminy repeatedly explains her conscience role).
Ultimately, it's more impressive as awe-inspiring - and somewhat disturbing - stage spectacle than as fully-fledged musical drama. But the creative departure from Disney is certainly daring, and it makes for an unusual Christmas outing.
Pinocchio at National Theatre until 10 April, 2018
Photo credit: Manuel Harlan