BWW Review: NINE NIGHT, National Theatre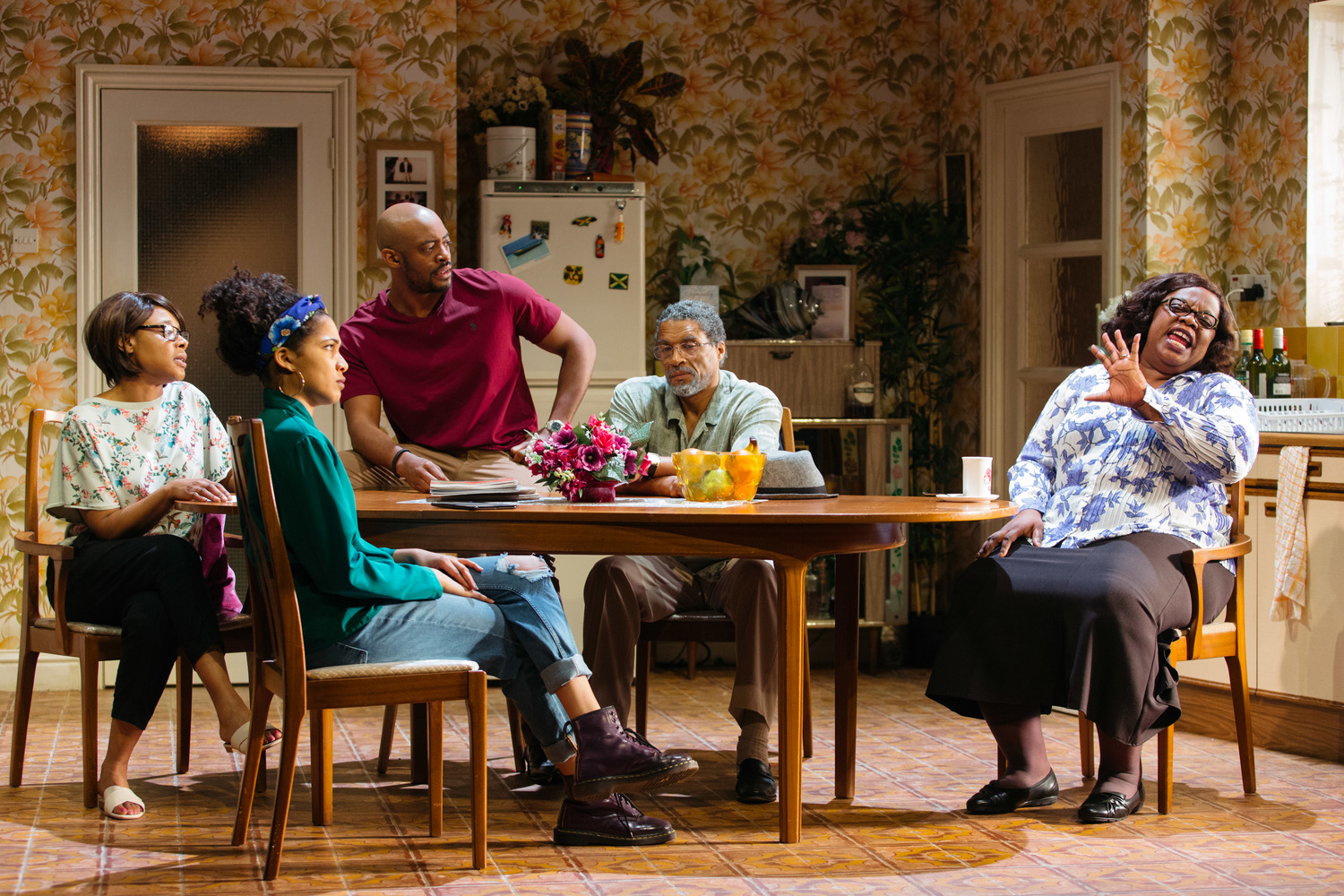 Natasha Gordon's debut play opens the new season at the Dorfman Theatre, and couldn't be more aptly timed. 2018 marks 70 years since the Empire Windrush brought many hopeful Jamaicans across to Britain; some were specifically recruited (due to labour shortages) to work in hospitals, the postal service or the transport system, others simply hoped to provide a better life for their families.
However, rather than commemorating their invaluable service to the country, the anniversary has launched a political storm as a lack of British citizenship and the threat of deportation hang over people's heads. The recent departure of the Home Secretary definitely did not go unnoticed amidst the pre-show audience buzz.
The play is set in London, where Gloria is on death's door and being nursed by her daughter Lorraine. But when her life ebbs away, thoughts soon turn to what happens next - and in true Jamaican spirit, this inevitably means days of family and friends celebrating her life, all leading up to the nine night.
This is the ninth night after the person's death, and the most significant of all the gatherings as this is where they say goodbye to the deceased; it's little wonder that Maggie (Gloria's cousin) wants to get it absolutely right.
With grief affecting everyone in different ways, the tension is already running high within the family - particularly between Lorraine and her brother Robert, though this is set aside when a new disruptive influence enters the house. Will the family manage to reach a peace so Gloria can find hers?
On the whole Nine Night is a pretty tight, well-written piece, though it does leave a few strands of the plot unresolved - such as the future of Robert's relationship with Sophie, for one. I feel like it could be fleshed out a little more, rather than cramming the whole thing into an interval-less 1 hour 50 minute production.
It is, perhaps, a play best suited to people who have experienced (or are familiar with) this aspect of Jamaican culture; for someone completely new to it all, it is difficult to connect with the emotional side of the storytelling as you attempt to take the facts on board as well. But judging from the reactions of most of the audience - from hysterical laughter, to gasps and shocked comments - it seems that Gordon has got it spot on.
Initially it is a little difficult to understand some of the things being said, as they're reeled off in rapid-fire speech, but your ear quickly adapts and you can always be certain of the intention. The cast will need to be a bit more reactive to audience responses, as more often than not they keep ploughing on through periods of laughter meaning that chunks of dialogue go missing, which is hugely frustrating; keeping up momentum isn't the be-all and end-all, and isn't sustainable in shows where the actors' voices are unamplified.
Rajha Shakiry's design fills the Dorfman stage, making some use of the auditorium's height (not a very frequent occurrence in this particular theatre) as a set of stairs is visible that leads up to the top floor of the house. The main action, however, takes place in the kitchen/living area - a regular-looking space, though filled with nice little details such as family photos and nostalgic ornaments. Paule Constable's lighting design gives the set extra character, ranging from atmospheric candlelit vigils to the cold light of day.
Roy Alexander Weise's direction is sharp and snappy, making the most of Shakiry's excellent set and keeping the show running smoothly. Cecilia Noble steals the show as Great Aunt Maggie; she is great comedy value, and makes her character easily recognisable as a bit of a busybody, who is always right and will usually get their own way. Noble is an instant hit with the audience.
The most feeling comes from Franc Ashman, as the put-upon Lorraine - you can sense the stress and grief building up inside her as she is constantly pushed around and not given a moment to mourn her mother in the way she would like to.
Whether or not this play speaks to you personally, it's an undeniably important piece that both celebrates and gives a voice to the Windrush generation and its descendants living in Britain today.
Nine Night is at the National Theatre until 26 May
Picture credit: Helen Murray