BWW Review: MISALLIANCE, Orange Tree Theatre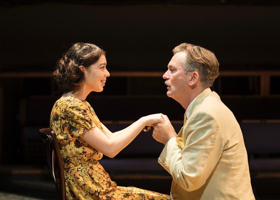 Of all of Bernard Shaw's wonderful plays, it seems a brave and slightly odd choice for the Orange Tree theatre to choose to revive Misalliance. When the play premiered in 1910, it was hated by critics and audiences alike for its verbose text and uneven plot. It has rarely been seen performed since and unfortunately this production shows that it is easy to see why.
The Orange Tree's Artistic Director Paul Miller has also directed Shaw's The Philanderer and Widowers' Houses at the theatre, which were both well received. However, despite a very strong cast and astute direction, this production misses the mark.
Set in a single afternoon in the conservatory of a country house in Edwardian Surrey, underwear magnate John Tarleton's daughter Hypatia is set to marry effete aristocrat Bentley Summerville, but admires only his brain, not his body. At the end of the first act, Bentley's friend Joey Percival and a Polish acrobat called Lina Szcsepanowska inexplicably crash their plane through the Tarleton's greenhouse roof. Loyalties are then tested and alliances altered as a stranger with a gun enters the fray.
The play explores a huge array of themes such as love, marriage, female power, class and capitalism, without saying very much about any of them. It feels like a scattergun set of sketches, rather than a complete work, especially in the first half where little seems to happen at all until Lina crashes through the greenhouse roof. Large sections of dialogue do not add to the story and seem to serve as demonstrations of Shaw's verbosity rather than skill.
It is a pity that the plot is so bizarre, as the cast is generally very good. Pip Donaghy is on fine form as the ebullient Mr Tarleton. Down to earth and self-made, he blusters and quotes authors for others to read. There is a comfortable chemistry between him and Gabrielle Lloyd who gives a lovely cosiness to the role of Mrs Tarleton.
Rhys Isaac-Jones, last seen at the Orange Tree in the wonderful Jess and Joe Forever, takes on the role of Bentley Summerhayes. He is suitably affected and consistently on the verge of hysterics, although the high-pitched voice becomes a little grating.
Lara Rossi is nicely aloof as brilliant Polish acrobat Lina Szczepanowska. She shows the detached and independent female role so familiar in many of Shaw's plays, indifferent to all men's advances with some bitingly brusque lines, it is a shame she is so underused.
A potentially really interesting character, with personal questions about class and familial loyalty is son Johnny Tarleton. Tom Hanson does a cracking job (and is very funny) with what he is given, which is not very much.
Space is always a restriction in the Orange Tree and the period details are sparse, with the exception of a pretty glass ceiling strewn with entwined flowers. Clothing details such as high-waisted ankle length trousers with large turn-ups and slickly combed hair are perfect for 1910, when the play was written. However, for that era Hyperia's skirt is too short and unstructured for the period, it is doubtful that Lord Summerhays would wear a linen suit in May, when the play is set and there isn't a hat or glove to be seen.
There are echoes of many of Shaw's familiar themes of female emancipation, clashes between the aristocracy and emerging middle classes and the dubious nature of imperialism and capitalism. Unfortunately, it is frustrating as it fails to say anything particularly interesting about any of them. Despite the best efforts of a talented cast, this play is a misalliance for the usually excellent Orange Tree.
Misalliance is at the Orange Tree Theatre until 20 January 2018
Photo Credit: Helen Maybanks