BWW Review: I'M NOT RUNNING, National Theatre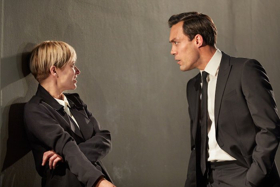 Britain's foremost political playwright David Hare returns with a new play examining the current state of the Labour Party. Or not exactly - this is a world with no Brexit, no Corbyn, nothing, in fact, to anchor it to the burning issues of 2018. A relief, perhaps, but this is a state-of-the-nation play unwilling to examine our actual state.
Hare's non-linear piece hops around time periods and locations to show us how doctor and single-issue campaigner Pauline Gibson became a political force. It also tracks the contentious relationship between Pauline and Jack - her university boyfriend-turned-Labour rising star and eventual rival.
Jack is more Miliband than Corbyn, with a father who wrote socialist books highly respected in the Party - though he also boasts a Blairite, pragmatic centrist smoothness (you'd never catch Jack awkwardly eating a bacon sandwich).
Yet his vision for Labour remains vague, only defined by a major point of conflict with Pauline: while she wants to protect her local hospital in Corby, he believes in NHS reform based on nationwide efficiency. It's a complex debate boiled down here to, essentially, head versus heart - and eerily reminiscent of Alan Bennett's similarly presented arguments in Allelujah!.
As for Pauline, Hare takes the slightly odd decision to lay out her biography early on, and then spend several long scenes playing out what we already know - mainly in the cause of a structural fakeout, plus a dubiously convenient meet-cute for Pauline and her spin doctor Sandy.
The play's ponderous, dramatically static first half is particularly trying, containing a scene of students speaking like, well, a playwright several decades their senior, as well as an awkward nod towards #MeToo. But even in the stronger second, the oft-discussed relationship between Jack and Pauline never really catches fire until the climax.
James Graham's Labour of Love - with which this will inevitably invite comparisons - was more deft in relating the personal to the political, providing a historical overview of Labour's identity crisis while also welcoming full investment in the will they/won't they central couple.
In contrast, Hare strenuously psychoanalyses Pauline and relates her every decision to her personal life - her political independence and drive must stem from the trauma of caring for her alcoholic mother, and which also influences her instinctive rejection of a relationship. She's constantly "running" (geddit?) away from her past.
It's a rather dispiriting - nay patronising - view of women in public life. Even more frustrating, when it comes time to consider a political career, there's no mention of the very real impediments facing women, like social media's sexist judgement and a barrage of rape threats waiting to be unleashed (the only technology reference here is the dismissal of "the blogosphere").
Nor do any of the characters feel like three-dimensional people, rather than useful symbols for debate, despite the strong efforts of the cast. Siân Brooke (who dazzled in Sherlock) is a compelling presence and sells both Pauline's commitment and vulnerability - though Hare hasn't provided much in between.
While Pauline has more stage time, Jack is much the more charismatic and has plenty of great lines, all relished by Alex Hassell. Joshua McGuire is excellent (though underused) as wry operative Sandy, and there's good support from Amaka Okafor and Liza Sadovy as, respectively, a junior staffer and Pauline's difficult mother.
Neil Armfield's production is slightly plodding, featuring a rotating building (from Ralph Myers) that seems adrift on the vast stage. Most effective are video projections from Jon Driscoll, giving us a more intimate look at our major characters - and under the glare of the media spotlight.
Hare does offer articulate, provocative and witty views on several big issues, such as the paradox of the public wanting someone "genuine", but also needing them to operate within the political machine; the reluctance of Labour to create the right circumstances for a female Leader; or - defined here as looking inward, rather than out - Labour's tendency to value its own processes over electoral success.
But too often, characters will simply explain these ideas at one another, rather than having a conversation; it's perhaps no coincidence that the most potent scene is the purely domestic one. Elsewhere, in something of a meta-satire, politics trumps people.
I'm Not Running at the National Theatre until 31 January, 2019, with an NT Live broadcast on 31 January
Read our interview with Joshua McGuire
Photo credit: Mark Douet
Related Articles View More UK / West End

Stories

Shows