BWW Review: ALLELUJAH!, Bridge Theatre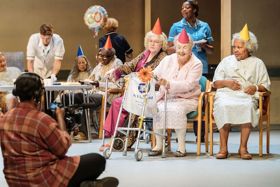 This highly anticipated new play from 84-year-old Alan Bennett premieres at the Bridge, continuing his long-standing relationship with Nicholas Hytner. It's an exciting get, and there are wonderful flashes of Bennett wit, wisdom and stirring empathy, but also polemical outbursts and baggy plotting that lead to a ponderous and not entirely justified run time.
The setting is the geriatric ward of Yorkshire's cradle-to-grave Bethlehem hospital - known affectionately as 'The Beth' - which is under threat of closure. A local documentary film crew is on hand, capturing feel-good stories like the formation of a ward choir, but there's also more bleak happenings: patients neglected by their families, elder abuse, and someone playing Angel of Death to free up beds.
It's a jam-packed cast, with a dozen patients plus hospital staff, visitors and the crew, meaning some characters are thinly defined and others have their arcs hammered home - like prodigal miner's son Colin, now working for the Department of Health, who spells out that he's rebelled against his father by joining the enemy.
Samuel Barnett has the tricky task of humanising arch-Tory Colin, who believes in NHS efficiency and targets, rather than cosy local institutions - with the playwright firmly supporting the other side of that argument.
It doesn't help that his only confidante is a silent figure on exposition-dump phone calls, although a scene where his elderly father, Joe, fails to recognise him and then exhibits some nasty homophobia is compelling - more interaction between the two of them, and less overt debate about the health service, would be welcome.
However, a game ensemble ensures engagement throughout, relishing Bennett's running gags, killer one-liners ("She was C of E, but with all these vicars being had up she went over to atheism"), quintessentially English references and poignant moments of stark observation.
Building on the choir idea, there are delightful dream sequences where the elderly patients rise from their wheelchairs and walkers to give us (very) soft shoe shuffle and croon classic songs and showtunes - lovely arrangements, choreography and rosy lighting by George Fenton, Arlene Phillips and Natasha Chivers respectively.
Bob Crowley's set is efficiently institutional, with sliding walls, signs and the ever-important beds, and props nicely translate in the performances - like surgery gowns in place of coats in the Singin' in the Rain number, choreographed pill-dispensing, or walking sticks used as canes in a (slightly more shambolic) dance.
Peter Forbes is excellent as the hospital chairman - a former local mayor who loves the spotlight - as is Deborah Findlay as the dour Sister Gilchrist, who's more focussed on keeping a 'dry' ward with her incontinent patients than on flashy initiatives like the choir. But she's gifted a humanising moment in a yearning waltz with Jeff Rawle's otherwise irascible Joe.
Simon Williams is affecting as the former schoolmaster Ambrose, awaiting a visitor in vain, and there are hilarious moments from the bickering biddies, particularly Patricia England, Sue Wallace, Julia Foster and Gwen Taylor; one round of reminiscences about disappointing husbands ends with the fantastic capper "Still, it was better than this".
Dr Valentine is too saintly - the kind immigrant in danger of being deported and criticised for being overly caring - plus a climactic, politically tinged direct address to the audience makes him a direct Bennett mouthpiece, but Sacha Dhawan brings charm to the role. David Moorst also makes an impression as an apathetic local kid on work experience with a nasty streak.
There's fiery passion in Bennett's writing as he attacks free-market profiteering, and asks urgent questions about how we outsource elder care - particularly with an already overstretched NHS, and a society where more and more people are living longer. His vital plea for compassion also helps lift the piece into state-of-the-nation territory, though the romanticising of old-fashioned local is slightly at odds with his condemnation of Brexit insularity.
However, the myriad messages come at the expense of streamlined drama; if the documentary crew were to get their hands on it, plenty would end up on the cutting-room floor. Yet there are ardent Bennett lines here that ring out like a bell: "Nobody can ever be written off".
Allelujah! at the Bridge Theatre until 29 September
Photo credit: Manuel Harlan
Marianka Swain is the UK Editor-in-chief of BroadwayWorld. A London-based theatre critic and arts journalist, she also contributes to several other outlets, including the Ham (read more about this author...)