Review: HOGARTH'S PROGRESS, Rose Theatre Kingston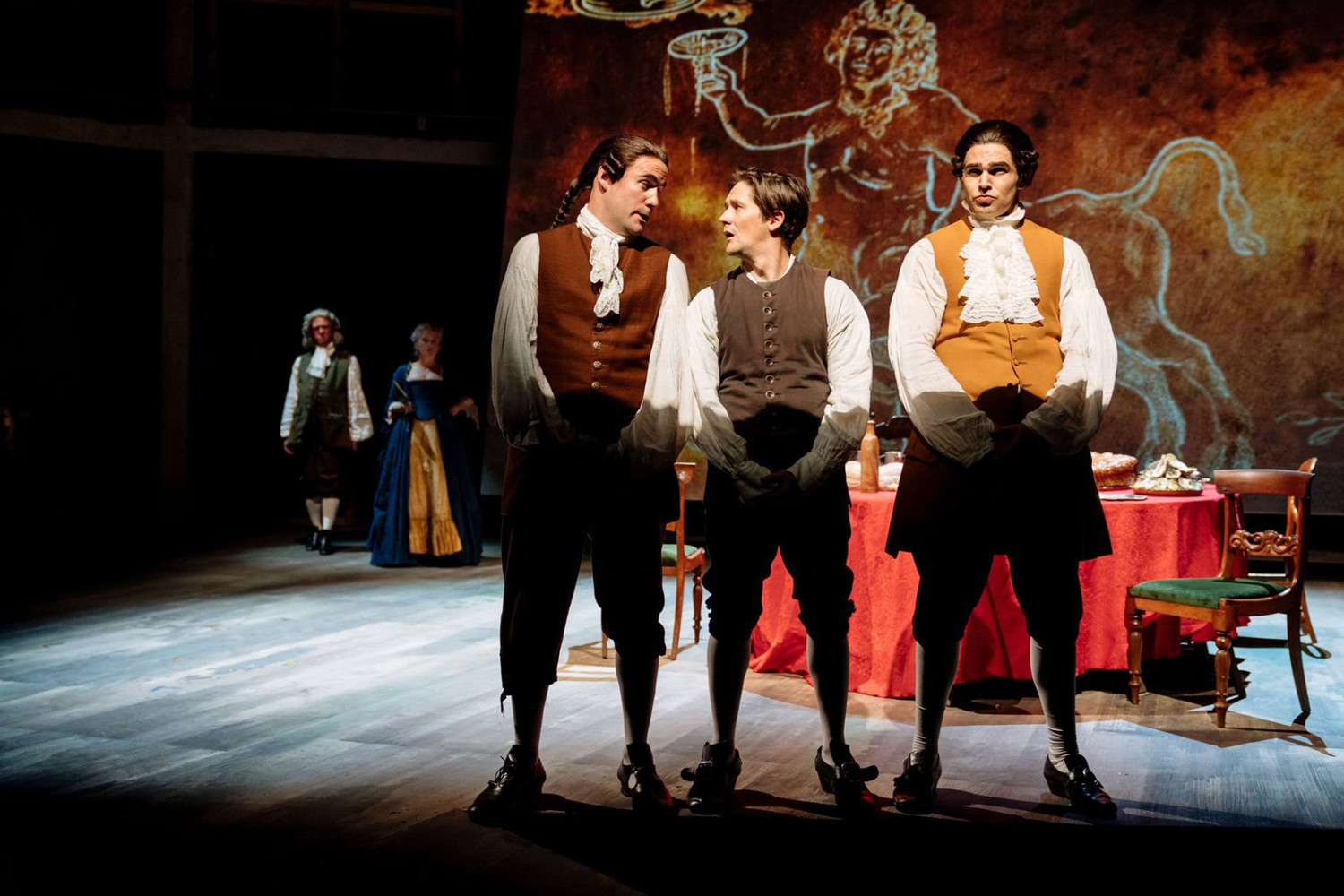 Over 30 years since The Art of Success was first performed, beginning in Stratford-upon-Avon and running in both New York and London (where it picked up an Olivier Award nomination), and Nick Dear's play has been revived alongside the world première of his new work The Taste of the Town.
William Hogarth is the focal point of both plays, alongside wife Jane, fittingly set 30 years apart. They show a marked contrast between the up-and-coming, angry young artist and the disgruntled establishment figure - neither quite fitting in, instead blazing a trail for themselves. Together they form Hogarth's Progress, a curious but entertaining double bill of plays.
In The Art of Success, Hogarth (played by a sprightly Bryan Dick) is newly married and always on the lookout for the next moneymaking opportunity. He has his engravings made into prints so he can sell his work onto the masses at a very reasonable price, but this is starting to become harder as people are pirating his pictures - so he determines to convince Prime Minister Robert Walpole to extend the copyright law to images.
Alongside this, he's working on a new piece of condemned murderer Sarah Sprackling; Hogarth intends to sell prints just after she's hanged, but when she sees his depiction of her she determines to get it back and save what's left of her soul.
For reasons that are not quite made clear, Hogarth steps onto the stage in a modern outfit, before he's dressed up in 18th century clothes - and later on he finds a smartphone that is used to take an obligatory selfie and some other photos, all of which are projected onto the screen that forms the centre of the set. If it's to try and suggest that things then and now are not so different, it's a rather unnecessary choice; the audience can draw that conclusion from the text alone, rather than being confused by incredibly anachronistic visuals.
It does lack a little focus as it meanders towards a conclusion - at times it's hard to tell if Hogarth is intended to be the central character, as Henry Fielding's trials and tribulations in the playhouse do take centre stage quite often. However, its brash approach and use of language (often very colourful) quickly hook you in and have you laughing along immediately. Alongside the personal stories of the characters involved, it also does raise some interesting points about art and its function - if, indeed, it should have one.
Sylvestra Le Touzel is brilliantly filthy as brothel-keeper Mrs Needham, and Ruby Bentall is endearing as the prim Jane Hogarth - and hilarious when she daydreams about her husband's return. Bryan Dick brings great energy and commitment to the role of William Hogarth, capturing the young artist's impatience to start making his way in the world and his innate defensiveness over his modest upbringing.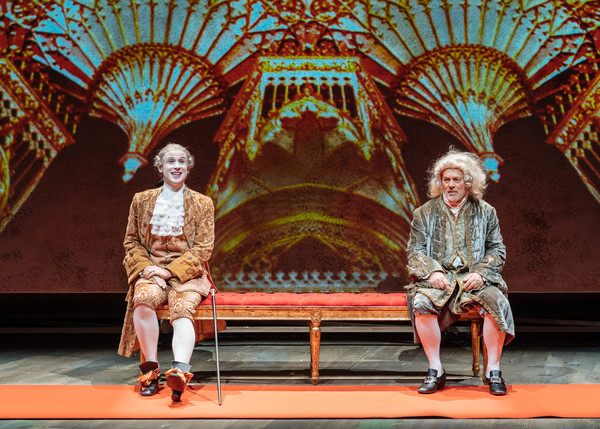 For The Taste of the Town the Hogarths have relocated to the countryside from the city, living in the leafy greenness of Chiswick.
William has recently painted his own composition based on the tale of Sigismunda, but this may be one risk of his that will not pay off - it is ridiculed by the so-called "Prime Minister of Taste" Horace Walpole and looks set to go unsold. Roused out of his solitude by good friend David Garrick, Hogarth plans a trip to Walpole's Strawberry Hill home to confront him over his comments.
All the while, Jane is trying to appease her increasingly irritable mother, Lady Thornhill, and gets a taste of a potential new life from some fashionable women she meets in town.
Of the two plays, this is arguably the more engaging. Jane and William are firmly at the heart of The Taste of the Town, as it documents the change in their relationship as well as how Hogarth's attitude as an artist fits with the taste of the day; despite his social elevation he is still unsure where he fits and what he should be doing, which makes him a very difficult man to be around. It is an incredibly funny play, with the laughs coming thick and fast - the name of Hogarth's dear departed dog, for example, proves to be particularly popular.
Nice use is made of the screen, with projections (Douglas O'Connell) depicting the settings for each scene, from the exterior of the Hogarths' house and the riverside landscapes, to the vaulted ceilings inside Strawberry Hill House. This is an area that could be used more effectively in The Art of Success, perhaps showing Hogarth's drawing of Sarah Sprackling in progress, or bringing the pleasure gardens to life.
The character of the older William Hogarth could almost have been written with Keith Allen in mind. He is pitch-perfect as the irascible ageing artist, putting his natural comic timing to excellent use as he snarls out curse after curse - in contrast, his later scenes are surprisingly affecting. Mark Umbers brings some good old-fashioned charm to his portrayal of David Garrick, and Ian Hallard shows great comedic flair as the smarmy Horace Walpole.
As good as the company is (all bar Allen performing in both plays), you can't help but wonder whether it could be a bit more diverse - though its all-white cast does at least see some gender parity in The Art of Success, with the addition of Allen for The Taste of the Town.
This is a fascinating double bill, both in terms of gaining insight into the man behind famous works such as A Harlot's Progress and Gin Lane, and also seeing how Dear's writing has changed in the years since The Art of Success came into being.
It is almost as if the two plays weren't written by the same person at times, though William Hogarth's personality is fairly consistent between the two (taking into consideration the effect time has on us all). That the second of the two plays is an improvement on the first is perhaps how it should be.
Hogarth's Progress (The Art of Success/The Taste of the Town) is at Rose Theatre Kingston until 21 October
Picture credit: Manuel Harlan