Review: FIVE GUYS NAMED MOE, Marble Arch Theatre

New Orleans comes to Marble Arch via this energetic revival of Clarke Peters' 1990 tribute to 'The King of the Jukebox', swing and blues bandleader Louis Jordan. Occupying a new pop-up, circus tent-style venue - complete with stylish bar serving Southern cocktails - it's a welcome blast of jazz-hot fun as autumn draws in.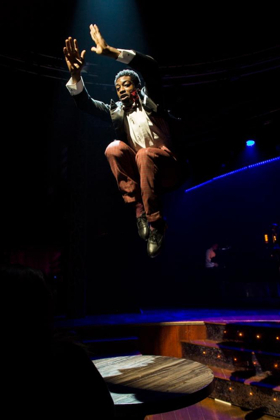 That's not to say it's a perfect piece of theatre, but it's hard to dislike a show that so amiably pre-empts criticism. Plot wise, this quintessential jukebox musical makes Mamma Mia! look like Hamlet, but there's dialogue to that effect: "Oh no, that sounds like a cue for another song!"
Or worried that Jordan's numbers aren't exactly 21st-century-friendly, gender politics wise? Here comes one of the incredibly charming performers to apologise for their chauvinistic content. After that, you pretty much have to just let the good times roll.
And roll they do. The set-up is simple: Nomax is a hard-drinking sad sack circling the drain after his wife left him. One night, five guys named - you guessed it - Moe burst forth from his radio and liquor cabinet to offer relationship counselling by crooning Jordan's toe-tapping songs.
There are times when you wish for more plot to sustain a show of this length - one moment hints at Nomax's drinking as a serious problem, which would add darker notes to this sunny piece. Or, alternately, that Peters (here on directing duties) had been slightly more adventurous with this flexible space, a real luxury in the West End.
When it does break out of its shell, the show is irresistible: a calypso singalong, complete with audience member solo (actor Freddie Fox on press night - book him for a musical, stat) and conga line; the talented cast whizzing around the ringed revolve that extends from the stage, or interacting with people sat inside it at small tables. Embrace the cabaret/gig format, maybe add a dance floor, and you're set.
But even when played fairly straight, the show is wonderfully buoyant thanks to its cast. Dex Lee (Know Moe) has buckets of charisma, explosive elevation and rivals James Brown in his showman splits, while the lithe Idriss Kargbo (Little Moe) gives great pratfall and brings the house down with his towering Carmen Miranda fruity headdress.
Ian Carlyle is a cheeky Four-Eyed Moe, particularly when playing the literal fox in the henhouse during "Ain't Nobody Here But Us Chickens", and Horace Oliver (Big Moe) supplies authority and strong vocals.
As Eat Moe (because he likes to eat; the Moes are like the Spice Girls - up to one characteristic each), Emile Ruddock gives a powerful rendition of "Don't Let the Sun Catch You Cryin'", complete with superb sax solo from Jessamy Holder.
It's a cracking band, best appreciated during the second half's Funky Butt Club fantasy sequence - previously, they're inexplicably hidden behind a curtain. That second half is a joyful "Oh, I know that one" sequence of familiar Jordan hits, including "Let the Good Times Roll", "Choo Choo Ch'Boogie" (featuring a hat billowing train-like smoke), and "Is You Is or Is You Ain't My Baby?", strikingly staged with the guys framed in silhouette around the revolve.
Edward Baruwa has the toughest task as Nomax, who remains lost throughout until he suddenly figures out how to fix his life, but his reactions to these ghostly apparitions are great fun, and he brings real desolation to the bluesy "I Know What I've Got".
Andrew Wright's choreography thoughtfully complements Jordan's music - its wit, soul, sex appeal, and combination of continuous rhythm and sudden impact. You can see, too, how Jordan's stylish Thirties and Forties tunes paved the way for rock n roll and R&B, as Wright blends tap with swing and jive.
The set design is modest but effective, allowing for quick changes, and takis really goes to town over the Moes' natty colourful plaid - in contrast to Nomax's rumpled, post-bar-hopping attire. Philip Gladwell's lighting directs our attention from the stage to the revolve and back again.
It's not deep theatre by any means, but if you're looking for a jumpin' joint, a drink and a great night of music, Peters and his boys have got you covered.
Five Guys Named Moe at Marble Arch Theatre until 25 November
Watch a behind-the-scenes video here
Picture credit: Helen Maybanks