Review: AS YOU LIKE IT/HAMLET, Shakespeare's Globe

Michelle Terry's first season as Artistic Director of the Globe will be carefully scrutinised. Emma Rice's contentious exit raised important questions about the venue's purpose, its balancing of tradition and innovation, new and returning audiences, and about how we engage with Shakespeare in the 21st century.
This double bill of plays, written around the time of the original Globe's opening and performed by the same 12-person ensemble, finds a decent middle path. There will be elements that both thrill and irk people on either sides of the debate, and while Terry's strategy hasn't, as yet, yielded exceptional theatre, it does result in something defiantly hers, while also feeling a part of Globe history.
Costumes are a mix of period and modern, and there's minimal set and props: a puppet deer, a forest sketched on a curtain, an animal-skin rug. Tanika Yearwood sings well (though, as ever, there's probably one song too many), and a brass-led band plays relatively traditional music from the gallery. Those who griped over Rice's lighting and sound use should be appeased.
The most obviously radical choice is in casting: gender-blind, race-blind, disability-blind, and to a certain extent status-blind, with the AD herself popping up in supporting parts in As You Like It (even cameo-ing as a sheep). That balances out her Hamlet, but also nods to an equalitarian ethos; the shows are co-directed by Federay Holmes and Elle While, but with more than usual input from the actors.
This results in a progressive company, with a strong female presence and key roles for Deaf actress Nadia Nadarajah, plus plenty of detailed character work; autonomy has clearly fired everyone up. On the downside, both plays lack overall coherence - the layers of gender-bending in the comedy will likely baffle first-time viewers - and an urgent purpose in their staging. The aims are admirable, the execution muddy.
As You Like It begins with some cheer-worthy female empowerment, as a diminutive and underestimated Orlando (the fiery Bettrys Jones, also excellent as a live-wire Laertes) handily bests two hulking guys in quick succession. Terry, hiding in her hooded coat as the old faithful Adam, is by her side - a nice piece of symbolism, if a tad distracting.
Orlando's love is similarly cross-cast, with Jack Laskey as a "more than common tall" Rosalind (an amusing, though overplayed, sight gag). Fair, perhaps, and there's lovely, mercurial work from Laskey - unzipping his cardigan in trembling faux-seduction - but given the relative scarcity of great canonical female roles, this particular decision gives one pause.
Other creative choices are wonderfully successful, such the same actors doubling as the two courts - one in rule, one in exile - by simply switching coats; power as illusion indeed. Helen Schlesinger demonstrates effortless command as both Dukes, nicely differentiated.
Nadarajah's casting as Celia produces some beautiful, illuminating moments. The lightning-fast signing between her and Laskey shows the cousins' bond (as does the sign for "inseparable", with two fingers pressed tight together), and her father grabbing her hands to stop her imploring for mercy feels shocking.
Elsewhere, however, the pace is necessarily slowed as her speech is translated to other characters, and some of the witty asides are missed. More effective is her Guildenstern, physically communicating increasing hurt and fury.
There's good work from Shubham Saraf as a proudly malevolent Oliver, Colin Hurley's brash but perceptive Touchstone, and Pearce Quigley's gloomy, black velvet-suited Jacques, cheekily muffling the beginning of "All the world's a stage" with a mouthful of banana.
The production kicks into high gear in the riotous second half, embracing the liberation of the anarchic plot and setting: the Forest of Arden, where everyone plays many parts, can transform in an instant, and finds their way to happiness through their best self. Here, Terry's vision begins to coalesce, and it's a joyful one.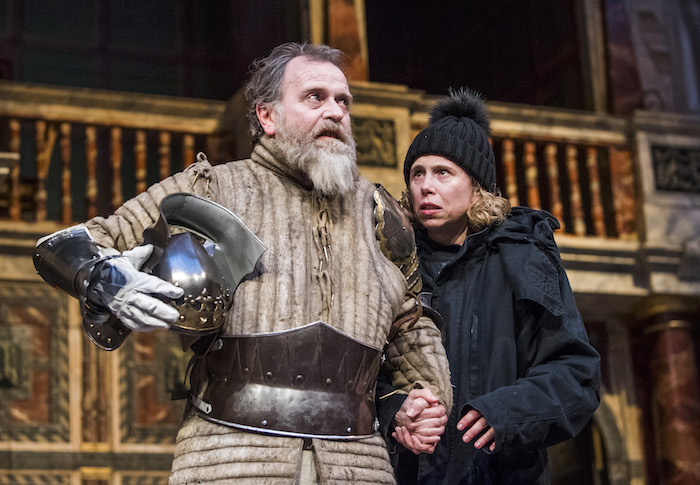 Hamlet perhaps suffers by comparison to recent productions, particularly Robert Icke's incisive, thrillingly revelatory version. The real draw here isn't a new take that cracks open the text, but Terry herself in the title role.
It's always a joy to hear her intelligent, thoughtful and fluid verse-speaking, and she brings a mournful vulnerability to her androgynous sweet prince - like a soggy cloud, shuffling around in a black raincoat. There's a sense of arrested development, of a mind at war with an infantile emotional response. Revenge is a spur, but the longing is for compassion and security.
Hamlet's madness is costumed as a sad clown, with a Joker-style jagged scar of a red mouth, and "To be or not to be" comes while she's slumped, staring up at the heavens as if searching for guidance. When her father's ghost visits, she clings to him inconsolably, and her snide remarks at court have the feel of reckless adolescent rebellion.
Yet there's no discernible context to this Denmark. The play doesn't need radical conceptualising, but it does need something concrete to push against. Hamlet as the Fool is an interesting idea, and a nice parallel with As You Like It while building on the Players' license to tell truths, but it doesn't really come to anything.
Instead, we have great individual turns - Richard Katz's finicky Polonius, Catrin Aaron's kindly Horatio, Saraf's anguished Ophelia, Schlesinger's shell-shocked Gertrude, James Garnon's amusingly vain Claudius - with no connecting thread.
There are other issues in both plays that suggest directorial inexperience, such as basic sight-lines (too much happens at the side of the stage, around the pillars), but the Globe staples are there: nice interaction with the groundlings, stoic ignoring of London's busy air traffic, the requisite end dance.
It's difficult to know for sure what Terry's tenure will look like on the strength of this pair. Certainly, demonstrating that imaginative - and representative - casting can work well is still crucial, and good to see in a theatre some were trying to consign to dusty museum status.
As for the plays, this is a pleasant enough opening, but process might have been prioritised over the end result. One hopes the best is yet to come.
As You Like It and Hamlet at Shakespeare's Globe until 26 August
Photo credit: Tristram Kenton