Review: A PASSAGE TO INDIA, Bristol Old Vic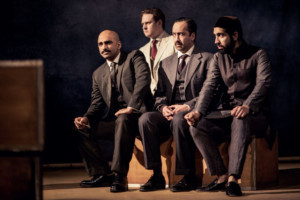 In a new UK tour currently playing at Bristol Old Vic, award-winning theatre company simple8 have joined forces with Northampton's Royal & Derngate to present Simon Dormandy's adaptation of E.M. Forster's novel A Passage to India.
Weaving together traditional music, movement and a minimalist approach to staging, the result is a bold, inventive interpretation that showcases the power of ensemble theatre.
The novel explores the racial tensions and prejudices between the British Raj and Indian independence movement through four central characters: the young Indian Muslim Dr Aziz, his British friend, the logical headmaster Cyril Fielding, schoolmistress Adela Quested, and her travelling companion, Mrs Moore.
Aziz is warned: "One cannot be friends with the English" - advice he dismisses. But a fateful trip to the Marabar caves leaves the ladies profoundly changed and Aziz in jail.
simple8 has a renowned reputation for creating theatrical magic "on a shoestring", and Dora Schweitzer's strikingly stripped-back design allows the company to do what they do best. The set comprises nothing more than a few pieces of material used for scenery, accompanied by bamboo canes and boxes.
It falls to the ensemble, then, to evoke atmosphere and transport us to India, and they rise to the challenge admirably - the standout moment for sure being the creation of an elephant using only movement and a single grey sheet with bamboo tusks.
A score composed and performed live by one of the most prolific composers of British Asian music, Kuljit Bhamra, is also wonderfully evocative.
This "less is more" approach to design allows the focus to be on character development and fleshing out of themes. Where the production loses its way a little though is in terms of the adapting and direction. Dormandy has worked hard at adapting the novel, but it does feel a bit frantic and disjointed; certain scenes, such as Aziz's trial that's the lynchpin of the second act, felt rushed.
The script is at times very witty, but perhaps not delivered subtly enough to balance and complement the weighty themes fully. The juxtaposition between moods so often at speed is jarring at times, as is the sudden narration given by the characters after we've already seen what happened.
On the whole, the script is incredibly wordy, and because of the pacing, can be hard to keep up with at times and thus it loses its power and momentum. If certain scenes were given longer to bed in, it would flow better.
That said, there's no denying the strength and commitment of this ensemble cast, and there are some standout performances. Asif Khan's portrayal of Dr Aziz is beautifully nuanced - blending charm, pride and cynicism with remarkable ease. The logical English headmaster Cyril Fielding is in good hands with Richard Goulding, his quiet sense of restraint making him likeable and endearing.
The friendship between the two characters is underpinned by restraint and longing, the racial tensions always simmering away beneath the surface, and both Khan and Goulding play this shifting dynamic beautifully.
Liz Crowther plays Mrs Moore with grace and sensitivity, and there's incredible work from Tibu Fortes as Hamidullah and Maanuv Thiara as Mahmoud Ali, but sadly the latter two feel underused and not as well fleshed out as they could be.
Phoebe Pryce as Adela has moments of brilliance, but needs more light and shade in her emotional dynamics to give the character more depth.
Frustratingly, but perhaps inevitably, in a play about race and culture, there are some stereotypes at play. All the white male characters aside from Fielding aren't really given any distinction from each other, and thus kind of bleed into one another. One could argue that this is the point in order to better illustrate the themes, but it feels lacklustre and uninteresting at times.
The character of Godbole is in danger of also falling into the trap of stereotyping, but Ranjit Krishnamma's perfectly judged portrayal avoids this with aplomb - razor-sharp timing and deadpan wit.
For a novel written in 1924, A Passage To India has at its heart a question that is still as relevant today as it ever was: how can we transcend the barriers seemingly imposed by difference in culture? This production tackles these big questions in a way that's ambitious and refreshing, even if it is a bit rough around the edges.
A Passage to India runs at Bristol Old Vic until 3 February, then continues on tour
Photo Credit: Idil Sukan