BWW Interview: The National Theatre's Toby Coffey on VR, 360 Film and New Ways to Tell Stories
"It's hard for people to grasp the possibilities of something like virtual reality or 360 film, as most don't have a frame of reference yet, so the best thing is to show them," explains Toby Coffey, the National Theatre's Head of Digital Development. "That's a big part of our job at the moment: inviting people into this new world."
Toby has been at the National for 10 years, and Head of Digital for three and a half, during which time "it's changed astronomically. When I started, it was pretty much just me doing digital; now, there's a whole team, and everyone's keen to learn more."
They're in luck, as the theatre boasts a dedicated Immersive Storytelling Studio, launched in June. "We asked for a space, and we thought we might be allowed to use the room for half a day a week, tops, so this is just fantastic. The National's always been a progressive institution, and now it really feels like you're encouraged to seize the opportunity and run with it."
That's down to a combination of new technology, new ideas and the new regime, says Toby. "Rufus [Norris] and Lisa [Burger] are very supportive of the digital side, and keen to think about a diversity of work and of audiences. This is a great way to support the National's work and also branch out."
Last year, Rufus commissioned the theatre's first VR experience, fabulous wonder.land, to coincide with new musical wonder.land. "People originally suggested doing a game, but the show is so innovative and it's about VR, so this just made sense." Collaborating with 59 Productions, Play Nicely and Room One's Mahdi Yahya, the National invited visitors to don an Oculus Rift headset and tumble down the rabbit hole into a virtual world.
"It was a brilliant crossover, as we had Damon Albarn and Moira Buffini's music, and design from Tom Paris and Rae Smith, who also did the show. We weren't sure if it would only appeal to twentysomethings, but actually all ages loved it - who doesn't want that chance to play and experience, and you can't get a better story world than Alice. We wound up with over 90,000 visitors, both in the exhibition and online."
Those who experienced the show in situ had bonus extras. "We wanted to think about presenting the story in a theatrical way, so we made an installation piece as well. Alice, in the show, goes to the loos when she wants to escape - our version had loos you could sit on while you wore the headset."
In fact, the loos proved so popular that when fabulous wonder.land went further afield - it's visited Cannes, Sundance, MOMA and the VR World Congress - "we had to create a special flatpack toilet to accompany it! I think that's a positive sign, as it means the virtual isn't just replacing the physical. They can work brilliantly together."
The project also showed the National in a new light, believes Toby. "It appeared in Time Out's Things to do in London this weekend, so then loads of people came in specially to see the VR, rather than just playgoers. And then with it going on tour, that's international exposure of something cutting-edge from us."
The eager adoption of VR surprised Toby, who thought the National would be more likely to do just 360 film, "but we've wound up with a mix. In terms of production time, VR takes longer, as the content is entirely computer generated, but 360 actually has a lot of pre-production - you write and rehearse it like a play or film. Then you film with it with a rig, which is quite complex, so you want to know exactly what you're doing beforehand.
"My background is in development, so I'm interested in the whole creation process - how it works, how long it'll take, the practicalities of application. Although I showed Rufus 360 a while back with the headset and he said 'I don't where this is going yet, but it could be interesting. Let's start exploring now - we should be there at the coal face'."
In December 2015, Rufus visited the Calais Jungle and commissioned a work in response to the refugee crisis. HOME | AAMIR, a 360 immersive film created by Toby, Rufus and Surround Vision's Erfan Saadati had its world premiere at Sheffield Doc/Fest in June. The challenge wasn't only the technology, but condensing a long interview about a complex, emotive subject into just 12 minutes, notes Toby. "That's something I'm in awe of - it's a real skill."
In a roundabout way, it also led to the arrival at the National of VR film Easter Rising: Voice of a Rebel, which opened as a free installation in the Lyttelton Lounge earlier this month to coincide with the production of The Plough and the Stars. "I kept crossing paths with [multimedia artist] Oscar Raby on the festival circuit, saying 'We should do really do something'. So earlier this year we got Oscar in to do a two-week residency at our studio to explore.
"We met up again in Sheffield, where we took our refugee film, and he'd brought Easter Rising, which he'd made with his company VRTOV, the BBC and Crossover Labs. It was one of those incredibly serendipitous coincidences. He's actually read The Plough and the Stars before he started making it, with no idea what we were working on. I showed it to Rufus and Jeremy Herrin, the play's director, and they loved it."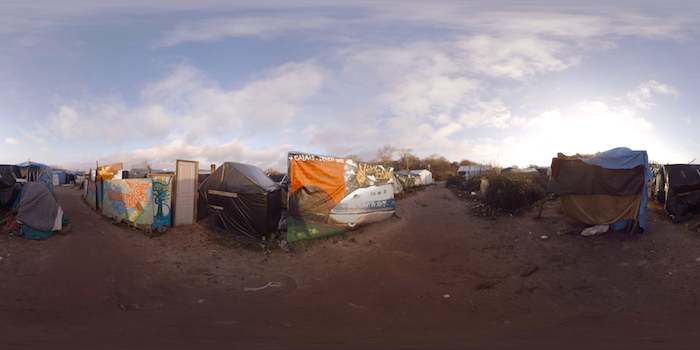 Easter Rising dramatises the eyewitness account of Willie McNeive, a member of the Irish Republican Brotherhood during the violent 1916 Dublin uprising. It's a visceral, at times genuinely alarming immersive experience: you can peer through the jagged shards of broken window at the fighting below, or once down there - if you're like me - anxiously hug a wall as the street is lit by blinding flashes of jagged gunfire.
It's both very human, with the sound of laboured breathing filling your ears, and vividly stylistic: Oscar favours people and places shattering into fragments, or evocative images like a spinning bullet that's gradually consumed by a gun. It's also a superb illustration of history's strange quirks of fate as this bloody event - by chance - spares one individual.
The film acts as a partner to the play, "and we've had people saying they got more from Plough after seeing the VR and vice versa, which is brilliant. We've also had loads just wandering up to the headset, whether or not they were planning to see the play, and enjoying that experience.
"We're now working out whether we need helpers there all time and how much people can figure out about where to look when they're wearing the headset, how to find everything. We've gone for a subtler approach than wonder.land, with just the headset and stools, so we're seeing how that goes down. The whole thing is a massive learning experience for us."
It's also been a resource for the artists. "Jeremy asked if the actors could use the VR for character work, which had never occurred to me. They really found it invaluable, getting a sense of what it's like to stand outside the GPO in 1916, to walk those streets, hear all those sounds, have your vision obscured by smoke or suddenly have fighting erupting nearby. One actually said it would make him a better actor onstage, which was an amazing response."
It's been fascinating seeing two very different works in tandem, says Toby, "with quite a traditional play revival and this very new technology. But ultimately the National is a centre of storytelling, and that's what all of this is. We did a 360 workshop in January with 15 creatives - designers, directors, actors, writers. When they took off the headset it was an eruption of enthusiasm and ideas. Now I get to see really great people going through that process all the time - I feel pretty lucky. Next we have to work out the right conditions for them to create."
Has there been any resistance from those worried about the invasion of technology? "Not really. You get some initial scepticism, but that goes away as soon as they've tried it. The main fear is 'Are you going to ditch us and fill the Lyttelton with headsets?', which obviously we won't. And we're not going to do anything just because it's new and shiny - we're very careful about what we pick and why we're commissioning. It's not about just being the first to do something; it has to be work that fits with the National Theatre, and is of that quality level.
"It's also something that theatrical creatives take to naturally. 360 is actually very close to theatre - it's really like staging a film. Designers get to work in the same 360 space they're used to, and for directors, writers and performers, you're often working in long, unbroken scenes, rather than lots of quick cuts."
But isn't this the antithesis to the communal theatre experience? "There are actually developments that could potentially make it social. A few years ago there was a collaboration between between the NT and body>data>space called me and my shadow, where you stood in a motion capture box and you could see your avatar, but then other people could stand in linking portals in completely different locations - London, Paris, Belgium, Istanbul - and you could all see each others' avatars in this shared virtual space.
"Ernest Cline wrote a book called Ready Player One, which is all about social VR - Spielberg's making a film of it. So those ideas are definitely in the ether, plus there are theatrical solutions. We did part-installation with wonder.land - you could do a theatrical experience with VR incorporated, rather than as a framing. It can also be used in the set design process, not replacing any traditional crafts, but just offering practitioners another tool."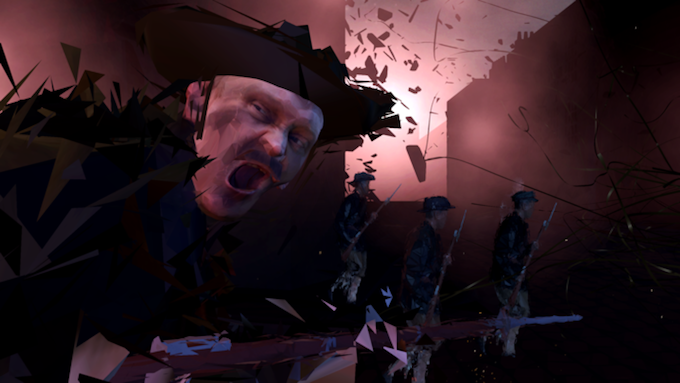 As well as public-facing projects like wonder.land and Easter Rising, the Studio is working on internal 360 and VR work "to show creatives the possibilities. There's so much we could try, from production tie-ins to standalone pieces, links with web projects and apps. We've got a whole production arm now."
One area Toby's keen to explore is "fact-based drama, which is very popular right now with shows like Making a Murderer, and actually the National recently staged a verbatim documentary piece about young people joining ISIS, Another World. We're working with the National Film Board of Canada right now - they call it 'creative non-fiction' - and that area feels like something we could really get into with the National's narrative track record."
Toby would love to collaborate with other arts organisations, production companies and sponsors. "This is properly devised work - there's no dictator, it's all about teamwork and partnerships. None of us can create it completely on our own, and that's a good thing. We're still working in the tradition of collaborative theatre. The next thing to figure out is effective distribution models, so we can reach out across the UK."
A lot of this work will become more accessible as headsets become more widespread, Toby predicts. "The market will eventually become like mobile phones. It's very new at the moment, as they've only been available to consumers for a few months. Samsung has their own VR headset, Playstation, Google Daydream, so once Apple enters the market, we'll start to see mass adoption. Then we could do things like introduce 360 content to the NT backstage app, or create augmented reality elements for when you step into the building."
But the digital strategy has to be defined by the National's strategy, says Toby. "We're not off on our own. I'm just thrilled to be working in an environment with such talented and supportive people who are excited about exploring. Yes, there are always going to be apprehensions about it, but that's the same with every new technology, and theatre's still going strong. We're not here to threaten that - just to provide another way for theatre-makers to tell stories."
Watch a trailer for Easter Rising: Voice of a Rebel
Easter Rising: Voice of a Rebel is at the National Theatre's Lyttelton Lounge until 22 October