BWW Interview: Nick Hendrix Talks MIDSOMER MURDERS and THE STRANGE DEATH OF JOHN DOE
Murder mysteries aren't actor Nick Hendrix's "go-to" genre. And yet this week he finds himself in rehearsals for a new play The Strange Death of John Doe, as well as the newest episodes of Midsomer Murders.
As the current series comes to an end, Nick looks back on his time on the show so far, his idea for a spin-off, and returning to Hampstead Theatre.
What was your first memory of theatre?
Well, my grandfather used to be mayor of his local council. And he was always invited to these pantomimes in town, and we would go along with him and watch Jack and the Beanstalk or something. So I guess that's probably my first experience of watching theatre.
But growing up, I didn't go to the theatre a lot. Some people grew up with that kind of culture; I grew up watching movies. So I think I wanted to be a movie star, rather than necessarily play Hamlet.
And what made you want to become an actor then?
It's funny actually, now that you're asking me that. There was sort of a separation between what it is to be an actor, and the idea of being a movie star.
I watched quite trashy films as a kid and me and a couple of friends would watch 18+ movies, like Lethal Weapon and Die Hard. So I had an idea that these people were movie stars, but I didn't think of them as actors and what it was to be an actor.
Being an actor came indirectly for me. I always sung at school in the choir and I'd often get the lead parts in musicals. But again, I didn't really think of that as acting at all. Then eventually, we did a play: Journey's End. And so I suddenly found myself in a play without singing and going, "Oh, this is quite good. I like this!"
So I didn't have any "eureka" moment. I just sort of watched movies and thought, "Oh, I want to ride a motorbike and drive cars and shoot guns and jump off buildings!"
And now you're an actor, have you had the chance to live out those ambitions? Maybe Midsomer Murders, less so!
Ironically, Midsomer has this thing where the sidekick is the one who does that sort of stuff. If there is any chasing or apprehending of bad guys, it's the sidekick. You know: man runs away, Neil Dudgeon looks at me and goes, "Go on, then!" And I go, "Oh, alright!"
So actually, I've built up a mini action reel! Obviously, it is pretty mild. But I very much push for it and our stunt team do let me try stuff like that.
I still try and up the ante though, "Why can't I jump over the bonnet?" And they're like, "Um, this is Midsomer Murders Nick...it's not Dukes of Hazzard!"
Watch this space: Midsomer Murders: After Dark?
Yes! I'm pushing for that spin-off: Neil is Danny Glover and I'm Mel Gibson running ahead and jumping off buildings!
Though you don't have that spin-off (yet), you do have a few new episodes coming out this month.
Yes. It's odd, the airing of the episodes has been somewhat fragmented. This project has been a huge commitment for me over the last two years, because our shoots were seven months long each time.
And these ones coming up finish up my first series. Then I've got a whole other one sitting on the shelf, ready to go out. When I have no idea...maybe later this year?
And what have you learned from your time on the show?
For me, it's that practice makes perfect. The more you do anything, the more relaxed you become with it.
The biggest thing with acting that they bang on about at drama school is relaxation. You do all these various classes and techniques to try and be relaxed on stage. And that counts as much for screen stuff, because there's so much going on.
There are so many things for you to be aware of or worried about, that the actual acting can get lost in the middle. But if you can be on set as much as possible, I think that really helps to relax you.
I'm on set five days a week, for seven months. That experience means I don't think about any of the distractions or worries: the camera, the lighting, all that kind of stuff. I can just step on and do the scene.
That's the way people get the best performance out of actors, when they're engaged in the scene and everything else that happens around them is not their responsibility, that you've got an amazing team taking care of that.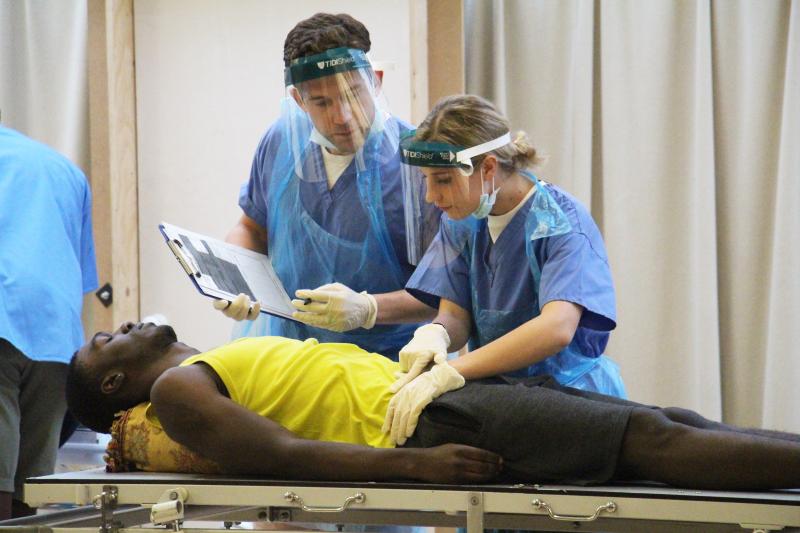 Turning from screen to stage, you're about to feature in a new play: The Strange Death of John Doe, which is based around a suspicious death...is this your go-to genre?!
Well at least I don't play a detective in this!
It is a detective story and it is based a lot in a mortuary. The story is about a guy who stows away in an airplane, and as the landing gear opens on its descent into Heathrow, the body falls out and lands on the side of the road.
So we start in the mortuary and we are trying to figure out who this guy is. And then we tell the story of who he is and how he got there.
And it's inspired by a true story and it is actually something that happens quite a bit. These guys smuggle themselves into planes, not knowing that they won't be able to breathe or that they'll freeze to death. And then when the wheels open, their bodies fall out and appear in somewhere. And there's no sign of how they got there.
How do you think the play speaks to audiences today?
Our director Ed Hall is quite consciously not trying to make it overly political. But in its storyline and subject matter, it is naturally political on some level.
This character represents one of millions of people trying to get to Europe from Africa. And when you see these photos in the paper of boats with bodies spilling over the side because there's no room, people swimming trying to get to the shore, each one of those people has their own story, their own life. Some of them have been travelling for years, just to get up to the North of Africa.
So I think the main point is for people to try and put themselves into that world, and the lengths that people are going to to try and get here. Engaging with that a bit more on some level.
What role do you play in the show?
It's great, because I actually play a variety of characters. It's an ensemble piece, so there's eight actors and we play about 15 characters. I play four different characters and I get a nice cross-section of them.
One is this young Londoner, who's a slightly cocky pathologist in the mortuary. And then I play a nasty, abusive, racist South African guy. And I have two other roles too, so it's quite nice in the sense of changing hats quite a lot.
And how have rehearsals been going so far?
We're in week three now and it's been really good. Because it's a little studio space and there are a lot of us and the set is quite minimalist, there's been a lot of figuring out blocking. So we've got lots of bits of sets and bits of props which are going to double and be used for many things. And because it's based in a mortuary, we've got these gurneys which could be desks, beds, the wings of a plane.
And it's a nice, chorus, ensemble feeling, and it's great to come back to Hampstead Theatre again.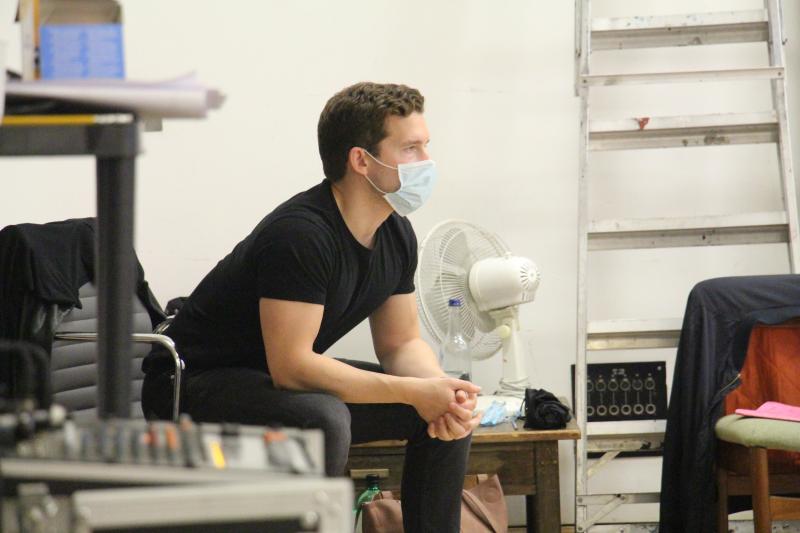 Because you've performed here before. What was your previous experience at this theatre?
Well last time I was upstairs, in the main space. I've never worked in the downstairs space before...I haven't actually even seen a play there yet, which is terrible! I am seeing one this weekend though.
Although it's the same building, it will be a different experience. That space is very small, but very intimate which is fairly unusual with theatre. It's almost like watching TV, the audience will be so up-close and immersed.
And it's always nice to return to a theatre, you do feel a sense of community. As an actor, it can be somewhat of a lonely existence. We don't have a workplace where you go everyday and see the same people.
When you do a job, you do have a cast and that's a work place for about three months. But you don't get to revisit that; you don't have those same people in the same place. So working in a building more than once is the closest we get to that.
Finally, what can audience expect from The Strange Death of John Doe?
I think in a simple sense, it's a fascinating story. For me, the type of theatre that puts me off is when things are very metaphorical and you leave thinking, "Well, what was that trying to say to me?"
And although this pay has a deep meaning to it, it's also a very straight story: one man's journey.
The Strange Death of John Doe at The Hampstead Theatre, 25 May-30 June.
The final episode of Series 19 Midsomer Murders airs on Sunday 20 May, 8pm and on ITV player catch up. Series 20 of Midsomer Murders airs later this year.
Photo credit: Will Bremridge; Hampstead Theatre
Related Articles View More UK / West End

Stories

Shows