BWW Interview: Mike Tweddle Talks BEAUTIFUL THING and Plans For Tobacco Factory Theatres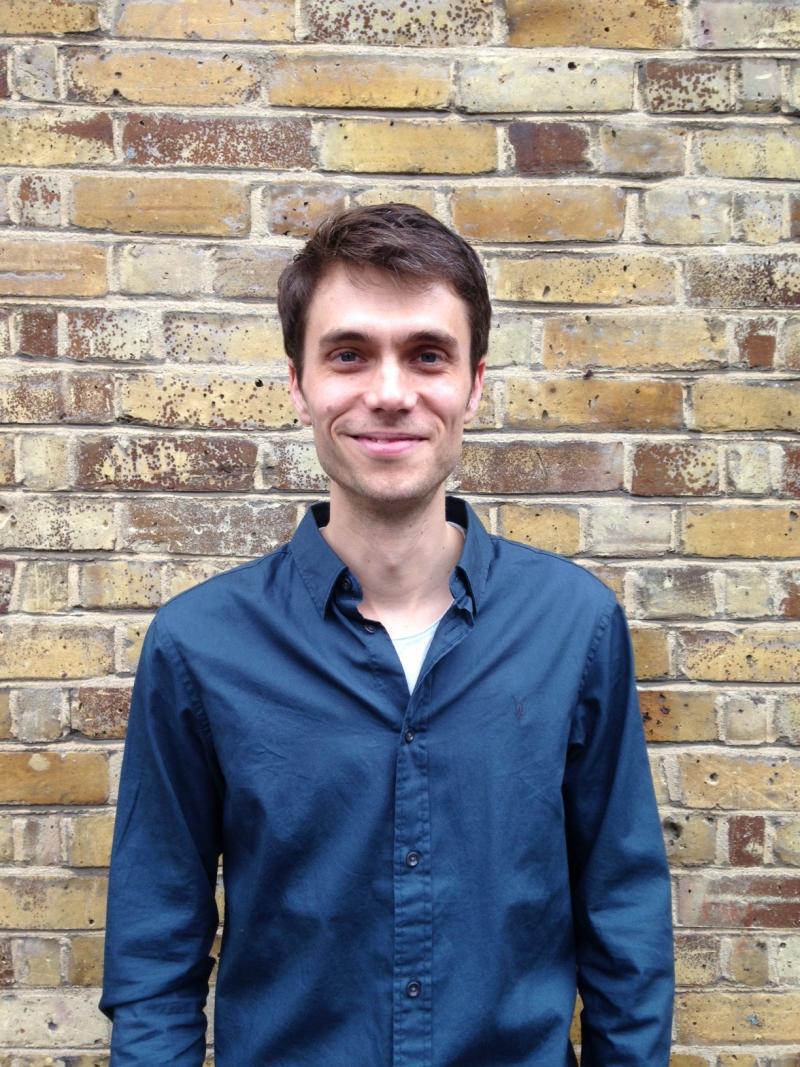 Two and a half years into his appointment, Artistic Director Mike Tweddle gives us an update on life at Bristol's Tobacco Factory Theatres.
You seem well into your stride as Artistic Director here and there's lots of exciting things happening, including the opening of the new Spielman Theatre. How has it been for you?
To be opening the Spielman feels like the most exciting thing that's happened so far, and actually it's been something we've worked on since the first day I arrived, that people have worked on long before as well.
For it to all be coming together with a really exciting, brilliant piece of bold, contemporary circus, and for it to be looking so lovely, is just wonderful. It's a real opportunity to bring much more of a range of work into the building, and much more of a range of artists and therefore audiences as well.
When we last interviewed you, you were looking forward to taking up the reins as a director. Now that's happened, how does it feel?
I was sick with nerves throughout directing A View From the Bridge, because it just felt like such a special place to be directing for, and I'd got to know the audience for 18 months by that point, and got to know the team, and so I felt quite a responsibility towards both those communities.
But it was thrilling and I love our Factory Theatre so much: it just gives you a lot as a director, like you a lot of solutions, and creative problems as well... the best kind! It felt nice to take on a second project having sort of already worked out the space a bit - but to now be approaching it with a different kind a play with a different kind of energy to it.
The 25th anniversary production of Beautiful Thing has been wonderfully well received. What is it about the play that you think makes it resonate, even today?
In some ways, I think it resonates for people who remember that time, so it has a kind of beautiful nostalgia for the early Nineties - which obviously wasn't intended when it was first written, but there are so many glorious references to the celebrities, and the music.
It was really fun choosing the music and thinking about how to help take the story forward each time we used music, but also how to choose work that could be arranged around a three-part choir. There were many different factors in choosing which songs we ended up performing. For me, it was a trip down memory lane - I was 13 in '93 and I remember all that music!
In other ways, it's a very resonant, pertinent story - it's still very, very hard to be young, gay and isolated, and obviously there are ways in which society and technology have moved on that might help someone in the situation that Jamie and Ste find themselves, but it's still unbelievably difficult, I think, to find within you the courage and the clarity to start to speak about who you are to your parents, your neighbourhood etc., so I think it's still really relevant in that respect.
Also, we're at a time when there are quite a lot of nasty ideologies and discourses growing within the right-wing political communities that are about reversing some of those liberal progressive steps that've been made, so I think it's important to remember that it's a fragile progress that's been achieved - and the fragility of those boys, and that community they're in, is really a powerful part of the play.
Was it always a piece you wanted to take on as a director?
It was always a piece that I loved. I'd first seen the film and loved it, because as a young teenager who knew that I wasn't straight, the film spoke to me in a big way. Then, I was part of a small fringe pub theatre in Birmingham who produced the play and I got to play Ste in that production as a 17-year-old. Getting a chance to interpret the character in that way was one of the most powerful, life-changing creative experiences I've had in my time on this planet.
So, having been in it yourself, did that influence the way you came to look at the play as a director?
That's a really good question! I like to think that it didn't, but I think maybe I brought to the project a kind of deep love for the material and a deep respect for the young characters.
I am in awe of all three of them - I think they're all facing some really challenging circumstances: of exclusion, violence, bullying, and they're all finding a force and a courage within them, a resourcefulness to move their lives forward. I remembered feeling that when I played Ste, just thinking how much harder his life was than mine, and yet how much more courageous he was than me.
One of the things that stood out most about this production was the collaboration with the community choir - how did that come about?
Like all good ideas, it developed through a conversation with someone else; I was talking to a great friend about the play and how I'd love to do it sometime, and she said "Oh you should have a choir singing at the end".
And as I went away with that thought, I just developed it into the idea of having a choir that was even more present than just singing at the end; and that, for me, did a powerful job of making clear that this is a story about a wider community and neighbourhood, who live on a big estate, not just the story of the five people you meet. The film does that quite nicely, gives the story that scale, so I wanted to capture that.
The choir are both taking us to a wonderful musical theatrical place that reminds us of the period that we're exploring, but are also our representatives of the wider Thamesmead community.
There's something beautiful to me about the multi-generational celebration of young gay love - seeing people in their seventies and eighties singing their hearts in celebration of that - because people of all generations have been a part of those communities and those struggles. It's sometimes forgotten, I think, how much the older members of our community paved the way for the progress we're now enjoying.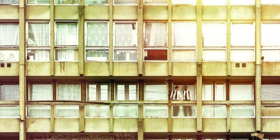 And would you like to see more collaborations like it in the future?
I'd love to, yes! Already the choir is a step on from what we did with A View from the Bridge, where we had a smaller number of non-professionals playing ensemble roles, and that was wonderful.
As a result of this and the choir, we are launching a soon to be announced regular community adult theatre company that starts up in January, which I'll be co-leading, and will result in them having a little bit more creatively to do and to learn than they've had over these shorter projects.
I know you've always strived to create more community-based work, and support more local artists. Do you feel like that's happening and heading in the right direction?
Slowly, slowly in the right direction. I think we are really aware that we haven't had much space provision for a long time - even haven't had a rehearsal space since April, and the Spielman's only just opened. So I think it's an opportunity now to open the doors even more widely.
We've been really proud to support a number of artists and companies with residency space last year and with certain mentoring and developmental tools, but there's been a limit to what we can do - we're not hugely funded as an organisation. We mainly rely on ticket income for the lion's share of our income, and we've had a very big squeeze on space. So I'm really aware we could be doing loads more, and we hope to develop in ways that feel bespoke to Bristol and its artist community.
Did the £5 for under-25s ticket offer for Beautiful Thing work well, and do you have any other plans to engage young audiences and make the theatre feel accessible to everybody?
The React night last Friday was by far our most successful so far - we've had three of them. The night is entirely run and curated by our young producers, who are on a free training scheme that's specifically aimed at young people who don't easily get access to theatre and the arts - bringing them in to train as producers and theatre-makers and arts professionals over the course of the year. They represent a wide spread of Bristol's community, although of course we can keep sending that message out further and wider.
It was a brilliant night, I think because the play was full of themes, issues and content related to young people. We had well over a hundred young people take up that offer, many of whom came through partnerships with youth organisations and therefore those young people hadn't visited us before, or another theatre in the city before.
ALL of them stayed for the post-show discussion and some of them contributed some really powerful reflections, such as: "I've never seen my story on stage before... tonight I have", people talking very openly about their own coming out struggles or questions, and we had some brilliant panellists too, who represent a citywide spread of LGBTQ+ organisations and community groups.
It was really wonderful - and the young producers ran that, and they're only at the beginning of their year with us! They'll be presenting some other fantastically exciting performances in future, and be starting to programme work, and having even more of a say in how we do things. Keep an eye out for everything that they're up to...
As a director, does your approach change and develop throughout the rehearsal process, or indeed between productions? Or have you always got a very set vision about you want a piece to look and feel like?
I think I do have a quite clear vision, which I've developed with the designer of course, on how the piece will look and have quite a clear vision on how it should feel, and what the dynamics are of that production. I always do a spreadsheet before I start rehearsals that breaks down all of the action of the whole play, and all of the movement dynamics as I see them, and all of the key symbolic props.
But what I definitely don't know is exactly what the kind of staging will be, or what the characters will end up feeling like - I really like to work in a way that's about embracing the unknown at the start, and saying to the cast "I don't have the answers, I have a feel for the spirit and dynamic of this play, but I don't know what the answers are in detail and we're gonna work it out together, and we'll make a lot of mistakes along the way!".
Do you think regional theatre is going through a tough time right now with lack of financial support, or are you optimistic about the future?
It's really hard to speak on behalf of regional theatre - what I'm acutely aware of is how hugely different the financial models and circumstances are of every regional theatre. I know that some theatres are really struggling, heroically so, with certain cuts and other issues.
We, personally, I feel really lucky that over the years long before I arrived, a really loyal audience developed for this theatre, and we do enjoy high attendance compared with a lot of regional theatre - and thank god because we are fragile: 80% of our revenue is from tickets.
Our following is actually quite a wide and diverse in terms of our audiences - we've discovered that there isn't a core audience, there are just loads of different people who come and see loads of different things. But thank goodness they do!
I think it's a hard time overall, for lots of theatres, but I feel blessed.
As a theatre lover with a disability, one of the things that I admire and love learning about is the work being done by the industry in terms of diversity and inclusion.
Has your approach to things like gender balancing and representation of BAME artists in casting, for example, changed? Are ideas around diversity and equality more prevalent now in light of the #MeToo movement, for example?
Such a big topic! I've definitely gone on a learning journey. I've always believed in equality and access, but I've seen firsthand how much more powerful a piece of art is when you have a wider representation on stage and in the audience; it's palpable how much more of a genuinely groundbreaking piece of work you can create is when you put that at the core.
And actually, that was the struggle with A View from the Bridge and Beautiful Thing - those plays didn't afford enormous flexibility around certain aims we have, for example, on gender balanced casting, and that was frustrating. But at the same time, both plays do speak to issues that affect people of minority groups.
So, for example, A View from the Bridge, it's very much a piece about immigration and so a diverse ethnic representation within the company was important to achieve and we worked very hard to achieve that, because we knew it would improve the quality and the resonance of the piece of work.
And in Beautiful Thing, there are themes which speak to a more diverse audience than a lot of our shows have spoken to. But these plays that are very specific in their time and place or specific in the way the author requires them to be produced, you can't achieve everything in every show - you can't achieve the level of inclusion you'd like to see across the whole year in one project.
So that's how I've had to start to understand what we do, that over the course of each season we need to be thinking about inclusion in all its facets and and having a stronger artistic programme will arise from that.
Looking ahead, the rest of the season is a wonderfully diverse mix - there's Shakespeare, comedy, reimaginings of classics and new work. Have you got a particular production you're excited to work on and share with audiences?
I'd definitely encourage people to look out for The Dark, which is a play by Nick Makoha, who is an incredible spoken word artist and playwright; it's a piece that's deeply personal and autobiographical, and is being produced by Fuel, who are a wonderful organisation. I don't want to say too much about the play, because it's quite a piece of storytelling and we're just really excited to be presenting it on its opening tour, so that's wonderful.
And there's our new adaptation of The Borrowers, adapted by Bea Roberts. It's a glorious story anyway, and so many people feel a fondness for it. The writer and director, Bea and Nick, they've been very inspired by the book of course, but also the other renditions of the story - and there are so many!
But they've really created something that's going to be a very Bristol and very Tobacco Factory Theatres version of the work - it's going to be glorious to anyone that cares about this city and has a fondness for that story.
Lastly, are there any future projects lined up that you could give us a little teaser about?
I suppose one thing that I'm really interested in is how to do big things in our new small space. I can see that our Spielman Theatre has this an incredible opportunity to be a home to a new musical, for example, or a new play that could go on to do great big things and scale up - just as Avenue Q started in a Spielman Theatre-sized space, just as Hamilton did. I'm interested in that, how we can really be at the cutting edge of new voices.
Find more about Tobacco Factory Theatres' programme here
Photo credit: Mark Dawson
Related Articles View More UK / West End

Stories

Shows