BWW Interview: Mike Kenny Talks RANDOM SELFIES, Techtopia Festival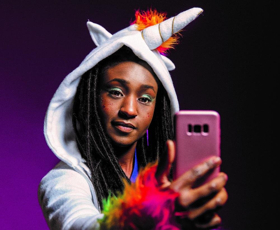 Mike Kenny is one of the leading writers in the UK who specialises in theatre for young people. His adaptation of The Railway Children for York Theatre Royal, seen at Waterloo and King's Cross stations and the National Railway Museum, won the Olivier Award for Best Entertainment in 2011.
Kenny's Random Selfies will have its premiere later this month at Polka Theatre's Techtopia Festival.
Did you attend theatre growing up?
No, I grew up in a very small town on the borders of Wales. I have two theatre memories during my growing up. One was when I was very young, maybe seven or eight. I was taken to Liverpool to see a pantomime. Liverpool, while it was a fairly close-by big city, in those days it took about three hours to get to. It was Babes in the Wood and fairly amazing actually. My memory is being totally overwhelmed by the experience.
When I was in sixth form, we had a school trip to Stratford to see Macbeth, which was also amazing. Apart from that, my childhood was a small-town country experience - lots of choirs and chapels on the edge of Wales. That's what we did: we went to church and we sang.
What made you realise you wanted to be a writer?
As a child, I was always reading and probably always writing stories as well. But theatre writing is a very particular thing and it was a long time before I got into that. I did all sorts. I worked for the post office. I trained to be a teacher and then I decided I didn't want to be a teacher, but instead I was going to be an actor. For about ten years, I was an actor working in a theatre company in Leeds that devised work for young people and children.
By the end of ten years of that, I'd learned quite a lot about how plays worked. The reason I started writing was because my partner is an actress and by then, we'd started having children. It's hopeless having two actors trying to bring up children, because somebody had to stay at home. And I started to write. That's how it began.
What was the first piece you wrote?
The first thing that I wrote was for a theatre company in Leeds called Blah Blah Blah. It was called The House that Jack Built and it was for teenagers. It was based on a strange story from my own family. My grandfather turned out to have another family that he hadn't revealed to any of us. When he died, they turned up to the funeral. It was kind of about that and around the question of "How do you know when you're a grown-up?".
What drew you to write young people's theatre? Was there a particular gap you wanted to fill?
I have always been fascinated by childhood. I think my own childhood was a complete and utter mystery to me when I was growing up. Writing for young people is fascinating because they haven't been in the world long. You have a responsibility to interpret it and explain it.
Also, young people like a good story. They're not jaded. They're very engaged. They let you know if they're bored or if they're enjoying it.
Does you have kids, and do they like theatre?
They've been on and off it. There were times in all their lives when they were dragged to the theatre far too often for their own good because their parents worked in it. Having said that, I have three sons, all grown up now. The middle one is an actor, the youngest did theatre studies at Goldsmiths and he's writing a play right now. The eldest not so much, but he works with young people and is in a band. None of them fell far from the parental tree.
What have you learned about what does and doesn't work for young audiences?
You never totally know. I spent ten years of my life in a theatre company as an actor working in school halls and they're very unforgiving environments. You begin to develop a sixth sense as to what is working and what is not working, and you begin to change it so that it does work. I think I have a pretty high hit rate, but there are times I get it wrong.
Funny enough, for Random Selfies, I had to do a lot of research and a lot of talking to young people, because I'm not a 10- or 11-year-old girl. I never have been, and my kids, now grown up, are all boys. I had to work hard to get inside the head of young girls living in the world today. It's incredibly invigorating and exciting.
We workshopped the piece first in schools and then with actors. All those young people told me such a lot and fed the piece incredibly. Hopefully, in the end I got an authentic-sounding voice for the central character.
Are there any preconceptions about theatre for young audiences you would like to correct?
I would like to correct that it's in any way less than theatre for adults. It has the same range. Not all theatre for adults is great, let's face it, and not all theatre for young people will be great. There is an assumption that if you work for young people, you are in some way infantile yourself. In some ways, it's more incumbent on you to be the adult in the room.
I wish more money was spent on it, I wish more profile was given to it. There's been an astonishing breakthrough in recent years. I think probably War Horse was the big breakthrough.
Before that, I remember Nick Hytner, when he arrived at the National [Theatre], saying they weren't going to do work for young people. Now with War Horse and Matilda and other shows like that, people have discovered that work for young people is often work for everybody. I can't recommend it highly enough.
Your adaptation of The Railway Children won an Olivier Award and has had many productions. What was it about the original story that you wanted to emphasise and why do you think contemporary audiences respond to it so well?
There was a lot of love for the story, mainly because of the film in the 1960s. I actually went back to the book and I thought "There's more here than meets the eye". I think the film is lovely, but because it happened at the end of the era of steam railways, there is a slightly rosy glow about it. It's slightly backward-looking.
When I read the book, it's about a single-parent family. They're on their uppers, they're really poor, they're dealing with all sorts of difficulties of living. They take in a political refugee that they just find on the platform.
I think it rang a bell because it's sort of about doing the right thing. Edith Nesbitt, who wrote the book, which was published in 1906, was one of the early founders of the Labour Party and an incredibly strong, vocal woman with an amazingly natural voice. She's a great storyteller.
What I think people responded to was the quite startling sight of people taking responsibility for other people in society who were maybe not doing as well themselves. It's quite radical now when we are being encouraged constantly to turn away from the foreigner, turn away from the needy, not actually help people but criticise and turn them into problems. You can tell I have strong feelings on things like Brexit and such...
The show was seen in some unusual venues, from the Railway Museum to Waterloo Station. Did that change your process at all, with such practical considerations?
That bit came quite late on. When we first started talking about it, it was always going to be done with a real steam train. That was a given; it was a collaboration with the National Railway Museum. For some reason, I think I never quite believed it was actually going to happen.
I wrote it as a storytelling piece. The Railway Children is the title but I slightly changed it so that they were young adults looking back on the summer when they were the Railway Children. I was writing a piece that could be done in a village hall with just everybody's imagination if the train didn't turn up.
As it happened, the train did turn up and all the rest of it, which was breathtaking and amazing. In a way that didn't affect me; I was just telling the story. I would get to the bit like "Then the train comes in" and it was kind of just not my problem. Somebody else would have to deal with that, so I'd move on. The technical stuff, other people had to worry about.
Tell us a bit about Random Selfies
Random Selfies started as part of a project about loneliness. The Co-Op have funded nationwide projects looking at loneliness and isolation in childhood, which is perceived to be a problem at the moment. Oval House in Kennington approached me to work on a play looking at loneliness.
We worked in local schools in Kennington with young people, mostly in Year 6. That's at the top end of the junior school age range, just before they're going to go into the big school. In a way, they're the most confident and most comfortable in their school lives but with a sense of apprehension about what lies ahead.
We did workshops and quite quickly the difference came up between being on your own, which is not necessarily a bad thing, but increasingly difficult in this society, and being lonely, which people did perceive was difficult.
As I was working on it, more and more new technology kept coming up as a factor. I was thinking, "I can't talk about kids being alone without tackling that". So Random Selfies began to come about.
I developed a character of a young girl, the same age as the children we'd been talking to. She's in a kind of wobbly time in her life. Her big sister, with whom she's always shared a bedroom in her family's small flat in London, has just moved out. You don't find out immediately why, but it's left Loretta rattling around a bit in her room and in her life. It's hopefully thought-provoking, hopefully quite moving at times, and hopefully very funny.
Although I like to do quite serious work for young people, I also like for it to be enjoyable. I don't want it to be hard work or feel like it's going to be good for you. I think theatre should be entertaining, not like taking medicine, but it should give you something to think about.
It's got an amazing set, which incorporates aspects of new media. In fact, the designers who worked together on it have created a set which sort of is a living set. Part of it comes alive with animations, which is extraordinary. It's a small-scale show; we don't have trains coming in through the walls, but we do have the walls coming to life.
Any plans for it beyond Techtopia?
There is a plan to take it on tour in the autumn, which will be great. It does seem to have struck a chord with people, which is lovely. As I said, I kind of approached it with trepidation. A one-person show about loneliness could be a bit of a misery fest.
Plays need people; you can see the challenges. The actress is within an environment which comes to life anyways. She plays all the other characters Loretta comes into contact with. It's actually an entertaining show about loneliness.
Do you think it's hard to compete with all the adaptations of popular children's books and get new work produced too?
I absolutely do. I think that gets worse and worse. It features in adult theatre too. Everybody says it's hard to get new plays on, but it's really hard to get new plays on for young people. There's a risk aversion at the moment across everything for kids.
Understandably, I suppose, although I don't know that the world is that much more a dangerous place than it was. It seems to me a real problem if kids are not introduced to the new, to the risky, to the things that engage with the contemporary world.
That's another thing about social media: they communicate with each other. Our art should engage with that new world. It can't all be just versions of classics. It's too dry. The theatre must not become a museum where we go and see stuff that we've seen before.
Do you think children's theatre, in particular, should have a purpose?
No more so than adult theatre, I think. If it's got a purpose, you should bury it deep so it doesn't feel like medicine. I would rather something that felt good rather than good for you.
Kids have a very good detector which can sniff out adult propaganda. They know when they're being sold something and they will turn away from it. I think it's your responsibility to open stuff up in an honest way and make it possible to look at difficult things rather than just pump a message.
It's very tempting with things like new media. Mostly older people - and I'm A VERY OLD person now - look at something and don't understand it and think it must be a bad thing. Now, I think there are negative aspects of spending your life looking at a screen when you're young, but I think it's complicated and not all negative. I would try to engage young people in the discussion rather than just poke a message at them.
The thing that I discovered when talking to all those young people was that one of the results of social media has been that there's more people now to compare yourself negatively with. That does feel to me like a difficult thing. When I went to school, you had to kind of negotiate the school bullies and everybody has to do that, but now the world is pushing their perfect lifestyle at you. We all know deep down it can't really be the case. Nobody has a perfect life; everyone's human.
But it's hard to deal with and it's hard for anybody, not just young people, to calibrate the differences. It can just make you feel rubbish like you are in some way wrong and everybody else is having a great time and you're the only one having a rubbish time. You can put anything on Snapchat and Instagram; it's easy to make the world think you're having a great time.
In essence, that's no different. It's about the scale. Everybody's hallways have those troubles, especially when they're growing up. Now there's a million and one ways of making you feel worse. I suppose generally I would like young people to feel like, "You're okay. This is just how it is growing up. It's not all great".
Do you have any advice for aspiring writers for young people's theatre?
Do it because you want to write for young people, not because you think it's easy or there's a market. Don't underestimate young people. Don't simplify.
With my three kids, there's 14 years in age between the oldest and the youngest. Practically speaking, there was a time when we'd sit down to dinner and we'd have an 18-year-old and a four-year-old at the table. I would always say there is no subject that is banned, but everybody must be included in the conversation.
That's how I feel about work for young people. It should engage with the world - not simplify it, but make it accessible and understandable. Don't exclude anybody.
One of the great things that's happened quite recently is a revival of diverse voices in the theatre. Take That on board, because a children's audience will be as diverse as any on the planet really. Maybe more so, because often they don't choose to come themselves; they don't buy the ticket.
Random Selfies is at the Polka Theatre's Techtopia Festival on 30 and 31 May