BWW Interview: Fenella Woolgar Talks THE SLAVES OF SOLITUDE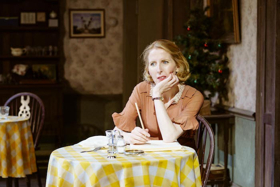 Actress Fenella Woolgar's work ranges from Handbagged and Circle Mirror Transformation to Home Fires and Doctor Who. She's currently starring in the stage adaptation of Patrick Hamilton's The Slaves of Solitude, about a boarding house in 1943 Henley-on-Thames, where Miss Roach - who endures daily torment from a fellow occupant - becomes involved with an American serviceman. The play is now in previews at Hampstead Theatre.
What sparked your love of theatre?
I actually grew up in the States, and just before we came back to England, we did a tour - it was around my sixth birthday. We came across this theatre in the middle of nowhere; apparently Wilde had spoken there. It was completely deserted, and I found my way onto the stage. It was one of those instant 'fall in love' moments.
Then in England, I was horribly teased for my accent, so I began imitating people around me - all those new sounds! So I suppose I was already acting in a way. And in my teens, I went to see some amazing theatre with school - some Greek plays, and Othello. I remember I had an enormous crush on the guy who played Roderigo.
When did acting become a serious ambition?
I always wanted to do it - I'd worked out early on it was a good way of entertaining people. I was keen to apply to drama school at 17, but my parents didn't want me to, so I got the prospectuses in secret. I went to university first, and did some directing and acting there, then I applied for RADA, got in, and had to break the news to my family. So it was a longer road, but I just loved it once I got there.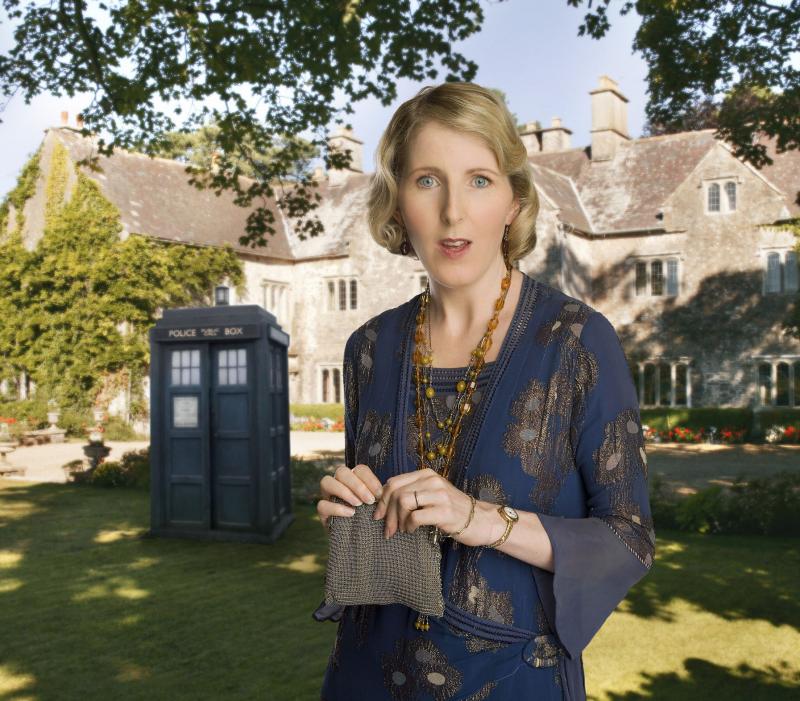 What was your first professional job?
They were putting on a production of Playboy of the Western World at Bristol Old Vic and wanted an all-Irish cast. I wrote a letter to the director in the style of Synge's language, saying if he didn't give me an audition I'd "break his pate" and so on.
I walked into the room and he said "Where in Ireland are you from?" and I said "Dublin", and I got the part! Then it was awful, they sent out these press releases saying they'd shipped this cast over from Ireland and there were stories in the Guardian about it, so I fessed up.
After that it was The Cherry Orchard at York Theatre Royal with Sally Hawkins and Miriam Margolyes, which was a lovely time. And then doing the Bright Young Things film opened up a lot of avenues.
Has it been difficult to maintain a variety of roles?
I think when you first start out, you just want to work. I'm a woman, and I was never going to fit the young ingénue. But the frustrating thing about the profession is that many of us come into it loving that act of transforming yourself, and yet they so often want you to repeat that one thing. I had to work very hard to be cast in different ways. Radio has been good for me - there's more freedom.
For example, I did a radio play for Trevor Preston, Flaw in the Motor, Dust in the Blood, which was semi-autobiographical - Rory Kinnear played the bipolar character and I played his sister. She had a mental illness and had been brain damaged, she was working class, very overweight, in a wheelchair.
I'm married to a psychiatrist and I took it very seriously - the whole thing was so other from me. When we were sat in a circle reading it through, Trevor said to me "You sent shivers down my spine". That was an extraordinary privilege.
What was it like working with Mike Leigh?
I'd always wanted to work with Mike - that was a real ambition. I enjoyed every second; his process is all-encompassing. I like that kind of experience. I've worked with Shared Experience twice, doing their wonderful brand of physical theatre.
Was it a lot of pressure portraying Agatha Christie on Doctor Who?
I didn't have long to prepare for that - only a couple of weeks. We had a read through in Cardiff around this big table, with loads of people, and as they were going around introducing everyone, they got to Agatha's grandson! I thought "You're kidding me" - that was definitely a stressful moment.
But I loved playing her. She had this great mind, and wit as well. Doctor Who fans are very loyal, very strong in their opinions. I had one person stop me at the stage door and say "A lot of people criticised the episode, but I loved it!".
And then you played another iconic woman in Handbagged
That was such an opportunity, taking on Margaret Thatcher. And working with Indhu Rubasingham, and Moira Buffini, who I've just done Harlots for - such a lovely bunch of people.
Thatcher was so different to me that it was wonderfully liberating - I didn't have any nerves. You put on her armour and go out there. I did loads of research. The imitation is quite easy, because her voice was fake anyway, but I wanted to get to the core of her. There's no point going on stage thinking "This woman's dreadful" - you have to play who she thinks she is.
And now it's a different kind of pressure again with Slaves of Solitude - a fairly intimidating number of people keep telling me it's their favourite book!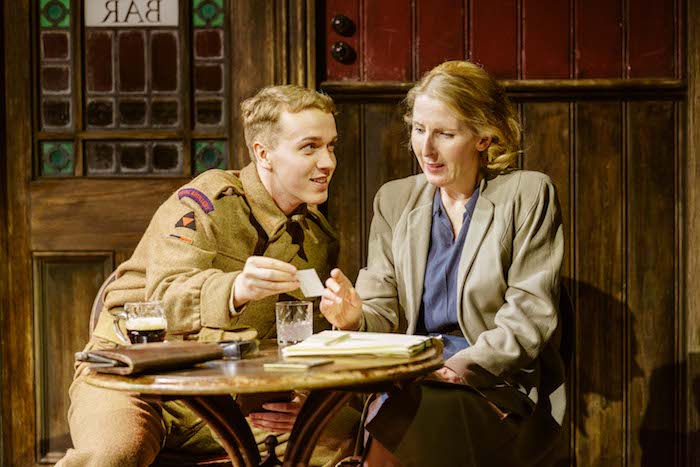 How are you finding poor Miss Roach?
I love Miss Roach - yes, poor Miss Roach. It's a brilliant part. I was worried initially because she's an introverted woman who has difficulty in fighting back and being honest about how she feels, constantly reprimanding herself. I could see that on film easily - a close-up would glimpse her soul. The challenge is making it work on stage.
That translation from rehearsal room to stage has been a big learning curve for me - how to pitch it just right. She's 'done to' so much, rather than driving the action, so that's an interesting journey. But I've had great support from this just fabulous cast, and Jonathan Kent is so experienced. He knows the process actors go through, and he's very thoughtful and caring.
How close is Nicholas Wright's adaptation?
Purists may have some issues, a few plot points have been changed - but that's necessary, or it would be a monologue. He's made some elements more active, and more suitable to a great play. There's lots of clever weaving things in. I'm rereading Patrick Hamilton's book at the moment, and I'm even more floored by how he's managed it. But the core of those characters and the plot, that's all there.
Does the claustrophobia of the boarding house suit theatre rather well?
It really does - we're all trapped in a room together!
How much research did you do?
I actually did a lot for Vera Drake, which is a similar period, and Home Fires - for some reason I so rarely get cast post-1950! I read a brilliant book by Virginia Nicholson called Millions Like Us, about women's lives during the Second World War.
It made me look at London differently - you begin to understand why there are gaps between Victorian houses, why pubs still existed (as breweries had more money to rebuild than ordinary householders), and it really makes vivid the number of people who were killed in this area.
We don't commemorate their lives enough, all those civilians. The children going over to Canada who were torpedoed, or the people who were bombed out of their homes, like Miss Roach - she's been bombed out of her flat, which is why she ends up in this boarding house in Henley. There's even this bit in the book about mothers and children queuing up to get rehoused and the queue gets bombed! Just horrendous.
And Miss Roach then faces a whole other form of torture with Mr Thwaites
Yes, he's first described in the book, quite charmingly, as "president in hell" - it's just the most wonderful phrase. What Miss Roach has to undergo via this man, this monstrous fellow resident, needling her every day, which Clive Francis does brilliantly. And then her romantic travails as well. It's this real torment.
Is that hard to express in this period setting?
That's another of our challenges. Everyone talks about they feel these days, but this was a time when you suffered in silence. Particularly, Thwaites is older than Miss Roach, so even though he's this horrible tyrant, she's naturally respectful towards him - it's all these mores we really have to instil in ourselves.
But bullying is a timeless thing of course - that carries on every single day. It's nice to put the bullied centre stage. I've only experienced it once in my life, and it was similar to this - lots of little digs, made when I was younger and didn't have the confidence or security to fight back.
Particularly hard when this is "home" as well
Your home is meant to be a place of sanctuary. The awful thing is Miss Roach tries to time going to the dining room to avoid meeting him, but that's all she can do. Then of course Vicki Kugelmann, when she arrives, is very intrusive, going into Miss Roach's bedroom, taking her comb. It's all those little personal things.
What you have to remember is that because they're not allowed bedside lights in this boarding house, and Miss Roach is a reader for a publishing firm, she has to run the gauntlet of those communal areas.
Is it easy to understand her romantic hopes?
Well of course Miss Roach is 39, in 1943, and she would have been brought up to get married and have a family. So the way you view your choices in life, and what people expect of you, that's very different too and feeds into how she interacts with Lieutenant Pike, this American serviceman.
It's a fascinating period, because there's also this crazy freedom of war, with people having sex left, right and centre, and a liberating time for women. And at the centre of this story is a very human tale - the child or adolescent trapped inside these grown-ups. Thwaites is eternally 14, the playground bully. So it's Miss Roach's journey to adulthood and freedom.
Do you have any future dream roles in mind?
Some other time periods might be good! There's a part of me keen to go back and do some Shakespeare. But I do love new plays too - there are great roles being written for women. When we're talking about diversity, it's so important that it extends to women, particularly those over 40. If we're holding up a mirror to what it means to be human, we owe that to the whole of humanity, not half of it.
I really loved doing Annie Baker's Circle Mirror Transformation. Going from the really annoying yoga bunny to Thatcher, that's the joy of acting! Any opportunity for growth, and any big leading role, that changes you - but currently, there's less opportunity for women to experience it.
Does being a parent limit your choices as well?
I love working with Jonathan, because he keeps to normal hours. It's terribly difficult for parents - I can't work for someone who wants to go until 10 at night. It's lovely to have the time in theatre, but we can be a bit overindulgent too - you become aware of how much you can get done when you do film, and you're not putting anyone in a difficult position.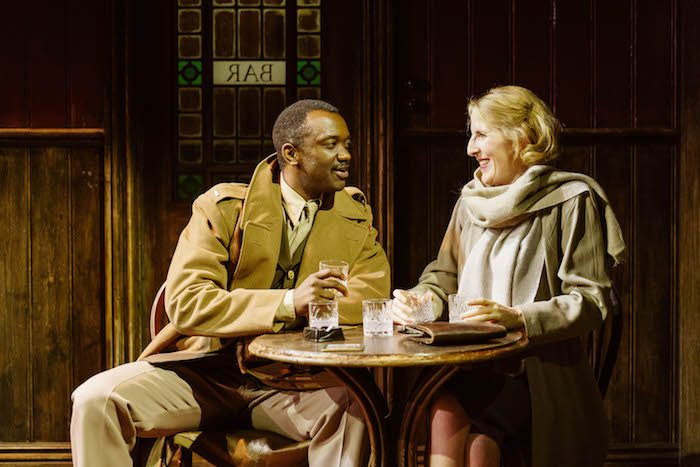 Do your children like seeing you act?
My oldest son came to see Handbagged, and we tried to give him pockets of information about the characters and the Eighties. He just said "Mummy, what are you going to be wearing?", and I said "A blue suit". He nodded and said "I'll look out for you".
Does it make you think more about the kind of stories you want to tell?
I loved doing Harlots. Some male critics, who just didn't get it, complained the series wasn't "sexy" enough, when this intelligent female writer was quite rightly pointing out that these women are having sex however many times a day for money, which is profoundly unsexy.
But you often get the opposite. I was asked to go up for a movie role recently and the character description was "Wears a tight jumper and lots of lipstick". I passed on that. But I'm usually bracketed as a "character actress", meaning you don't look a certain way, so of course you can't live an ordinary life in TV or film terms.
Finally, what do you hope audiences take from Slaves of Solitude?
We very rarely put the spotlight on introverted people, and for once we do. Miss Roach is a really complex person - she's not a young innocent, she's had profound experiences, but this is a particularly compelling moment for her. It's her love and loneliness, her hopes and suffering, and the quiet ways she has of being heroic.
It's funny definitely, rich and ambiguous, and moving. It's a snapshot of life: all these daily mini dramas we endure. There's a couple of big, exciting characters too. But it's so nice to focus in on the type of person who's rarely the protagonist of a play, and who deserves to be the centre of our attention.
The Slaves of Solitude at Hampstead Theatre until 25 November
Photo credit: Manuel Harlan, Tristram Kenton