A Right Royal Welcome For PROM QUEEN at The Other Palace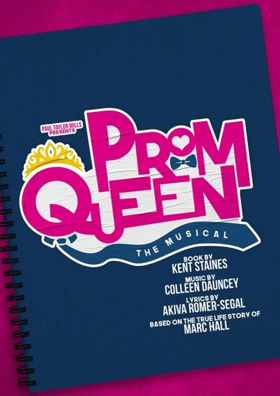 On Monday, audiences got an exciting peek at a musical currently in development called Prom Queen. It's based on the true story of Canadian teen Marc Hall who sued the Catholic district school board when he wasn't allowed to bring his boyfriend to prom.
The show is still a work in progress, but a concert staged production of the full musical was presented with a combined cast of talented West End actors and GSA students.
The book is written by Kent Staines, and lyrics and music are by newcomers Akiva Romer Segal and Colleen Dauncey. This workshop was directed by Paul Taylor-Mills, who shared that he discovered the show overseas last year at the National Alliance for Musical Theatre conference.
In his opening speech, Mills also explained that the cast only had four days of rehearsal, and that songs were added as late as Monday morning. "Please be warm, be open-minded," he urged the audience.
The story is about teen Marc Hall, after the principal of his Catholic school tells him he can't bring his boyfriend Jason to prom. Supported by his feisty mum, best friend Carly, lawyer Lonnie Winn, and his classmates, Marc first appeals and then sues the school board.
I interviewed Nathan Amzi, who played several characters, including Winn, earlier this week and he said the musical is "this really good relationship story with his parents, his teachers, and also the community".
The show's music has a pop musical theatre sound. Amzi said the music has the same "youthful vibrancy and pop sensibility" as Pasek and Paul's work, and the similarity to the music of Dear Evan Hansen is apparent.
The score is obviously still in progress, but there are many memorable numbers that felt completely finished, like Marc's solo "Infinite". The second act solo, sung by Marc's father, was a lovely piece that left few dry eyes in the audience.
The show also boasts wonderful duets, like the one between Jason and Marc in the first act. My personal favourite song of the show is "I Miss the Old You", sung by Marc's best friend Carly and her admirer Boomer.
The professional cast was headed by Luke Bayer, currently the understudy for the lead role in Everybody's Talking about Jamie, who put his amazing vocals to work as Marc Hall.
Lauren Ward played his feisty French-Canadian mother, Emily, and put real empathy into the role, even if her French accent was distracting at times. Caroline Sheen was wonderful as the supportive but timid teacher, Miss Lawrence.
David Muscat and Nathan Amzi played several roles, including Marc's father, the local priest, and Marc's lawyer. It was impressive how both men managed to make each of their roles distinctive from the others in their vocals and acting.
The professional cast were joined by students from the Guildford School of Acting, who in every way matched their professional castmates. Their young age brought an authenticity and energy to the high school students they were playing.
Cameron Burt was great as Marc's boyfriend, Jason, with amazing vocals and acting to match. As notorious player Boomer, William May found lovely moments of humour throughout the show.
But the true standout of the cast was Danielle Fiamanya as Carly whose incredible vocals were supported by her nuanced portrayal of Marc's best friend. It was easy to forget that she was one of the students and not a professional actor.
The show was done on The Other Palace main stage on the Heathers set with six microphones for the actors to share. The small band sat onstage as well; rather than full orchestrations, the performers were backed up by piano, cello, bass, guitar, and drums.
However, it was easy to imagine how wonderful the score would sound with a proper orchestra. Bits of choreography and simple costuming suggested what a full production might look like.
The show is obviously not ready for a full run yet, but has lots of potential. Audience member Aeron James attended both the matinee and evening performances and remarked that there was an improvement from one show to the next.
He said: "Certain directorial changes were made which helped clear any lost plot points, but in general the show seemed to have a much stronger flow after their first run. The full, reactive audience during the evening performance helped lift the energy and specifically the humour of the show".
Audience members were invited to share their feedback on the app or website Sli.do, where the writers and director posed specific questions about future changes to the show.
This Prom Queen workshop was in many ways a fun reminder of what a show must go through to become a fully-fledged musical - for both the audience and the actors. In our interview last week, Lauren Ward said: "I love going through that process and trying to make it work and being a vessel for new writers".
It's easy to imagine this heart-warming high school story about tolerance and fighting for justice having a future life after more edits to the book and score. The songs are catchy and the story compelling, and this workshop had an amazing cast to show off the writers' progress thus far.
Perhaps it won't be too long because we see an announcement of a full production of Prom Queen...
Check out my interview with Lauren Ward and Nathan Amzi
Prom Queen was workshopped at The Other Palace on 2 July.