A LITTLE LIFE Releases On Stage Seating For Runs at the Richmond and Harold Pinter Theatres
These tickets are priced at just £25 and £35.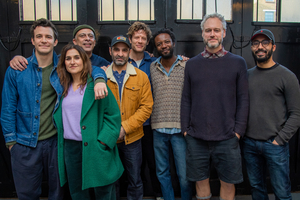 With rehearsals starting today, the producers of A Little Life - Wessex Grove, Gavin Kalin Productions, and Playful Productions - have announced that they will release on stage seating across the runs at both Richmond and Harold Pinter Theatres priced at just £25 and £35, meaning over a third of all tickets across the run are £40 or under.
The first wave of seats will be made available on 6 February at midday encompassing the performances across the dates at Richmond, and from 25 March to 30 April at the Harold Pinter Theatre. There will be a further release of on stage seating for performances in May and June on 4 April, again at midday.
For the opportunity to experience the production from the intimacy of the stage, there is a final chance to sign up to receive the special booking link via: www.alittlelifeplay.com. The sign-up list will close on 6 February at 11.30am, ahead of the release at midday.
In addition to the on-stage seating, audiences will also be able to access a limited number of last-minute tickets through a variety of opportunities listed on the website.