Review: BILLY AND GEORGE at Avant Bard Theatre
This World Premier runs through February 11th.
There's something special happening at Avant Bard Theatre. The world premier of Billy and George debuts a play that doesn't just entertain - it educates, inspires, and makes you think.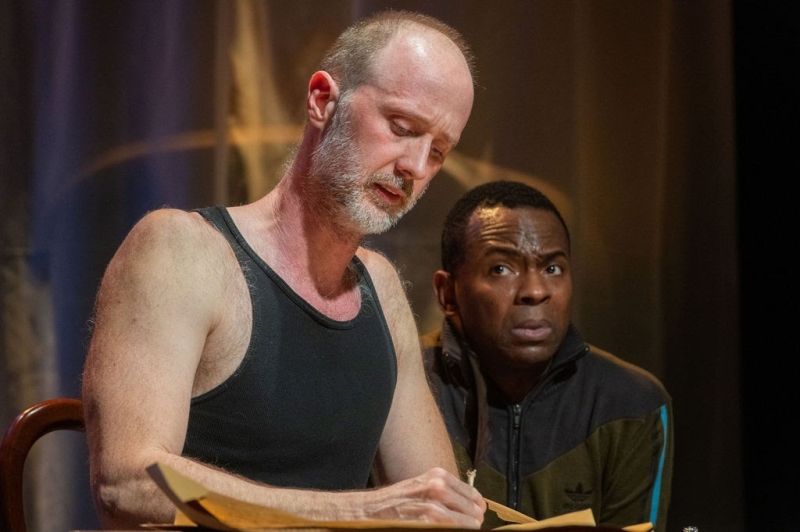 Written by Ken Jones and Daryl L. Harris, Billy and George explores the complex relationship between George Washington (John Stange) and William "Billy" Lee (Raquis Da'Juan Petree), the enslaved African-American that was his constant companion and confidante during the Revolutionary War. The play takes place during the hours leading up to the Continental Army's surprise crossing of the Delaware River on Christmas Eve of 1776.
The story unfolds in the bedroom of Washington's headquarters. Set designer Megan Holden has created an elegant, period bedroom; before the show begins the stage is masked by gauzy curtains on the two sides of the stage that face the audience. Lighting and Projections Designer Hailey LaRoe's video work is projected on the curtains, accompanied by contemporary music from David Lamont Wilson's rich, nuanced palette of sound design. It sets a perfect contemporary feel, and nicely juxtaposes with the historical setting the action segues into.
Once the curtains are drawn back, Petree and Stange get down to the difficult task of creating a story arc from a relationship with scant historical documentation. Over the course of the afternoon the facets of their relationship unfold, mostly through Billy's performance of his duties, highlighting the very intimate relationship between the two men.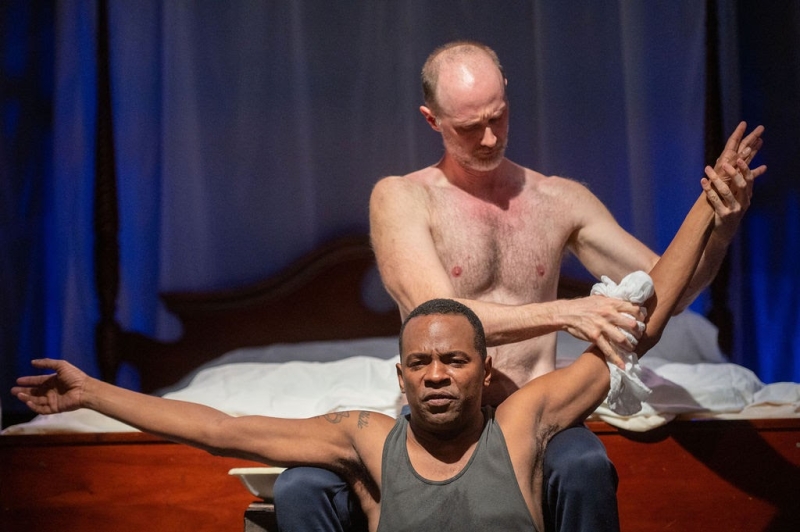 Even though much of their dialogue is conjecture on the part of Jones and Harris, it is fascinating to ponder the interactions of two men who, at their core, are master and slave. Watching Washington gloss over and rationalize the institution of slavery feels very genuine - and Lee never misses a chance to remind his owner of the irony of a slave owner fighting for freedom and independence. As a gathering blizzard blows outside, we see Lee's deep concern for Washington's physical wellbeing, and genuine moments of caring and empathy, interspersed with gossip about the war, philosophical discussions about freedom, liberty, slavery and bondage, and harsh, shouted arguments about the very present reality of how those concepts play out in the real world they live in.
Director DeMone Seraphin has done a credible job of creating a natural rhythm and flow to the action, but Billy and George is essentially a parlor piece, and one that tackles a difficult subject, at that. At times the dialogue becomes a bit dense, and the tempo drags. There are moments of levity that lighten the mood, but this is a serious piece that forces us to re-examine our bedrock beliefs about the history of our country.
And that may be what makes Billy and George a must see production. It is a thought provoking look backward at our perception of history, that simultaneously provides an important template for increased diversity and inclusion in theatre. True diversity and inclusion is not just about the actors, directors and designers that work in theatre - it's also about the stories they tell. Billy and George is a compelling narrative that is superbly acted, and it stands alongside other recently produced works (Nat Turner in Jerusalem and Drumfolk being two good examples) that broaden our understanding of history by examining stories that are outside the commonly accepted mainstream, forcing us to acknowledge heretofore unexamined, troubling parts of that shared history. Billy and George is not always easy to watch, but it is moving and evocative.
Billy and George runs through February 11th at Theatre Two of the Gunston Arts Center. Running time is approximately 90 minutes, with no intermission. For more information about Avant Bard Theatre, click here.