Review: SURFACING: AN INVENTORY OF HELPLESSNESS at ExPats Theatre
After a limited run this summer in the Fringe Festival, playwright Julya Rabinowich's Surfacing: An Inventory of Helplessness has found a home with ExPats Theatre at the Atlas Performing Arts Center.
Surfacing presents three, seemingly unconnected stories: a refugee hiding underground (called "A" and played by Nichole Chimere), a kidnap victim locked in a basement (Christine Jacobs' "B"), and a young man confined to a room under threat of blood revenge ("C," portrayed by Greg Ongao). And yet, as they tell their stories, the parallels between their circumstances become clearer - all are confined to a small space due to circumstances beyond their control, and all are facing uncertainty about what - if any - future they will have.
Rabinowich's script further highlights these parallels by sharing language across the scenes - their restless panic as they await visitors, their fantasies of escape, their dreams of the outside world they miss, reminders to remain strong, their desire for comfort, their anger and despair at their situation. Karin Rosnizeck, in her directorial debut, draws these parallels by having each actor pick up the thread of another's speech, yet keeps each story complete even as they overlap. Each character has an opportunity to tell their specific story, both in speech and in dance (choreographed by Erica Rebollar). Chimere is heartbreaking as a woman separated from her children, counting the days until her confinement will reach the loophole in Austria's refugee policies and allow her to apply to stay. Jacobs balances a childlike innocence with a jaded woman's knowledge as a kidnap victim confined for eight years in a basement, trying to remember what the world outside looks like and worrying about what she will have missed when she is finally free. Ongao is the embodiment of frenetic energy, pacing his limited space as he ponders the values of family, honor, and tradition that have confined him to this room.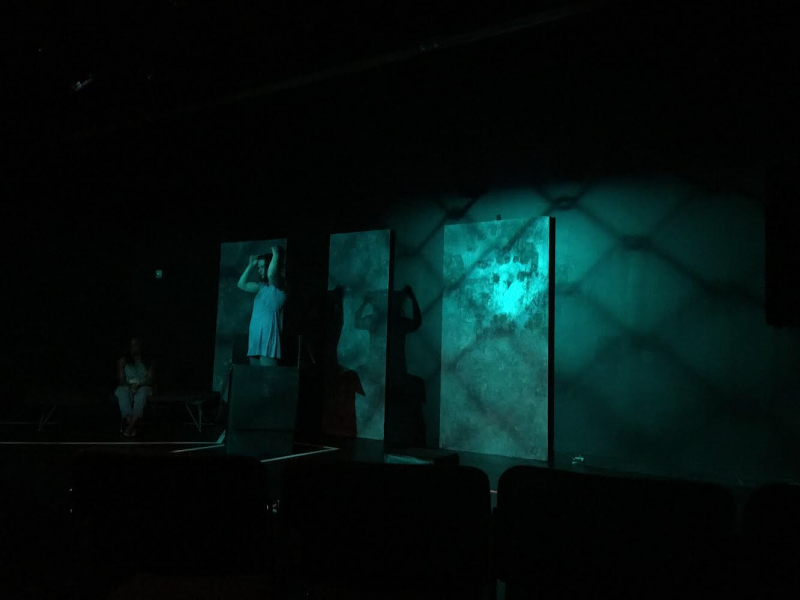 The actors are given a tremendous amount of latitude to tell their stories: the stage is sparse, with each of their spaces outlined for effect. A has only a cot and blanket; B sits in a box representative of the small space in which she is kept and has only a piece of chalk; C has a seat in the middle of the room. Sound designer Johnny Dahm Robertson plays a loop of news reports as the audience enters, ensuring the audience is aware of each story and removing the need to recap - when we meet these trapped people, we already know their stories, and thus can immediately dive into the present, though of course their present relies heavily on filling in the details of that past. Ian Claar's dark lighting carries the ominous mood, lightening only during their fantasies.
Although it's an intense play, Surfacing is also incredibly thoughtful. In the manner of most good art, it takes difficult and abstract ideas and gives the people behind them a face and a voice. And, even though we don't know how these particular stories end, it's hard not to walk out of the theatre feeling hopeful.
ExPats Theatre's production of Surfacing: An Inventory of Helplessness is playing at the Atlas Performing Arts Center Lab Theatre through September 29. Performance run time is approximately one hour with no intermission. Information on tickets and the history of the show can be found on the ExPats website.
Photos courtesy of ExPats Theatre.