BWW Review: QUEEN OF BASEL Makes a Powerful Statement at Studio Theatre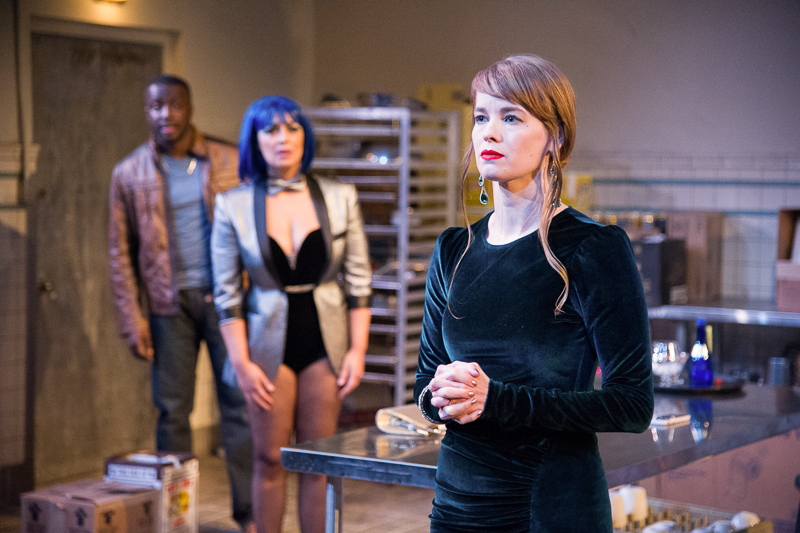 Putting a new spin on a classic is a tried and true theatrical tradition though some attempts are better than others. There are a few things that set Hilary Bettis' Queen of Basel apart from many of the contemporary plays that are adapted from well-known theatrical treasures. First, while the core elements of August Strindberg's Miss Julie remain intact in this adaptation, her exciting new play - now making its world premiere at Studio Theatre - is so wholly fresh and new that there's no need to draw quality-focused comparisons between the beloved source material and the new work. Second, while she explores how key, enduring social issues (immigration, racial tensions, gender and economic inequality among others) manifest themselves here in now in America, she does so in a way that does not detract from simply telling an engaging and important story. The themes and issues are interwoven so expertly and flawlessly into the story that it would be incorrect to say this is a play about immigration, a play about class, or a play about race. When you combine Bettis' exceptionally well-written and insightful script with some of the most powerful acting you're likely to see on a DC stage this season, and some excellent direction by José Zayas, you have a must-see theatrical production.
The setting is a posh hotel in Miami during Art Basel. Socialite Julie (Christy Escobar) retreats to a storage kitchen (realistically and meticulously designed by Debra Booth) to escape the party scene. She knows the hotel well - her real estate mogul father ("The King of Condos") owns it after all), but the kitchen is new territory. A run-in with a provocatively dressed waitress (costumes by Ivania Stack), a Venezuelan immigrant named Christine (Dalia Davi), has left her Oscar de la Renta dress covered in gin. Given the way she's acting, her quick escape to the kitchen is clearly not just because of some spilled alcohol. It's likely a scandal in the making, worthy of some paparazzi photos, but we're not sure why at first. Christine calls her Cuban-Haitian fiancé John (Andy Lucien) - an Uber driver - to provide Julie with a ride back home. She can't stay and tend to the socialite's needs. It's really important that she keep her job.
Julie is unwilling to simply leave with John, but she is willing to make some small talk that escalates - aided by some really expensive wine. Both John and Julie are quick to judge one another and size up where they come from, what they value, and who they are. Suffice it to say (without giving too much away), the reality is far more complicated. Power shifts between the two in really unexpected ways and the power dynamics shift again when Christine reappears. It's a triangular relationship, but just when you think you have everyone figured out, layers are peeled back and you learn something new about the person, which fundamentally alters the relationship between all three players. Language, familial roots and race, and socioeconomic status color every interaction and not only how each player views the others, but also how they view themselves. At the end of the day though, there's more that defines each person than these traits. That being said, they're still pretty powerful forces especially when combined together.
Bettis, a brilliantly descriptive writer, excels at writing believable, natural, and fresh dialogue, which is delivered with ease by all three actors. Just as important though is the physical interaction between the characters and in this case, the physical acting provides just as much insight and information about the characters and the situations they're facing as the line delivery. A range of emotions are on full display with each serving the story.
I strongly urge you make a visit to Studio Theatre and immerse yourself in the world that Bettis has created. The strong ensemble acting, impeccable direction, and engaging script prove to be a winning combination.
Running Time: 85 minutes with no intermission.
QUEEN OF BASEL runs at Studio Theatre - 1501 14 Street, NW in Washington, DC - through April 7, 2019. For tickets, call the box office at 202-332-3300 or purchase them online.