Click Here for More Articles on REGIONAL - DC Metro Area Maryland
BWW Review: PRISCILLA, QUEEN OF THE DESERT stumbles in Her High Heels at Kensington Arts Theatre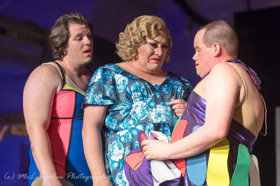 In Priscilla, Queen of the Desert, a musical adapted from Stephan Elliott's 1994 movie, three drag queens (Bernadette, Mitzi, and Felicia) decide to travel in their bright pink bus from Sydney to Alice Springs, Australia. As they journey across the remote Outback, they encounter a variety of obstacles and confrontations such as run-ins with homophobic locals and a broken down bus. A musical like Priscilla is a big endeavor for any theatre company to take on due to its well-known songs and extravagant costumes. Kensington Arts Theatre's (KAT) production, directed by John Nunemaker, fell short of reaching diva status due to its poor production quality. Despite all of this, KAT manages to pull off a more entertaining second half.
The two standout numbers in the first half are "Don't Leave Me This Way" and "True Colors." Both of these songs are well thought out in terms of stage direction and musicality. Larry Munsey, who plays Bernadette, leads the vocals on "Don't Leave Me This Way" with great energy and melodrama even though this song takes place during a funeral. "True Colors" features Larry Munsey as Bernadette and Jon Simmons as Felicia singing to comfort Mitzi, played by Greg Wilczynski, after an incident at a bar leaves the group frustrated and upset. In the stronger second half, the standout musical numbers are "Thank God I'm A Country Boy", "Girls Just Want to Have Fun", "Go West" Reprise," "MacArthur Park", and "Always On My Mind"/ "Kylie Medley." "MacArthur Park" wins the award for audience favorite. This fun little number features dancers dressed like cakes and an energetic performance by Wilczynski as Mitzi. Throughout the production, Temple Fortson (Lead Diva), Kristin Franco (Diva), and Summer Hill (Diva), harmonized well especially during "Girls Just Want to Have Fun."
The production aspects of Priscilla leave her with a broken heel. The set features two platforms, which are a good idea in retrospect, but they are too tall. This leaves audience members sitting in the back of the house to have to crane their necks to catch a glimpse of who is on the platform. Priscilla the iconic campervan, which is decked out with little attention-grabbing details such as a large steering wheel, is the centerpiece on stage. While the inside screams "campervan", the outside is lackluster due to the lack of car-like qualities such as wheels or headlights. Many of the costumes vary significantly in quality from character to character. When one is expecting Bernadette, Felicia, and Mitzi to dress to the nines and flaunt their best, it is disappointing to see unfinished and unpolished drag outfits. It is understandable that KAT is on a budget, but there is room for balance when it comes to costumes for a show such as Priscilla. The production's sound quality varied as parts of actors' dialogue are lost due to lines becoming overpowered by the orchestra.
KAT's production of Priscilla doesn't meet expectations, but it manages to have teases of its diva potential.
PRISCILLA, QUEEN OF THE DESERT plays at Kensington Arts Theatre- located at 3710 Mitchell Street Kensington, MD - through May 26, 2018. For tickets, please purchase them online.